An Eye for Autumn

10/01/2014 09:29AM ● Published by Annette Winter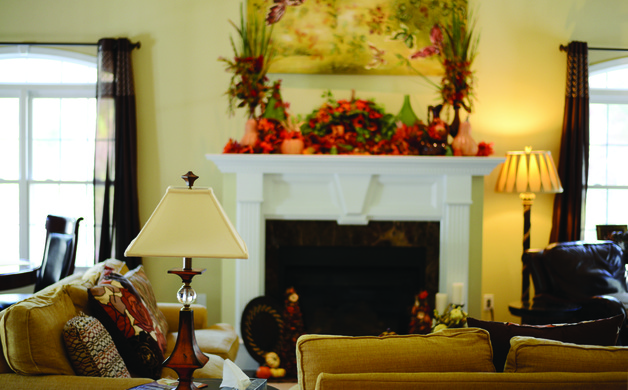 Gallery: Decorating for Fall in Fayetteville [5 Images] Click any image to expand.
By Courtney Phillips
Stephanie Meaza has always had a penchant for home design and décor. At the ripe old age of five, she remembers happily rearranging furniture in a friend's dollhouse. "Decorating is a passion. I'll do it for anyone who asks," she said excitedly while describing homes she has redecorated, the pieces she incorporates, her plans for the upcoming year and where she finds inspiration. 
A mother of six, she and her husband Mamo, with whom she recently celebrated a 30th wedding anniversary, moved to Fayetteville from Washington, D.C. in 1994. They have been owners of a warm, mango yellow colonial home tucked away in the Summertime neighborhood off of Morganton Road since 1999. 
With their youngest daughter beginning law school at Chapel Hill, Stephanie and Mamo's nest is empty, but that won't stop her from feathering it with everything from pumpkins to peacock feathers, this fall.
"A relaxing, reflecting, soul-searching season," is how she described her favorite time of year, and her passion readily translates to her choices in home décor.
Natural Elements
Admittedly not as enthusiastic about the pageantry of Halloween as she is about fall-time in general, Meaza manages to amass about 30 real pumpkins for decoration, each year. "I choose each one carefully and I buy from a variety of places. I have to like the shape and stem. Harris Teeter usually gets the white pumpkins first, so I buy a lot from there." But she said "no thanks" to carving the collection for Halloween. "No. I just really love their natural beauty."
With regard to indoor fall décor, she mirrors the natural outdoor theme, as her classic neutral interior palette is accented by billowing colorful foliage, tall fronds, feathers, candles and, of course, decorative pumpkins in a variety of size, shape and finish.
Southern Inspiration
"I look at magazines and add to my collection each year," Stephanie says of keeping her decorations on trend. "After almost 20 years in Fayetteville, I consider myself a Southern woman. I am all about pearls, monogramming and Southern Living magazine." 
And what's a Southern home without a proper porch? If the curbside view doesn't give it away, a peek onto the patio and into Stephanie's backyard autumn oasis confirms that Southern roots can be cultivated. 
Weaving natural elements, like pumpkins and hanging baskets, with neutral, oversize outdoor furniture and the gentle breeze of palm ceiling fans prove her tenet that a home can be comfortable and elegant. "I'll do more outdoors, next year," she says.
Lived-in Elegance, Year-round
Over the years, Stephanie has played hostess to a variety of events in her home, from church gatherings and baby showers to student council meetings. "Our house was the central place for everyone and I regard my home as a useable home. It's not too precious." She laughed, "I allow people to eat in every room!"
She notes that décor need not be pricey to make a great impression. To build the elements of a well lived home, she blends designer pieces and thrifty finds. "I love T.J. Maxx, Marshall's, Ross, Big Lots, consignment shops like High Cotton and yard sales!" Most Saturday mornings, Stephanie can be found scouting yard sales and if she finds a great piece, she never hesitates, laughing, "Between six children and friends, someone will probably use it!"
Though Stephanie has been redesigning spaces since she was a tyke, she understands the dilemma faced by those to whom this knack doesn't come innately. Stephanie spends a considerable amount of time with friends, or friends of friends who seek her out to update their homes. "Two things can change a room completely: a nice rug and great lighting with lamps."
One of Stephanie's favorite hobbies is to drive around town to look at exterior decorations on the homes of others. "I enjoy everyone's designs and I can learn so much from riding around!" 
The Big Switch
All too soon, every leaf will have fallen, pumpkins will have passed their prime and with nearly as much gusto, Stephanie will begin decorating for Christmastime – sometimes she can't wait until after Thanksgiving. 
She displays a front-door wreath, wreaths on all of the windows, tabletop decor and, of course, her favorite element: her Christmas tree. "I always have a live tree. It doesn't have to be any specific type, but I am very fond of tall and skinny. You can see the ornaments better."
She incorporates ornaments made by her children when they were younger, like a mother generally does, but for six children, she said "I have a special tree for those." 
Stephanie updates her decorations yearly. This Christmas, she plans to add white and glittery gold accents to her décor. While she describes her overarching statement as "traditional and classic," she said enthusiastically, "I like to see a little bling on tradition!"
Like so many Fayettevillians, you may be faced with a clean slate to decorate this holiday season. Whether your objective is to add, simplify or update, Stephanie's advice is simple: "You don't need to have a lot of seasonal decorations to have a festive home. Have something on your coffee table, mantle, dining room table and an entryway wreath to welcome people into your home."