Season of Plenty

10/01/2014 09:30AM ● Published by Annette Winter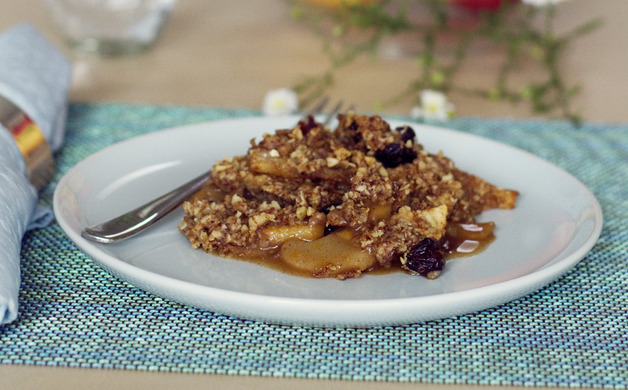 Gallery: Fall Recipes [2 Images] Click any image to expand.
A northerner for most of my life, I've enjoyed discovering my new southern culinary identity. Since relocating to Pinehurst, NC from Chicago, I learned there are more differences between the north and south than the fabulous weather. 
From barbeque (don't get me started) and a new affinity toward "greens," especially collards, turnip and mustard greens; all varieties of sweet potatoes (white, orange and purple), heritage breeds of pork and so much more! Southern food has won over this northerner! The availability of year-round farmers markets is what I boast most often to my northern friends in hibernation from December through April. With a flavor-full cooking style that favors real food rich in nutrients and low in added sugars and using local seasonal produce year-round is a huge benefit! All of the following recipes are gluten-free and allergen-friendly. Most important, healthy foods need to taste good. Nutrition meets flavor. 
Fall marks the end of the growing season for some, but here in North Carolina we begin anew with second crops of greens and enjoy apples, pears, muscadine grapes, persimmons plus pumpkins, beets and varieties of squash. Greens are sweeter when harvested in cooler temperatures. The hot summer sun causes greens to grow fast and can become bitter. Cooler temperatures bring us back to the kitchen to turn the harvest into meals worthy of giving thanks. 
We live in a time where we can purchase just about any fruit or vegetable year round. This is a mixed blessing as we forget that foods have a season when they are grown closer to where we live. Locally grown foods are more concentrated in flavor and nutrients than produce that has traveled across the globe to reach our supermarkets. And the price is lowest when produce is purchased in season. Remember this and freeze, preserve or can your favorite fruit or vegetable to enjoy during off seasons. 
Quinoa, Sweets and Beans
Quinoa (pronounced KEEN-wah), a naturally gluten-free ingredient, is actually a seed from South America that is high in fiber and protein. This recipe is a good way to use leftover baked sweet potatoes. Plan on extra sweet potatoes to use for this recipe. This side dish doubles as a vegetarian entrée (made without chicken broth).
Ingredients:
1 cup quinoa, rinsed 
1 ½ cup vegetable broth (may substitute chicken broth, preferably homemade or low-salt)
1 sweet potato, cooked, peeled and diced (use leftover baked sweet potatoes if you can) 
2 tablespoons olive or coconut oil
2 cloves garlic (or shallot), minced 
1 bunch collard greens, chopped
¼ teaspoon each sea salt and black pepper 
1 cup cooked black beans (drained and rinsed if canned) 
Optional to serve: dried cranberries or raisins and walnuts or sunflower seeds
Directions:
In a medium saucepan bring broth and quinoa to a boil; reduce heat to simmer, cover and cook for 10 to 15 minutes. Set quinoa aside. 
Heat a large skillet over medium heat; add oil and sauté garlic for one minute. Add collard greens and cook an additional five to seven minutes until collards are tender and cooked down. Add diced sweet potatoes (already cooked) and gently cook until heated, about two minutes. Season with salt and pepper.
Stir together collard-sweet potato mixture, quinoa and cooked black beans. 
Taste and adjust seasoning.
Serve warm or room temperature with dried fruit and nuts/seeds. 
Serves four to six
Apple Pear Crisp with Dried Cranberries
Enjoy fresh apples, pears and cranberries in this simple dessert that is easy to make in advance. Delicious warm or room temperature – especially topped with vanilla ice cream. Try one of the newer low glycemic sugars like palm or coconut sugar for a low-sugar dessert. 
Filling Ingredients:
4 Granny Smith or other tart apple, peeled, cored and sliced 
4 pears, peeled, cored and sliced
1 orange, juiced
1 teaspoon orange zest
¼ cup dried cranberries
1 1/2 teaspoons ground cinnamon 
½ teaspoon ground nutmeg
¼ cup brown sugar, coconut or palm sugar 
2 tablespoon arrowroot, cornstarch or tapioca starch 
Topping Ingredients:
½ cup oatmeal (certified gluten-free if necessary) or quinoa flakes 
½ cup unsalted walnuts
1 (4 ounce) stick (1/2 cup) butter, non-hydrogenated margarine, or organic coconut oil 
½ cup brown sugar, coconut or palm sugar
½ cup all purpose gluten-free or whole wheat flour
½ teaspoon cinnamon
Preheat oven to 375 degrees. Lightly oil a 9 x 12 inch baking pan. 
Combine apples, pears, cranberries, orange juice and zest, cinnamon, nutmeg, sugar and arrowroot in a large bowl. Spoon mixture into prepared pan.
In a food processor with knife blade, combine oatmeal or quinoa flakes, walnuts, brown sugar, flour and cinnamon and pulse until well blended. Add cold butter or substitute and pulse until crumbly.  
Sprinkle topping evenly over fruit mixture and bake 40 to 50 minutes until fruit is just tender and topping is golden brown. 
Serves eight to ten
Beet Caviar
The sweet and tart combination with creamy yogurt is a colorful appetizer for a dinner or buffet table served with celery, carrots, cucumbers or crackers and is a great way to add anti-inflammatory beets to your diet.
Ingredients:
1 bunch beets, 3-4 medium beets, peeled and cut into quarters
1 tablespoon olive oil
½ teaspoon each sea salt and pepper
5 pitted prunes (dried plums), chopped
1/3 cup unsalted walnuts, chopped 
½ cup yogurt (for nondairy may use So Delicious Coconut Milk yogurt)
Directions:
Preheat oven to 375 degrees. Drizzle cut beets with olive oil and spread in a single layer on a baking sheet (may line with parchment paper for easier clean up). Sprinkle with salt and pepper. Bake in preheated oven for 45 minutes or until tender.
In a food processor with knife blade, pulse beets, prunes and walnuts until consistency of caviar. Place beet mixture in a bowl and fold in yogurt. 
Serve immediately or store in refrigerator until ready to eat for up to a week.
Serves six to eight