Better Health of Cumberland County

10/01/2014 09:57AM ● Published by Annette Winter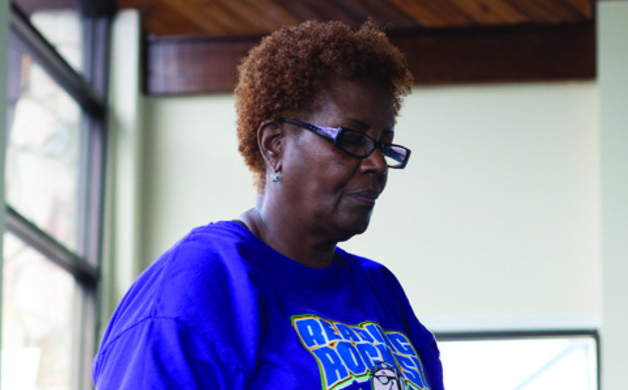 If people asked me what I thought I'd be doing at my age, I'd never have thought I'd say 'downward dog.' But here I am, today, doing just that.
Floretta Lester is a Cumberland County resident who suffered a back injury that required surgery back in 2011, at which time she began attending yoga classes at Better Health of Cumberland County, free of charge.  Lester is now a class regular, stating simply, "My experience with Better Health has really been great." She continued,  "I've never seen any [employee or volunteer] be unkind. They get to know you on a personal level, and times when I have been sick or couldn't make it to class, I've gotten a phone call to check in."
Exercise classes are only one of many initiatives Better Health offers to locals who struggle to pay for important health care needs. The organization was founded in 1958 on the premise that many people leave the hospital with prescriptions and a doctor's recommendation for medical supplies that they simply cannot afford. This remains a key component to what they do today, but that mission has expanded as they now "seek to provide for the unmet healthcare needs of Cumberland County residents through assistance, referral and education." What isn't specifically addressed in their mission is that every service Better Health offers is provided at zero cost to the individual.
Though the organization's founding purpose has evolved and grown, today it still focuses on filling emergency prescriptions and meeting immediate medical needs. It also assists patients who require critical medication for ongoing issues such as heart disease, diabetes and even dental health.
Judy Klinck, Better Health's Executive Director and a dental hygienist by trade, explained how this is accomplished:
"Those in emergency situations who were just released from the hospital and can't afford medication they need today, can come to us. We partner with the Cumberland County Medication Access Program who makes sure the patients get their hands on what they require in the short term as well as down the line."
Diabetes assistance programs were added in 1977 and continue to be one of Better Health's primary agendas. Local diabetics are encouraged to participate in of their lifestyle or exercise programs, but are certainly not required to attend them all. First are the education classes, which stress lifestyle management, heavily focusing on diet. 
"We don't downplay the power of medication and encourage patients to speak with doctors," assured Klinck, "but today we understand that obesity is one of the biggest factors in the development of diabetes, as well as heart disease and other issues, and we need to address that." 
To that end, Better Health runs exercise classes, like yoga and tai chi, which are open to all activity levels, simply teaching and encouraging patients to get moving. These classes are not limited to those suffering from diabetes, but are open to anyone. Locals in the community like Floretta Lester are able to make their bodies stronger and healthier, while having fun.
"A unique aspect of our program is the diabetes monitoring clinic. Run by our nurses, anyone can come to get their blood pressure, blood glucose, or weight checked."
The nurses are available 11 hours a week, said Klinck, for the above-mentioned services, but also for private conversation and advice if the patient desires it. There's also a 30-minute small group educational portion of the program: "It's not a support group but offers a lot of support for folks who may not have anyone to talk to about what they're going through," Klinck explained, "It's absolutely dynamic and not something I know of anyone nearby offering."
Finally, Take Charge of Diabetes is their comprehensive management program, and is the only service Better Health offers that requires pre-registration. All other programs are available to Cumberland County residents on a walk-in basis. 
Better Health's other large-scale initiative is their childhood obesity program, Eat Smart, Move More NC. It's a statewide movement that was made available to them at no cost. For the first five years, Klinck and her staff collaborated with the Cape Fear Health Clinic, allowing them to watch and learn how to best run the program. At that point the nonprofit received a generous grant from the Cumberland Community Foundation and they seamlessly transitioned into running it on their own. 
"We are constantly out in the community, educating children about healthy eating and a healthy lifestyle," said Klinck, "We go anywhere where we can find a consistent group of children to present to: schools, day cares, recreation programs, day camps- anywhere." 
Better Health does have an office out of which they operate, and the building they have occupied since 2000 is a converted Roy Rogers restaurant that longtime Fayetteville area residents may remember as a local landmark. Although the organization conducts most of its activities in that space, employees and volunteers regularly make their way out into the community. 
Their full-time staff totals only four. "We work hard," laughed Klinck, "Over the years I've worn every hat you can imagine." 
Aside from oversight by their board of directors, a massive volunteer force assists the nonprofit. These individuals range from busy medical professionals who donate their time outside of their own work to aid various programs, to folks who help out with reception and administrative duties like stuffing envelopes for mass mailings. 
"Our volunteer force is essential," explained Klinck, "We couldn't run many of the full-time programs we do without them on our yearly budget of only $350,000." 
Though Klinck is grateful for the generosity of the community, she encourages anyone who is able and willing to consider helping out:
"We have a wonderful core group of folks, but we don't want to wear them out! We're always looking for additional medical professionals with their own viewpoints who have different knowledge and skills."
In addition to time, the United Way Partner Agency is in need of donations in the form of any medical equipment and supplies.
Down the line, Klinck and her team have plans to move their educational sessions out into the community more, in particular, to expand their childhood obesity programs to include more parent education.
"We do go out into the community a lot already," said Klinck, "But we'd love to do more parents programs at places like PTA meetings in order to directly contact the parents of the children we serve. We also have hopes to offer more education for parents of young children who are diabetic."
Locals like Floretta Lester only confirm the success of the positive education and other services Better Health strives to offer. She has nothing but praise for her experience at yoga class: 
"I have and will continue to tell anyone who isn't feeling well to come to the exercise class, or any of Better Health's programs. They may be the push you need and are an encouragement to stay healthy."
Call or visit their website for more information, event schedules, and financial assistance applications. Certain classes require pre-registration, but in others, walk-ins are welcome.   
community
COMMUNITY