Thanksgiving and Holiday Trimmings

11/06/2014 01:37PM ● Published by Annette Winter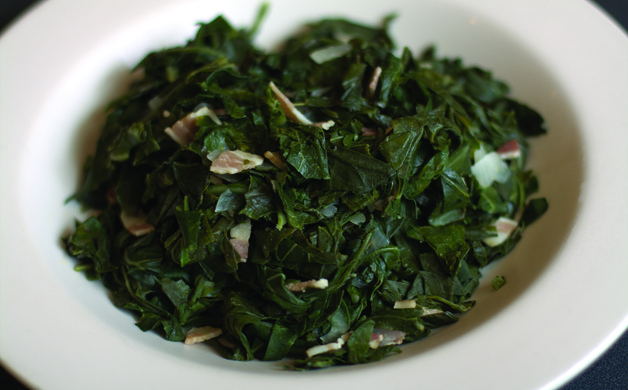 Gallery: Holiday Recipes [3 Images] Click any image to expand.
By Michael Jaenicke
Tiny Tim talked non-stop about plum pudding, and according to this classic Charles Dickens character "it just wouldn't be Christmas without it."

Chances are your top holiday entree is likely specific to your nationality, culture, heritage and upbringing.
Without using too much imagination you can nearly see, smell and taste it. You might even have a mental photo bomb of friends and family chattering and carousing about in a large room – even as you are locked into a food moment with the dish that is as much a part of the festivities as any decoration or gift.
Some time during the evening you ask yourself three questions. "Why do I only have it at this time of the year?" "Why doesn't anyone make it as good as Grandma or Aunt Sarah?" "Why do I feel so connected with this slice of home?"
Some of these holiday comfort foods can be found at mom and pop restaurants in Fayetteville. Experiencing the holiday buzz won't happen though until you free yourself from the restaurant "chain" gang.
The candlelight ambiance and home crafted preparation of four mom and pop establishments – the Rainbow Restaurant, Hilltop House, ScrubOaks and Taste of West Africa – will silence the blur of look-and-taste-alike of nationwide chain restaurants.
This quartet of local eateries have unique stories and each offer a traditional holiday recipe for our buffet table.
Rainbows for 70 plus years
John and Thea Kanos, owners of the Rainbow Restaurant, located at 3708 Ramsey Street, believe in research and development of their menu.
That kind of hard work and pride comes somewhat naturally since they are third generation of the same family to operate the Rainbow, which prides itself on home-style cooking.
The menu isn't overly complicated, and in fact includes standard main entrees such as sandwiches, soups, salads, burgers, steaks, wraps, grilled chicken dinners and liver and onions. The Kanos family use old recipes but are always experimenting.
The restaurant has been open since 1938 and that alone speaks volumes for how it has stood the test of time. They serve breakfast, lunch and dinner Monday to Saturday and breakfast and lunch on Sunday.
Here's a classic that John and Thea tinkered with in order to make it a gold item on a menu that features a vegetable of the day.
High on the Hill
Beth Shearin-Smith, owner and executive chef at the Hilltop House Restaurant, for the past decade, has taken many of her grandmother's recipes and transformed them into menu selections.
"I normally never got things like squash casserole, chicken salad, deviled eggs and corn pudding unless it was Thanksgiving, Christmas or Easter," said Shearin-Smith, whose restaurant at 1240 Fort Bragg Road, puts all four on its Sunday Brunch. "So we decided to put them on our table, adding another new dimension where customers receive a true chef experience."
The restaurant features a farm-to-table emphasis in crafting elegance with a Southern twist. Executive Chef Matthew Graham has been at the restaurant for the past seven years, helping Shearin-Smith oversee a menu that includes fresh cuts of meat and seafood from a N.C. Fish Mongers Network. A few of the standout entrees include seafood macaroni and cheese, stuffed pork chop, shrimp and grits, uptown fried chicken and nearly every steak, including the filet migon. Two months ago the restaurant hired a French pastry chef.
Growing up, the holidays didn't begin until Shearin-Smith saw corn pudding. 
Planting Success
ScrubOaks owners Tim and Gwen Holtsclaw are Southern grown and the heritage shows up everywhere on the menu. The establishment, located at 780 Ramsey Street, got its name when Tim was finishing a round of golf and spotted the frequently overlooked beauty of the sun basting a tree near the 18th green.
But the brainstorm that initially set it into motion was the response Tim received from his steak entrees, which he considers a holiday entree.
"The blend is amazing and is totally a secret, although I will share that the ingredients include sea salt, coarsely ground peppercorns, garlic and one or two other things," Gwen Holtsclaw said.
When a restaurant on Ramsey Street closed, the Holtsclaws turned a bucket list item into a working dream. They opened ScrubOaks in 2009.
Pumpkin Ravioli is a popular seasonal item offered at ScrubOaks as a weekend feature occasionally during the fall.  
"Interestingly, the Pumpkin Ravioli with Sage Brown Butter Sauce is also one of our most requested specialty entrees for the private holiday parties that book every year! We already have it on the menu of 11 different private parties … by request!" exclaimed Gwen.
 The key to the Sage Brown Butter Sauce is in the timing of the butter … you have to remove it from the heat at exactly the right moment to hit that wonderful caramel note.  If it heats too much, the butter becomes bitter.  Fresh sage is essential for this dish.
Soup in the Air
If you catch an appealing aroma on Person Street, the holidays are here.
Follow your nose to Taste of West Africa where you will see Isabella Effon taking her time to make a goat soup recipe that has been passed down her family tree. Light goat soup is a traditional Ghanaian holiday delicacy.
"We look forward to the holidays and can't wait to slaughter a goat that we fattened for the month prior," Effon said. "The slaughtering is usually done by men in the family and the fur is burnt on fire wood, giving the goat a unique and delicious taste."

The goat is not skinned, but cleaned and cut into chunks with bones adding flavor.
"My sister Bridget Benton's recipe has always been unique because she adds fresh sweet basil to the meat and other spices. You can smell it cooking for miles.
The restaurant pairs a soup with nearly every meal and its new appetizer is an apricot-cinnamon butter delight known as Sawawa, which is served with pie chips.
Tripadvisor.com rates Taste of West Africa as its number three restaurant in Fayetteville. Vegan diners will love the selection. It brings in a refreshing breeze to the city's restaurant scene. 
Rainbow Restaurant Collards
Ingredients:
1 large bunch fresh collard greens
1/2 stick butter
6-8 slices frozen bacon finely chopped
1 small onion finely chopped
1 tablespoon hot sauce 
1-2 tablespoons brown sugar
Salt and course black pepper to taste
Directions:
Wash collards thoroughly.  Cut and remove the center stems and then chop remaining collard leaves. Melt butter in large pot on low heat. Add chopped bacon, brown sugar and onion. Sauté till onions are opaque and bacon is cooked.  Add collards to pot along with 1 quart of water. Cook on low heat stirring frequently till tender. When done season with hot sauce, salt and course black pepper.
Serves four to six
Hilltop House Corn Pudding
Ingredients:
5 eggs
1/2 cup sugar
5 Tbsp. AP flour
Salt and pepper to taste
2 bags frozen sweet yellow whole kernel corn
3 cans cream style corn, 14 to16 ounce cans
Directions:
Preheat oven to 400 degrees. Grease baking dish. In a large bowl mix the 2 bags of kernel corn (thawed) and the 3 cans of cream style corn with 5 eggs and ½ cup of sugar. When mixed thoroughly, dust the top of the mix with the 5 tablespoons of flour. Then salt & pepper the top of flour. Mix thoroughly. If mix is too dry add just enough water to make "soupy." Pour mix into greased baking dish and bake for 1 hour or until set and golden brown.
Serves six
ScrubOaks Pumpkin Ravioli with Brown Butter Sage Sauce
Ingredients:
PASTA DOUGH
4 large eggs
1 tbsp water
3 ½ cups all-purpose flour
½ tsp salt
FILLING
2 cups ricotta cheese
1 cup pumpkin puree
1 egg
1 tsp salt
Freshly grated nutmeg
SAUCE
4 tbsp unsalted butter
10 sage leaves, chopped
½ tsp. lemon juice
Salt
Directions:
Pour flour on your work surface and make a large, wide well. Add eggs, water, and salt to the well and beat together with a fork being careful not to break the edges of the well. Slowly incorporate flour as you mix, until the mixture begins to come together and is less of a liquid, more of a loose dough. Set aside the fork and bring together the rest of the dough with your hands. It will take a little time, but work and knead the dough until all the flour is fully incorporated and the dough is smooth and supple. Wrap your ball of dough in plastic wrap and let rest at room temperature for 20 minutes.
While the pasta rests, prepare the filling. Combine ricotta, pumpkin puree, egg, salt, and nutmeg in a mixing bowl. Set aside.
Once the dough has rested, use a pasta machine or a rolling pin to roll the pasta out into wide sheets. Place tablespoons of the filling on the dough, and top with another sheet of pasta dough. Seal the edges around the filling and cut the ravioli. I used a ravioli stamp to make my ravioli. Refrigerate ravioli until ready to cook.
Bring a large pot of water to a boil with a good amount of salt. Boil ravioli in batches for about 7 minutes. Drain the ravioli and set aside.
While the ravioli is cooking, brown the butter in a large sauté pan over medium heat. Add sage and cook for a few extra minutes. Transfer ravioli to the pan and toss in the sauce.  Add lemon juice.   Serve immediately and garnish with a couple leaves of sage.
Serves four
Holidays Goat Light Soup 
Ingredients
1 1⁄2 pounds goat meat (chunk, bone in)
2-3 medium red cayenne pepper (optional)
1 medium fresh ginger pureed
2-3 cloves garlic pureed
3 medium whole tomatoes
2 tbsp. tomato paste
2 small onions (1 diced)
1 tsp Anise seed pureed
Fresh basil (5-7 leaves)
2 tsp Salt or seasoned cube (Jumbo or Knorr)
Directions:
Wash and peel onions, ginger and garlic, put in a blender with anise seeds and 1⁄4 cup of water and puree together
Put goat meat in a pot and add chopped onions, basil, and the pureed spices with salt to taste and stir, allow meat to steam with the pot covered on medium heat for 10 minutes.
Add tomato paste and stir allow 3 minutes and add 1 cup of water, cover the pot, let it boil on low heat.
Add whole tomatoes, peeled whole onions and fresh pepper to cook for 10 minutes or until vegetables get soft and may fall apart.
Take out the cooked tomatoes, onions and peppers from the pot and cool it off. Puree all together in a blender, add it to the meat and let it simmer for 20 minutes on low heat so that meat can be tender, stir meat regularly.
Add a cup of water or more if needed and allow simmering for an hour, taste and add some more salt if necessary. Take a piece of meat and taste it to make sure it is tender if not continue to cook on low heat until it is tender. Soup is ready and served with yam, cassava and plantain or cocoyam fufu.
holiday recipes