The Gold Coast to the Gulf of Mexico

11/06/2014 02:22PM ● Published by Annette Winter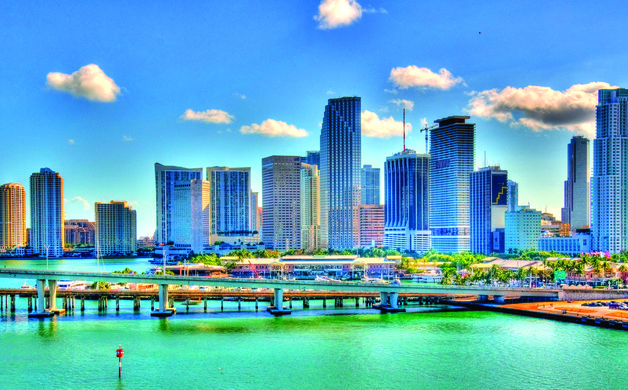 Gallery: Florida [7 Images] Click any image to expand.
By Miriam Landru
It's the "cruise capital of the world," America's Cleanest City and the most populous metropolis in the southeastern United States after Washington D.C. 
Miami, Florida is also home to nearly every type of professional sports team you can think of, from the Dolphins to the Heat, a thriving nightlife scene, restaurants with cuisines from around the globe and five million people. It's where Cuban expats have made their home, therefore making it one of the most diverse dining and cultural scenes in the nation. 
People from all over the world flock to the 2.5-mile turf of South Beach, Miami for surf, sun and people watching so unique that it could only be compared to the South of France. And it's only a two-hour plane flight away.
Go west on Alligator Alley, 70 plus miles across the Everglades and you'll find an idyllic, yet upscale beach town with 30 miles of white sand beaches and home to even more of America's wealthiest citizens. Naples, Florida.
If you're looking for a more laid back, yet posh atmosphere, then Naples is for you. And if you think the Sandhills boasts golf courses, just wait till you see the ones in and surrounding this seaside city. It is home to 91 golf courses.
Naples shares the same lux atmosphere as Miami, but is also a haven for ecotourism thanks to its proximity to the Everglades and Big Cypress Basin. Airboat tours are a must-do.
However there are things to do on both coasts of Florida for the adventurer, the foodie or the art elitist.
For the Art Enthusiast
Art Basel comes to Miami the second weekend of December. The cultural event, attracting modern and contemporary art aficionados from around the world, originated in 1970 in Basel, Switzerland. Its Miami debut was in 2002. Art Basel sets the stage for galleries from around the world to exhibit their works to collectors and museum curators. It attracts 70,000 tourists to the Miami scene. 
The world class Naples Philharmonic hosts many touring artists and productions every year and is also home to Opera Naples. This November, the city's resident opera company will present the classic four act opera La Boheme by famed Italian composer, Giacomo Puccini. La Boheme's setting is in bohemian 1840's Paris. A favorite the world over, Handel's Messiah comes to the Phil for one night only on December 2nd. Messiah is Handel's best known work and the life of Jesus Christ will be presented by a powerful group of oratorio singers, the over 100-voice Naples Philharmonic Chorus. 
Where to Eat
Both Naples and Miami restaurants host renowned restaurants for any type of taste or appetite. If you find yourself in Little Havana, craving (of course) Cuban food, grab a table at the infamous Versailles Restaurant. Dine cafeteria style and bring your appetite. Indulge in an authentic Cuban sandwich or attempt to try the more exotic… like dolphin. After all, it is the "world's most famous" Cuban restaurant. 
South Beach boasts a bevy of restaurants that are hip, trendy and opulent with dishes and libations to match. Italian designer Roberto Cavalli has opened the Cavalli Club, the first one in the U.S. The menu is traditional Italian with innovative and inspired flavors. Dishes like Risotto Portofino with Light Curry and Grilled Sicilian Prawns are succulent and flavorful. The décor is typical Cavalli, colorful and current. 
Sea Salt is a premiere seafood restaurant with an ever-changing menu on popular 3rd Street South in Naples. The contemporary seafood cuisine is prepared from seasonal and fresh ingredients and could be described as "farm to table." The décor is simple and bright encouraging the diner to relax and embark on a journey that will tantalize the taste buds. The Blackened Grouper is a steadfast favorite and is accompanied by fava beans, tomato confit, smoked potato, oyster mushrooms, English peas and black truffle sauce. 
The Everglades
Miami and Naples are both neighbors to the Everglades, the largest subtropical wilderness in America. The best way to see it from an alligator's point of view? An airboat. 
There are many airboat tours in South Florida, but a personal favorite is Corey Billie's Airboat Rides. Corey Billie, a local and native Seminole, runs the tours through their own 200-acre swamp preserve surrounded by Collier Seminole State Park and National Wildlife Refuge and Panther Preserve. This airboat tour is only 15 minutes outside of Naples when you head east on US 41. 
Captain Doug's, in the tourist town of Everglades City in between Naples and Miami, is another go-to. They conduct daily tours through the mangrove jungles of the Everglades and you are sure to spot a gator or two, plus other Floridian wildlife like seagulls and pelicans.  
travel
Florida
South Beach
Old Naples