The Woman Room

03/04/2015 01:32PM ● Published by Annette Winter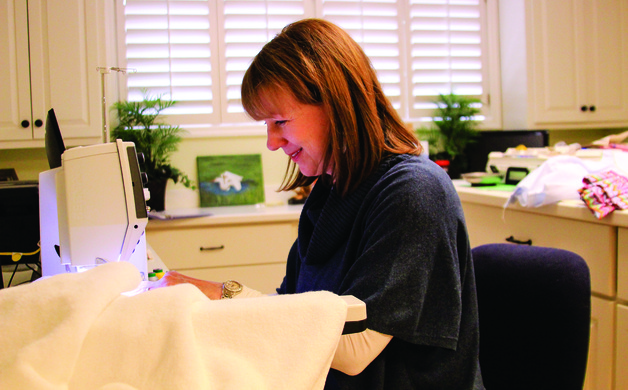 Gallery: Woman Room [8 Images] Click any image to expand.
Jessica Paddock
The Closet
This room is exactly what it looks like. Clothes, shoes, make-up, and jewelry are all easily accessible in a dream layout. It originated from my husband's need to keep me from taking over our master bathroom with my stuff and time! As any girl knows, getting ready can be a production. I like to consider myself 'low maintenance' although I realize this room may suggest otherwise. I can be comfortable here because it fits my needs no matter what my day throws at me. I can either quickly locate my clothes and throw on some make-up, or enjoy cocktails with girlfriends and all get ready for a night out.
The Style

My husband was determined to make this happen for me, but it definitely took some trial and error because the room is rather small and not meant to be a closet. We tried a few different closet systems from the hardware store, but ultimately chose furniture from IKEA. IKEA offered a great price and cool rods that made the room feel like a little boutique.
On the Woman Room

This is my first and I'm afraid I am now hooked.
Jessica Paddock is the General Manager of Vizcaya Villa, Army wife, serial hostess, trilingual world traveler and marathon runner in-training. 

Candida Choffy
The Home Office
My home office is for my personal business as a stella&dot stylist. At first, it was just a cozy room to drink wine in with my girlfriends. And they dubbed it the 'you room.' I started working again a couple of years ago and so my husband and I added the shelves and storage… but the wine stayed.
The Style

My favorite pieces of furniture are the wing back chairs that were given to me by my husband's grandmother. We sat and drank tea together in those chairs when we visited her last and she knew I loved vintage furniture. I had them recovered with the family's blessing and they actually inspired the colors of the room. I also made my chandelier, which was inspired by the bubbles in champagne. I got really tired of looking for something so specific that I decided to play with some ideas and came up with my bubble chandelier. It took a bit of time and many trips to Hobby Lobby, but I love it.
On the Woman Room

I spend so much time in here, even if I am not working. My dogs also find it relaxing; the girls come in here to sleep around my desk. This space is peaceful and inspiring. It's a constant reminder of all I have accomplished.
A Brooklyn, New York native, Candita Choffy is a Star Stylist with stella & dot. She is a wife, mother of two children and five fur babies.

Martha Ann Harrell

The Sewing Room

It's nice to be able to have my own space and if someone comes over I just shut the door, I don't have to clean it up. We moved here from VanStory 20 years ago. The whole bottom floor was dark wood paneling and I wanted a brighter space because I knew I would spend a lot of time down there. We put sheet rock up, painted it and later added cabinets. Bill Kozikowski added cabinets for me and made it more of a workspace. I needed a place to organize and file, because while my sewing room is a lot of fun for me…it is a partly a business, Pillowtalk Designs. 
The Style

It's very traditional. I have a convenient workspace, so it's workable and functional. But it's also very high tech. I have several Bernina sewing machines and an embroidery machine that uses a USB. I design everything on my computer then save it and transfer it via the USB to my embroidery machine. I received my first sewing machine at 15.
On The Woman Room

No, I could not live without it! We have talked about downsizing and I said, "Well, I would have to have a sewing room." I just love it.
Martha Ann Harrell is married to her college sweetheart, has three children and five, soon-to-be six grandchildren. She is the owner of Pillowtalk Designs, specializing in baby gifts.