THE BUSINESS OF BRIDES

03/04/2015 02:08PM ● Published by Annette Winter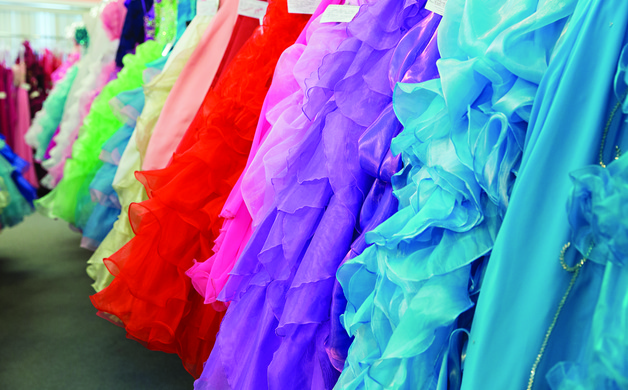 Gallery: Bridal [6 Images] Click any image to expand.
It's no secret that the bridal industry is a booming business and the costs of dresses and all other wedding finery is going up, up and up. In 2015, nearly $70 million dollars were spent on the big day alone. And we all know one of the most important components to the big day is the dress. 
Historically, dresses have not always been white. The white wedding gown was only made popular in the 19th century because Queen Victoria of England wore white. Over 150 years later, that's still the color of choice for modern day brides, though some prefer to have a little twist when it comes to the style, whether they stick with traditional or the more daring. And that's where our local bridal stores come into play. Here are four businesses that promise that you'll say "yes to the dress."
All over the world and in Haymount
Candice Richardson and Faith Anderson met merely two years ago and decided to work quickly to seal their fate by running a successful online bridal business, Blush Bridal. Their website, www.loveblushbridal.com launched last February and their first order was international. "Our very first sale was a lady out of Paris, France who purchased a bridal emergency kit. We were so thrilled! We didn't even have everything ready and we were already reaching customers overseas."
Both ladies have a business background, Candice is a University of Kentucky graduate with a Marketing major and Faith has an MBA from High Point University. Before they said "I do" to the bridal business, Candice owned a furniture store in Fayetteville and Faith worked in "corporate America." They met in 2013 when Faith taught a class on Quickbooks at Fayetteville Tech. "We just sort of hit it off," said Candice. From there, both discovered their shared passion for business…and bridal. 
At first, their business was to be called "Never The Bride" and only focus on the bridesmaid. However, they decided they really wanted to expand their market and cater to all things bride. Now, the entrepreneurial duo is getting ready to open their very own bridal boutique in a two-story historic home on Broadfoot Avenue in Haymount. Candice conveyed that this will be a "one stop shop" for the bride. "We cater to all brides. That's what makes us so unique to the average bridal shop. We style you from your engagement to your honeymoon and have wedding dresses that start at $300 all the way up to $5,000."
2015 is a big year for Blush Bridal with booming business and a store opening. They won $75,000 through the Dream Big Small Business Start-Up competition sponsored by The Support Center in Raleigh.
Bridal on Bragg
One can't help but notice the stand-alone location of the Bridal & Formal Center on the corner of the energetic Sycamore Dairy Road and Bragg Boulevard intersection. Formal elegance glitters in the window and the store is always full of kinetic energy, much like most businesses catering to this sort of clientele. 
Elaine Thaine and her husband, Garry, started their store in 1996 after selling their art gallery, based in Haddonfield, New Jersey. The former Jerseyites settled in Fayetteville in the early 1990s and now make their home downtown in a spacious loft on Hay Street. 
Although Garry had a prior career as a Registered Nurse, he caught on quickly to the dress fitting industry and began doing pinnings and eventually, alterations. Perhaps he found a great teacher in his wife, because her father, who was the president of the International Association of Clothing Designers in the 1960s also designed for many celebrities during that era. Needless to say, Elaine has been constructing dresses since she was a pre-teen. 
"I actually designed my own gown and my classmate needed a project for her degree in fashion design, so she made my gown!" said Elaine. She continued, "Now, white is our most popular color for bridal gowns, but my preference is ivory. Lace is romantic, but the simplicity of a plain gown with a small accent of adornment or a blingy belt just adds enough interest to make some of them my favorite."
Many memories are made in the Bridal & Formal Center where so many of their clients find the gown of their fantasies. Time and time again, Elaine has experienced seeing women look in the mirror and burst out crying. And it is always the cliché, "This is it! This is my dream dress!"
Elaine and her ten person staff thrive on making the dreams of brides come true.
A Grand Affair
Tucked into a small shopping strip on Fayetteville's north side, you'll find An Affair to Remember. Not only is the store a favorite with brides, but it is almost always buzzing with prom and pageant queens checking out the latest gowns from two of the most famous formal designers in America: Sherri Hill and Tony Bowls. This is probably the top reason owner Kathy Keefe Jensen has a bridal salon, which is by appointment only. "We feel that every bride deserves their own time to be able to enjoy the moment," said Jensen.
The Fayetteville native started her business in 2005 with longtime friend turned business partner Haroula Karmazyn. "I had always wanted to open a bridal business," affirmed Jensen. When both army wives returned to Fayetteville when their husbands retired, they started a tuxedo store and it grew faster than they ever expected.
So fast, that the Ramsey Street shop sees brides, prom girls and pageant queens from all over the state and southeast. "The most fulfilling thing is putting someone in a dress and that they realize they're beautiful… no matter what size they are. The look on their face when they try on the 'right' dress for their body type is priceless." Jensen and Karmazyn love to get clients "out of the box" and allow them to realize they're beautiful.
For her daughter
Kristina's Boutique, located in the renovated Pizza Hut location on Raeford Road, is mostly prom and pageant wear for children on up to adults, but they do have a section of select wedding gowns. Twenty-five years ago when owner Betty Reeves' daughter Kristina (also the shop's namesake) began competing in pageants, she realized the high cost of dresses and sought a solution. Why not start her own store catering to the needs of potential queens? Betty, who at the time was the office manager for Cape Fear Valley Hospital's NICU, started her first store two decades ago in the Bordeaux Shopping Center. From there, they moved to Tallywood and are now in their third location. "It's a much better location, more visible from the road," affirmed Betty. 
Betty's granddaughter serves as the mascot for the store and has also been crowned Baby Miss Fayetteville. "She loves dresses and visits often. She is our mascot. When customers come in she always asks, 'Can I help you find a dress?'" said Betty while giggling.
While Betty's former career with NICU was extremely demanding, she maintained that serving brides and pageant girls is glamorous, but tough. "I only had to please my boss at the hospital. Here, I have to please everyone."
Our local bridal businesses similar, yet all have unique qualities that set them apart. But one thing they do share is the fact that the brilliant women (plus Garry) who drive these establishments all share the same notion… to serve the business of the bride. 
CV Lifestyles
Candice Richardson & Faith Anderson of Blush Bridal
Elaine Thaine of The Bridal & Formal Center
Kathy Jensen & Haroula Karmazyn of An Affair to Remember
Betty Reeves of Kristina's Boutique
CV SHOP LOCAL