At the Helm

03/04/2015 02:39PM ● Published by Annette Winter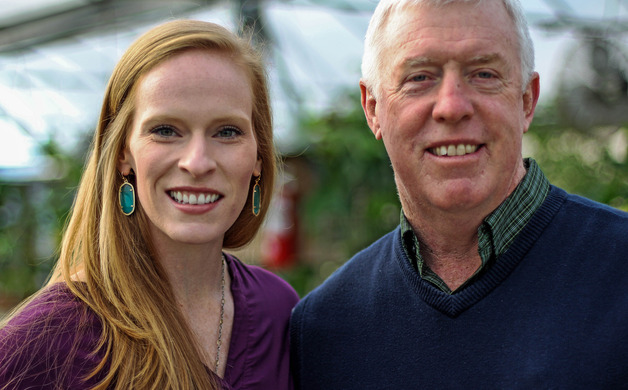 Gallery: Local women grow their family businesses in Fayetteville [9 Images] Click any image to expand.
According to the National Association of Women Business Owners, the percentage of women taking over the management and ownership of their family business has increased significantly in recent years. In 1994, only two percent of family businesses were women-led. Currently, women lead 11 to 12 percent of all family firms and North Carolina has the third fastest growth of women-owned businesses in the country. 
In Fayetteville, four homegrown women bring fresh perspectives to traditionally male-dominated fields, serve as strong role models for women in business and have fun doing it. 
Whitney Allen Austin, General Manager of Green Side Up Garden & Gifts
Long before Whitney directly impacted the profit margin of the wholesale nursery, landscaping and maintenance business that her parents, Charles and Cindy, founded in 1979, she and her two siblings, Charlie and Lorna, were part of Green Biz. Attending nursery trade shows and spending afternoons doing homework in the business office when they were children, the siblings were well-qualified to work in the nursery as soon as they were of age. 
Shortly after Whitney graduated from the University of North Carolina at Chapel Hill in 2009 with dual degrees in economics and management, her dad approached her with the idea of opening and managing a garden center. While well-positioned for such an endeavor, she never assumed she would be a part of the family business when she was growing up. "If that had been the case, I probably would have gone to school for Horticulture at N.C. State. They have a great program," said Whitney, who urgently added, "but I'm still a Tarheel."   
In May 2010, Green Side Up Garden and Gifts opened for business with Whitney at the helm. Each day brings a unique set of challenges, some of which are attributable to one of Whitney's favorite facets of Green Biz: family. Her dad is the CEO, her mom is the CFO and her brother is the VP of Operations. "My employers and supervisors are my parents. At times, my brother is my boss. It can be difficult to be at work one minute with your boss, then the next minute, be across the table at Christmas dinner. Constantly, we have to remind each other that we are not at work."
Whitney accredits her success in business to teamwork, both with her family and her employees. "I think it is so imperative to surround yourself with a great team. I am so fortunate to have an amazing team by my side and I think that is one of the reasons why we are still here," she said. 
"I have recently realized how important goals are, both professionally and personally. They are what propel you to the next level," said the newly-married Whitney, whose hope for the future includes more Green Side Up locations and, of course, a family.
In Whitney's role as general manager of the garden center, she manages employees, marketing, advertising, sales and customer service. "It has been a learning process to know which products customers want, and when they want them. I love seeing their faces light up as they walk into the store," she said, of the 5,000 square feet of unique home décor and garden items, hand-selected by Whitney, her mom, and Carly Cocarro, the gift store manager.
In addition to home décor, Whitney and her staff of horticulturists and designers carry a wide selection of outdoor furniture and live plants in greenhouses and outdoors. The strikingly landscaped gardens of Green Side Up are available for receptions, parties and events. Regularly, Whitney's staff holds fun workshops and hands-on learning opportunities, which can be found on their website, greensideupgifts.com and on their Facebook page.
While running a family business poses the occasional challenge, its rewards are many. "Sometimes I have to take a step back, literally, and look at what my parents have created," Whitney said of the 120 acres of land devoted to growing plant materials and supporting a landscape design and maintenance business. "It has been amazing to see my parents' business grow and, wow, to know that I am a fundamental part of the business is an extraordinary feeling. We built something great."
Nancy Teachey, Marketing & Showroom Designer, Hubbard Pipe and Supply
In 1972, Nancy Teachey's father, Bonner Hubbard, founded Hubbard Pipe & Supply in a small section of the current warehouse on Robeson Street. Today, the family owned and operated business spans almost a full city block.
When her parents died in 2002, Nancy, her husband Wilson, and Nancy's brother, David, assumed control of the business.
The ownership transition left them reeling. "We had big shoes to fill. We had to get it together. We always knew we wanted to continue the family business, just not so suddenly and in that way." 
"Continue" doesn't begin to describe the upgrades and expansion Hubbard Pipe and Supply has undergone in the last decade. In 2004, they opened a showroom, which Nancy designs. In 2009, they opened stores in Southern Pines and Sumter, South Carolina. In 2014, they opened a showroom in Wilmington.
While Nancy is most actively involved in the showroom, she enjoys every facet of the business, especially the people. "I love going to our workplace and seeing what the employees are up to. They are our family and so much fun to be around. We work hard to create a family culture in our family business," said Nancy.
The former elementary school teacher and current stay-at-home mom may not go to the office every day, but whether she is in Texas to purchase new items for the showroom at the Dallas Lighting Market, jetting off to Scottsdale, Arizona for a conference, or running out to buy coffee for employees, she is always thinking of ways to help customers find what they want and need, and ways to ensure "Hubbard" continues to be a household name in Fayetteville. With so many community members coming and going each year, it's no small task.  
"Our customers are so great. In Fayetteville, you get to meet someone new and interesting every day. There is nothing I love more than when people stop me around town and tell me how much they love their fixtures and how their toilet is still working well," laughed Nancy. 
Nancy is quick to attribute the success and growth of the business to her husband, who is president of the company as well as her brother and their dedicated employees. Of Nancy's involvement, her husband and CEO Wilson said, "Nancy may not work 'in' the company, but she works 'on' the company to make it a better place to work and shop."
In 2012, Nancy introduced Sarah Faucet, an illustrated brunette bombshell ambassador for Hubbard's Kitchen, Bath & Lighting showrooms. "I wanted a logo girl that would be our 'fashionista' and voice for the decorative plumbing and lighting side of our company," said Nancy, of the innovative logo created by local artist, Shari Link. "People ask me if I'm Sarah Faucet, but I'm not. She is the embodiment of everything we love about the business." 
Whether she's having a cupcake at The Sweet Palette or posing for Facebook 'selfies' in The Butcher and the Baker, Sarah Faucet's promotional reach goes where plumbing supply companies have never been. "Sporting Sarah Faucet out and about town is something we like to do from time to time to help promote local businesses like ourselves and to help bring branding to our showrooms so people know they don't have to drive to larger cities to have the most sought-after kitchens and baths. We are thrilled to be able to provide these amenities right here in our home town," said Nancy. 
This spring, Sarah Faucet will host events at Hubbard for the public and trade, including a spa day and a spring fashion show. "Plumbing and lighting are high fashion and we are excited to partner with vendors and local businesses to bring our communities the glamourous side of what helps make your home fabulous," said Nancy.
Lynne Greene, President,
Highland Lumber Company, Inc.
Highland Lumber Company was founded in 1919 by Lynne Greene's great grandfather, John M. Wilson, Sr. "I believe the only two local businesses that have been in Fayetteville longer than us are Bell's Seed Store and Holmes Electric," said Lynne. 
Lynne was born in Augusta, Georgia and the story goes, "My grandmother in Fayetteville couldn't stand to have me so far away when I was a baby, so my grandfather, James Wilson, convinced my dad to come and work with him," said Lynne. "Just give me a year," James said to Lynne's father, W.A. Bissette, and thus the legacy continued.  
Lynne's father bought the business in 1984, but Lynne has been involved since high school. "I worked here in the summer, answering the switchboard. My grandfather paid me in gas from our tank on-site at Highland. Gas was about 57 cents per gallon, back then," Lynn laughed. 
Lynne went to college at Peace, finished up at NC State and went to work for the Clerk of Court in Fayetteville, collecting child support payments. "When my dad approached me about working in the family business, I was really ready for a change," said Lynne. 
She began working at Highland in August of 1991. "I got every part of every job that everyone didn't want," said Lynne, laughing, "Then, Dad put me to work on some delinquent accounts. I was pretty good at that, since I had experience with the Clerk's office."
By the time Lynne became president in 2009, she had done every job at Highland. "I've stripped the wax from the floors. I've cleaned the toilets and now, I really appreciate that someone made me do it. It adds value to me, as an employer, to be able to tell my employees that I've done what they're doing," said Lynne. 
Her willingness to work alongside employees supports the mission that Highland was founded on: service. "There is so much competition in Fayetteville. We constantly try to set ourselves apart and give our customers the service they deserve. I enjoy hearing that our customers are happy with the services we provide, but also, it is great to be able to resolve a problem right here. With so many non-local businesses, if a customer has a problem, the person they are talking to can't help them. The employee has to run it up the ladder. Well, I am the ladder," said Lynne, whose office is still in the front of the building so she can say "hello" to customers and best observe how the business is running. 
From her catbird seat, there is no denying that the climate of Highland's business is changing, based on local demand. They work more with regional builders than ever before, and are adjusting to fill the needs of this niche. Whether holding seminars or offering continuing education units, Lynne focuses on making customers' lives easier – even with unorthodox approaches. "When the banks stopped lending money, we used our line of credit for customer loans. The banks didn't like that very much, but we did a great job," she said brightly. 
"It's a tough industry. Your skin can't be thin," said Lynne of her success in a traditionally male-dominated field. Often the only woman in a room, she is motivated by challenge. "The best thing you can say to me is, 'You can't do that.' I'll show you I can."
Meredith Player Stiehl,
Manager of Westwood
Shopping Center, part owner
of Tri-Player Investments, LLC
Forty years ago, Meredith Stiehl's father, Henry, his brother, Lonnie and their cousin, Richard Player, designed a landmark-shopping destination in Fayetteville: Westwood Shopping Center. Predating Cross Creek Mall and the All-American Expressway, Westwood continues to play a vital role in the heart of Fayetteville and in the hearts of Fayetteville shoppers. 
"We strive to provide a safe and clean environment for commerce. Assembling a good mix of merchants to allow for 'one-stop shopping' has been a goal from day one. It is a destination where you can do your banking, mail your packages, grab some good food, shop for groceries, pick up gifts and even catch some quality entertainment," said Meredith of the eclectic mix of more than 50 shops on the corner of Morganton and McPherson Church roads.
Each day, Meredith works to ensure Westwood's position as a cornerstone in the ever-changing Fayetteville market, and the changing landscape of shopping as we know it. "Shoppers have so many choices, today. Consumers are utilizing smart phones while shopping and Internet searching while at home. We have stayed in tune with these trends and continue to educate small businesses of the benefits," said Meredith, who encourages retailers in the shopping center to prepare for smart phone users by understanding price point, price comparison applications, and how price matching, with certain restrictions, can inspire consumer confidence.
Though Meredith has been working in the family business since she was 15, she was drawn to other fields, spending time in the residential real estate market, teaching statistics and economics at FTCC, working as Coordinator for Rape Crisis of Fayetteville/Cumberland County and serving as Director of Development for the Fayetteville Museum of Art. 
Ultimately, she decided to join the family business when she began thinking about building a family, and working in the family business allowed the now-mom of two high school students - and one foreign exchange student from Lithuania - that flexibility.
She attributes her family's success in the commercial real estate business to a legacy of teamwork. "Hands down, the best reward is working with my father.  He is a wealth of knowledge, which can be said of each member of the generation before us now.  The key is to invest the time to sponge it all up. I may never achieve the knowledge of my father's engineering mind, my uncle's fine-tuned negotiating skills and my cousins' sharp financial forecasting. We allow each other to best utilize personal talents and it is a workplace of respect. Each day is an opportunity to learn, grow, and leave my personal mark on our progress," Meredith said.
So, what's next for Fayetteville shoppers at Westwood? We will have to wait and see. "Most of our developments are highly confidential," said Meredith, shrewdly. 
One thing is certain, Meredith knows what we want. "I was born here and there is a real benefit to knowing this city well. I have confidence in understanding consumer behavior here. When talking with potential merchants coming from other areas, they tend to look only at statistics as forecasts for success. Fayetteville is more unique than these numbers and I feel I understand that well."
Meredith Player Stiehl, Manager of Westwood Shopping Center, part owner of Tri-Player Investments, LLC
Lynne Greene, President, Highland Lumber Company, Inc.
Nancy Teachey, Marketing & Showroom Designer, Hubbard Pipe and Supply