Vause Farm Equipment

04/07/2015 10:22AM ● Published by Annette Winter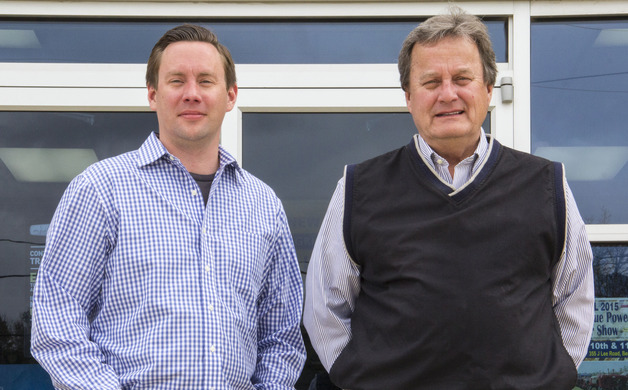 Gallery: Vause Farm Equipment [16 Images] Click any image to expand.
"At the age of 12, I started helping out at the parts counter, mopping floors and turning wrenches in the shop." Carr Vause recalled growing up alongside his family's business, "With the help of seasoned mechanics, I learned how to be a man: to grunt and speak in a deep voice, to cuss, use a knife and learned how to fight. But I never won, so I'm not sure if I learned anything."
Carr's family has owned and operated Vause Farm Equipment since April 1945. At that time, Bob Vause (Carr's grandfather), was an assistant county extension agent with little to his name who took a chance starting up a business with the help of a couple of bank loans. The decision, however, didn't come out of the blue. Bob was a farmer in La Grange, NC for years and had intimate knowledge of and appreciation for the needs of North Carolina farm workers.
From the start, Bob involved his son Bobby in the everyday tasks and management of Vause Equipment. Sadly, Bob suffered a cerebral hemorrhage in 1978, forcing Bobby into the driver's seat where he developed his own method of doing business. Today, Bobby continues to run things along with his son Carr and daughter Misha. "This business is my daddy's baby. I have an older sister, but when my father died I found out he actually had three children. The third was his business. I will not let this business fail because I know my daddy would come out of the grave and beat my butt," said Bobby.
Unsurprisingly, Vause Farm Equipment does exactly what their name implies, sells farm equipment. But there's a little more to it than that. The company's website lists the types of equipment they provide: agricultural (farm) and construction. Carr expanded, "We have carried both since the 1960s and depending on the market at any given time, have vested more heavily in one or the other."
Currently, Vause Equipment's primary clientele are famers with between 150 to 10,000 acres of land, located in southeastern North Carolina. For this reason, the company's focus is currently on farm equipment. Vause provides things like GPS steering, tobacco harvesters and sprayers, corn, soybean and cotton planters, as well as combines to transport crops out of fields and onto the market. 
"More recently," said Carr, "we have taken on a compact tractor line with equipment for the 'weekend warrior' who owns between one and 15 acres. This type of farmer typically purchased a relatively small piece of land and wants to clean it up and make it his own." This client may be retired or active duty military, a doctor, a maintenance worker, "anyone with a little land looking to play in the dirt." 
Earlier this year, this same agricultural line released a two-passenger, 4x4 utility vehicle, "for those who want to ride in the sand, mud and rocks. This type of thing awakens the consumer's inner-child, allowing him or her to have fun and make a mess." Additionally, Vause recently acquired three new lines of equipment, namely compact tractors, tobacco equipment and propelled spraying machines.
When it comes to construction products, in recent years the company has specialized in earthmoving equipment to level large areas in preparation for large-scale construction projects such as apartment complexes or shopping centers.
Vause Equipment doesn't just sell equipment, however: "Everything we sell, we service," Carr said, "We also provide our customers the information they need to make informed decisions about future equipment purchases, such as market trends and developments in technology."
The family's hard work continues to pay off, as the Vauses reach 70 years in business. Though they'd like to celebrate, Carr explained that the festivities may be delayed, as April is a busy time for local farmers: "We want to make sure first and foremost that our customers are taken care of as they prepare to go into the field."
The entire family remains actively involved in the company's daily management and operation. Though their official hours of operation are Monday through Friday, (and a half day on Saturdays for parts and service), Bobby and Carr both make themselves available after hours and on weekends to help with any special requests or needs customers have. In addition to the Vauses, two employees handle accounting, three work at the parts counter, four handle sales, one driver transports equipment and six manage the shop. 
"When it comes to planning succession, that's a task that requires patience," Carr said when asked about plans for the future. The family is in conversation, tentatively planning to grant Bobby the role of senior advisor or chairman of the board, leaving Carr and his sister Misha to be co-owners and board members. Though Misha calls Dallas, Texas home (for now), she grew up at Vause Farm Equipment. "She was raised in the business since she was nine-years-old. She told me on my last trip to see her, 'the only reason I am successful is because I have learned from you.'"
"My father has always called the business a 'work in progress,' even after 70 years of success" Carr laughed. But that work ethic and constant drive to improve seems to run in the family. He continued, "With the help of my sister, I hope we can reach 100 years."
Bobby concluded in a foreboding yet comical way, "I've told both of them…you'll get along or you'll die." 
See for Yourself:
Vause Equipment
1013 Gillespie Street
Fayetteville, NC 28306
910.483.7165
Vause Farm Equipment
Carr Vause
Bobby Vause
CV SHOP LOCAL