Partnering in Prevention

04/07/2015 10:21AM ● Published by Annette Winter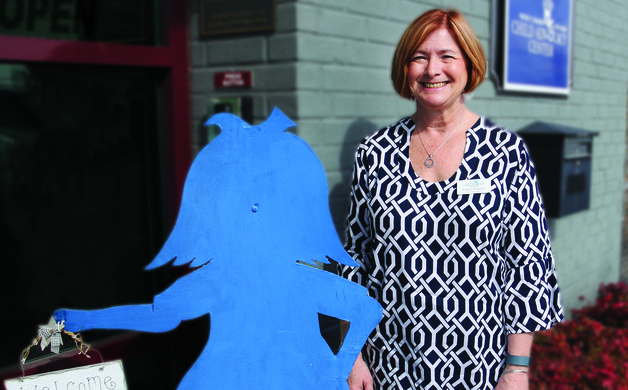 Gallery: The Child Advocacy Center [7 Images] Click any image to expand.
Each April in Fayetteville, blooms burst forth in the promise of warmer days. Among the iconic dogwood, daffodil and azalea, we will see gardens of bright blue and silver metallic pinwheels twirling on the lawns of organizations and businesses all over town. They are "planted" to raise awareness for child abuse prevention. "They signify hope and the bright future every child deserves," said Roberta Humphries, Executive Director of the Child Advocacy Center of Fayetteville. 
Awareness cannot be raised quickly enough. The Child Advocacy Center partners with professionals from 19 community agencies to alleviate the trauma children experience once a disclosure of sexual abuse or serious physical abuse is made. In a child-friendly environment, they conduct forensic interviews and coordinate multidisciplinary case reviews to plan the best course of legal and supportive action for the child abuse victim. 
Agencies involved include law enforcement, medical care, mental health, military family services, social work, child protective services, the District Attorney's office, victim advocates, education and Guardian ad Litem.
This type of coordinated approach helps alleviate trauma to victims by decreasing the number of times they must tell their story and saves the community approximately $500,000 per year.
In the last fiscal year, the CAC helped 615 children, an increase from 465 children in the previous fiscal year. Humphries is hopeful, though, that a portion of the increase is due to increased awareness of child abuse and the empowerment of our neighbors to report suspected cases of abuse. 
In addition to proactive training, the CAC offers a myriad of services for abused children and their families, including the critical non-threatening environment in which to tell their story, therapy dogs to comfort children and families while they wait to give their interview, gifts of comfort bags and blankets and ongoing therapy for victims.
Stewards of Children become Partners in Prevention
"A little over four years ago, we got proactive and began training area organizations and businesses on how to identify child sexual abuse and how to report it," said Humphries, who has been with the Child Advocacy Center for the past five years. 
When businesses, groups and organizations complete the structured Stewards of Children curriculum, which is either two sessions of 1.25 hours or one session of 2.5 hours, they receive a bright green Partner in Prevention seal to place in a visible area of their organization. "It represents to the community that the organization displaying the seal takes the protection of children seriously and is committed to keeping children safe from abuse," said Humphries.
At first, the CAC trained mostly childcare centers, but word spread quickly and now there are more than 50 organizations and businesses in Fayetteville with a Partner in Prevention seal. "Not all of the businesses and organizations with the seal deal directly with children, but even so, they will undoubtedly come into contact with children at some point in their lives and they, too, will be better educated and equipped on how to react, respond and report child abuse in addition to learning how to better protect children from abuse," said Humphries. 
Brown & Associates Investment Services was one of the first businesses - that does not serve children - to receive the training. "We chose to complete the Stewards of Children training and become a Partner in Prevention with the Child Advocacy Center because although we are not professionally a child-serving organization, we wanted to inform and educate ourselves on how to protect our own children and other children in our community. Adults should take every opportunity to absorb all information possible to prevent and protect children from becoming victims. Our Partner in Prevention seal shows our clients and other businesses that our staff puts children first," said Karen B. Tisdale, Registered Representative/Partner, Brown & Associates Investment Services. 
Ways to Get Involved
Volunteer handlers bring therapy dogs to the center when children are scheduled to give forensic interviews. The gentle and friendly dogs are a fixture in the waiting room, and Fayetteville's CAC is the only center in North Carolina to utilize them. "Research shows that therapy dogs ease anxiety of children and their families," said Humphries. Currently, the center has dedicated large-breed volunteers, but would welcome smaller breeds, as well, as some children are leery of the larger dogs. 
After forensic interviews, children are given comfort bags, which are donated by members of the community. "The comfort bags provide children with some necessities like school supplies and hygiene items, but some fun things as well. These are especially needed for children that are removed from their homes," said Humphries.
In addition to comfort bags, children are given a colorful, soft fleece blanket, generally handmade and donated by organizations in town. "Children just love the blankets. It lets them know that someone in the community is thinking of them," said Humphries. 
The Child Advocacy Center is the beneficiary of many exciting community events each year. Most notably, the CAC just hosted the 8th annual American Girl Fashion show in the Crown Center Ballroom on March 21st and 22nd. The Kiwanis Club hosts the Care for Kids golf tournament, which will be held September 24, 2015 and the 2nd annual Pinwheel Masquerade Ball will be held at the Metropolitan Room on October 17, 2015.
On Tuesday, April 28th, CAC will host an open-to-the-public child abuse conference at Fuller Recreation Center at 6627 Old Bunce Road in Fayetteville from 8:30 a.m. to 4:30 p.m.
To learn more about how to prevent child sexual abuse or earning Partner in Prevention status, contact Faith Boehmer, Prevention/Volunteer Coordinator of the Child Advocacy Center at 910.486.9700 or visit their website at www.childadvocacycenter.com.  
Roberta Humphries
Child Advocacy Center of Fayetteville
Darkness to Light: Stewards of Children
5 Steps to Protecting Children