The Rewards of Rearranging

05/06/2015 11:13AM ● Published by Annette Winter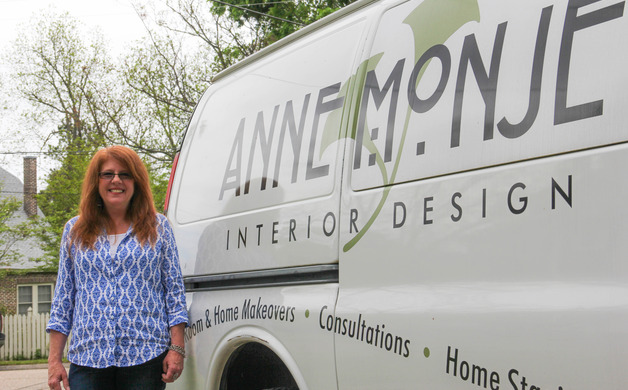 Gallery: Anne Monje Designs [4 Images] Click any image to expand.
When it's time to sell a home in a unique, competitive and active market like Fayetteville, sellers look for every opportunity to increase marketability. From small apartments to large homes, furnished or unfurnished, modest budget to extravagant, one thing is certain: It pays to stage a home for selling. 
"Staging," is the work of arranging home furnishings to be most aesthetically pleasing for potential buyers and highlight the best features of a home. Recently, staging has become common vernacular among owners, not just real estate agents. Thus the process is quickly becoming an industry standard.  Due to the popularity of home improvement television, accessible do-it-yourself online tutorials and motivating photo-sharing websites like Pinterest and Houzz, homeowners are more prone to address factors that affect the salability and profitability of their home…especially when it's time to sell.
Staging the Occupied Home

If a home is occupied while on the market, long-time homeowners can find it difficult to pinpoint areas that need to be edited or updated. 
Anne Monje, owner of Anne Monje Designs in Haymount, has been in the business of staging local homes for the past 20 years. In that time, Monje has overcome outdated décor, scant square footage, budgetary restrictions and clutter to help sellers attract buyers. While her services run the gamut of interior design,  Monje is an expert in staging the occupied home and her process is simple, but creative. 
In the early years of Monje's business, customers would contact her after their home had been on the market unsuccessfully for a length of time. Now, it is most common for clients to seek out her services before their home goes on the market. "I can't really pinpoint the timeframe, but in the past five years or so, it seems as though people are much more aware of the benefits of staging and I've had a higher volume of calls," said Monje.
When she receives a call from a client, Monje visits the home for a complimentary consultation. Once she develops a plan of attack, the owners have two options. They can take her advice and proceed down a do-it-yourself path, for which she only charges a consultation fee. If they opt to let her work her magic, she can have the home market-ready in about two weeks.  
Monje works diligently within a homeowner's budget by using their existing furniture and décor. "I am very aware that I am being called in so that clients can sell their homes, not sink more money into it," she said. If homeowners are skeptical of the return they expect to see from staging, a survey by the National Association of Realtors shows that if an owner invests one to three percent in staging, they can expect a return on investment of eight to ten percent.
Anne rearranges and declutters with a keen eye for making a home more modern. "Fayetteville is a young market. It's important for homes to be on trend," said Monje, of prospective buyers preferences.  After decluttering and utilizing what she can from the home, she purchases a few accent pieces that match the current décor. She loves to shop locally for furniture, but is quick to say that great pieces can be found at Marshall's, TJ Maxx and Hobby Lobby. "Homeowners usually buy the items from me and use them in their new home, because they are specifically purchased to highlight their existing décor," said Monje. 
Sometimes, a job is that simple. "I bring a strong team member with me. He will do the heavy lifting, while I just point to where things go," laughed Monje, an artist who began developing her eye for arranging furniture when she designed floorplans for Ethan Allen showrooms. When a home needs more aggressive treatment, Anne uses her full complement of helpers to get a home in shape. "I have a trusted team of painters and repairmen who can simplify the process for homeowners." 
Warming the Unoccupied Home

It may seem that a lack of furnishings will make a home appear as a spacious blank canvas for eager homebuyers, but usually, the opposite is true. Without furniture as context, rooms will appear smaller and complicate the ability of potential buyers to picture themselves, and their existing furniture, in the home. According to the National Association of Realtors, 
90 percent of homebuyers begin their search online. If rooms are empty, buyers cannot discern the size of a room from pictures. Equally concerning is the tendency to place more focus on a home's imperfections when there are no furnishings to highlight the best attributes of the home. 
However, a few pieces of carefully selected furniture will help an empty house look more like a prospective home. From renting specific pieces from local rental companies to ordering cardboard furniture on the Internet, there is no need to dip deeply into the profitability of the sale.
Real estate brokers are acutely aware of the importance of a first impression and what factors influence a sale. Dawn Thompson has been a broker in the Fayetteville area for the past 23 years and a Fayetteville resident for 40 years. Well-versed in the benefits of staging, she offers a unique perspective as she stages most of the homes she sells.  Of taking time to add strategic items and their effect on potential buyers, Thompson said, "We just showed a vacant home to a buyer and the listing agent did do some minimal staging.  It makes the home more inviting even when unoccupied.  The objective is for the buyer to leave with a 'feeling of home' and often, those few things do make a difference - especially when the home is vacant."
Dawn Thompson and her husband, Danny, a team for Coldwell Banker Advantage, have always been able to facilitate the staging of a home without a homeowner purchasing new furniture. While she frequently borrows items from her own home to stage a client's home, she does recommend the low-cost option of renting furniture when faced with a completely empty home or a collection of popular over-size furniture. "The last sellers we worked with actually involved us in the process of selecting the rental furniture that would work best in the space and the end result was a room that showed like a model home." Dawn added one of her own trees and moved the big furniture to an area that accommodated it better. "It looked so great and fit their lifestyle so much better that they wondered why it hadn't been like that all along," said Thompson, who has loved rearranging furniture since she was a child. 
The ultimate goal in staging an empty home is to create spatial context for buyers. Focus on the most important rooms. A rented, borrowed or inflatable mattress, bed frame, dresser, and bedside table for the master bedroom, dining room table and chairs and a basic living room suite are all that are needed.  
9 steps to staging your home
Declutter
Some experts advise to proceed with packing up 90 percent of a home. Pack away toys and clear bathroom and kitchen countertops. Yes, even closets should be tidy and well organized. Storage space sells!
Depersonalize

Dozens of family pictures can hinder a potential buyer's ability to see the home as their own. Dawn cautioned against removing all personal items, though. "I don't recommend totally de-personalizing because I do find some personal touches are what make the home inviting and warm."
Clean and deodorize 

Find a comprehensive home-cleaning checklist on the Internet so that no dust bunny will be left behind. Either maintain on your own or hire a service. When on the market, ensure the home has a fresh scent for every showing, whether by opening the windows for a natural breeze, baking cookies or simmering a cinnamon stick and water on the stove.  Mind the litter box. "You want the buyer to notice the home and not be distracted by clutter or offensive odors from pets, smoking or food," said Dawn.
Neutralize room color

Know that a home may sell more quickly if walls are painted a neutral color. A fresh coat of glossy white on trim work and doors makes a room look fresh and clean. A trick to making a space appear larger is to paint an adjacent room the same color.
Create a comfortable space 

Hang, roll or fold new, fluffy towels in the bathroom. High-quality decorative pillows on the couch or bed lend a luxurious feel to sparsely decorated rooms. 
Trim the hedges

Commit to regular lawn care, either on your own or with a landscaping company. Simply mowing, trimming, edging and laying mulch or pine straw can enhance curb appeal and distinguish a home from others on the market.
Create light

Open curtains, blinds and shutters. Replace all dim lightbulbs with a higher wattage and ensure all lamps are on for showings. A good "rule of thumb" is 100 watts of light per 50 square feet.
Bring the outside in

Expensive fresh floral arrangements in every room are beautiful, but cutting sprigs from the yard can achieve the same effect. Aim for something alive in every room. Clip for the season. Magnolia, holly, pine and maple are always plentiful in Fayetteville. Decorate with fresh fruit in the kitchen. 
Does it work? 

Ensure all outlets, appliances and unfinished improvement projects are complete and in working order.
Whether an owner enhances the beauty of their home with the help of a professional stager or a tight budget and "elbow grease," statistics show rewards. A survey by Coldwell Banker Real Estate Corporation found that staged homes spent half the time on the market than non-staged homes and sold for more than six percent above asking price.  
Anne Monje Designs
Dawn Thompson
Home staging