Growing a Community

05/06/2015 11:19AM ● Published by Annette Winter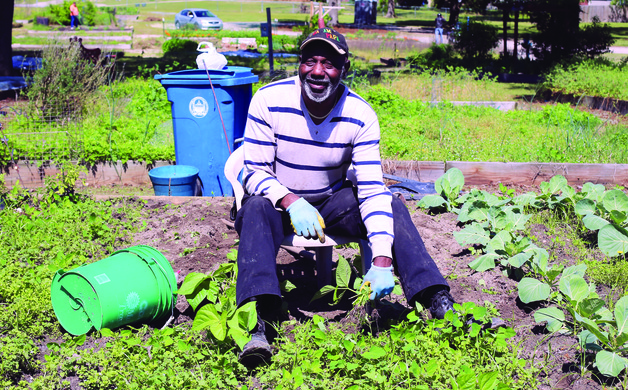 Gallery: Fayetteville Community Garden [5 Images] Click any image to expand.
The Fayetteville Community Garden provides food, flowers and a sense of community for people of all experience levels and walks of life.
It's a particularly windy day in near spring—that stretch of pollen-covered weeks promising new growth while the threat of cold nights and colder mornings still lingers. Fayetteville comes alive with dogwood blossoms and azaleas, a gentle reminder that it's time to get seeds in the ground. At a five-acre tract of land on the corner of Vanstory and Mann, a few early birds spill into Fayetteville Community Garden to pull up the tarps covering their plots and start planning this year's crops. Depending on what they planted last year, some of the vegetation might come back. 
Each 20x20 plot is as unique as the people who garden them. Master gardeners grow immaculately pruned flowers. Ornate trellises and practical lengths of chicken wire invite vines to crawl skyward. Bricks and garden sculptures provide clues to the personalities of the gardeners. Compost bins, eggshells and string are tools of the trade. Together, the plots are a larger statement about the community at large, a way for people of all backgrounds and situations to come together in common purpose—to grow.
Old Wilmington local Mitchell McCoy is ahead of the game. His plot is cleared and ready for warmer weather.
"I love to play in the dirt," McCoy said.
He grew up on a farm in Hoke County, where each of the kids were doled out a small garden to tend. From a young age, he knew the tricks of growing collards, okra and tomatoes.  Since the inception of the Fayetteville Community Garden, he's added kale and spinach to his gardening repertoire. 
You won't find McCoy spending top dollar on organic-branded soil for his plot. He goes straight to the source, collecting turkey, chicken, horse and cow manure himself. He keeps at it all year, turning and adding to the soil until it turns a rich dark color.
"That's why my garden always looks better than other people's," McCoy laughed 
His old-fashioned green thumb is also why other gardeners regularly ask him for tips. McCoy is the eyes and ears of the garden, watching over it from a plastic lawn chair in the corner. He regularly walks the length of the garden, taking in the work of other gardeners, studying what and how they grow their vegetables and flowers. If they ask, he offers advice. 
When new gardeners purchase a plot, McCoy is the one who shows them the ropes. He talks to them about organic gardening and demonstrates how to hook up the hoses. 
"Everything grows here," McCoy said. He freezes surplus veggies from his garden and eats them year-round.
"I don't have to go to the store to buy my vegetables," he boasted. 
Aside from the financial benefits of growing a year's worth of produce for the meager annual fee of twenty-five dollars in water share and operation, McCoy would rather be sitting in his garden than almost anywhere else—certainly the grocery store. He's even thinking about selling some of his excess this year.
A New Generation of Gardeners
Unlike McCoy, who was raised with one hand in the dirt, many of today's youth have trouble even identifying fresh foods. 
"Kids nowadays want everything, but they don't want to do anything for it," McCoy said.
Garry Winebarger and the Great Oak Youth Development Center are doing their best to change that. One of several activities operated by the center, the gardening program teaches hands-on agricultural skills to young boys, ages eight to 16. Winebarger has been involved with the program for a few years, but this year he is taking over as lead. 
While teaching preschool children at his church, Winebarger noticed that many of the children had never seen an actual pear outside of the standard-issue fruit cups. When faced with the actual fruit, they had no idea what it was.
"Most coaches know their kids aren't going to play professionally. Here, I know most of the boys won't become master gardeners or use these skills to make a living," Winebarger said, "but there's something about taking a project from start to finish. They love the experience of planting something, watching it grow and pulling it up."
While gardening inevitably teaches important life skills—from managing time commitments to carrying out a plan—it's also good, plain fun. There's something hopeful about seeing a group of young boys outdoors, unplugged from electronic entertainment.
"It's not about the gardening," Winebarger said. "It's about the boys."
Great Oak holds three garden plots. In addition to planting and tending each individual garden, the boys help clear and clean the common spaces. They mow and weed the walkways and collect branches and debris throughout the five-acre parcel. Wheelbarrows and tillers in hand, they assist some of the older gardeners with the manual labor involved in managing a plot.
The Little Garden That Could
Watching the younger generation cultivate gardens is one of the most satisfying experiences for Candace Williams, whose tireless efforts saw the garden from an idea to reality.
While reading the morning paper, Williams was struck by two words—vacant lots. Those words had a special meaning to Williams, who had been part of a community movement in Boston's South End twenty-five years prior.  In an instant, she knew she was being called to translate that experience into a community garden for the Old Wilmington Road neighborhood.
Williams spent the next two years sitting on front porches, map in hand, convincing locals the garden was a viable idea. She relied on buy-in from community organizations to push the idea through political channels.
"This project was about beautifying a neighborhood and bringing all walks of life together. Every one of the people I sat with had felt something, a need they couldn't put their finger on. I just walked in cold turkey, sat down and told them about the garden," Williams said.
There was a fair amount of push back, but ultimately the garden became a reality. Still, Williams sees it as a work in progress.
In addition to the almost one hundred plots, the garden is home to a gazebo, a pergola and two tool sheds. Funds to build a tiered-roof pavilion would finish off the plans drawn up by architect Jeff Blake. Williams would also like the garden to have a part-time coordinator who could organize events and synchronize efforts. Several of the gardeners, for example, donate their bounty to local charities. It would be great, Williams says, to have these efforts centralized.  
Potluck dinners and gardening demonstrations are an aspect of the garden Williams would like to see grown to expand the sense of community. As she learned in Boston, the power of fresh food and a grill can quickly break down cultural barriers.
For Williams, budding friendships have been the garden's biggest payoff.
"Without the garden, I never would have met Mitchell [McCoy]. He's a dear friend now and I can rely on him," Williams said.  
McCoy thinks this year will be the fullest the garden has been, with a good mix of returning plot-holders and brand new gardeners. On any given afternoon, you'll find McCoy walking the grounds, offering help to anyone who needs it or stretched out beside his rows of greens, soaking up the activity of the garden the way his plants take in the sunlight.
"You learn from how everybody else does their work," McCoy said. "And any time you add to what you already know, you come out alright."  
Fayetteville Community Garden
Mitchell McCoy
Candace Williams