Brat Attack

05/06/2015 11:33AM ● Published by Annette Winter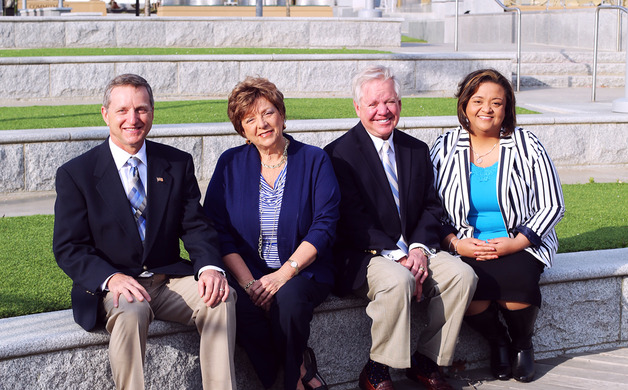 Sure, when the term "brat" comes to mind, an image may pop into your head of a tantrum-throwing six year old, a child who thinks the world is ending because his parent is denying him or her a piece of candy or a new toy. 
However, the term is a little bit more endearing and I have created my own acronym for the military BRAT: B is for brave, R is for respectful, A is for adaptable and T is for tough. 
The four localites highlighted exemplify these characteristics to a capital T. They are leaders in the community. They are business owners. They are volunteers and philanthropists. Though they may all be different, the common ground they share is that they are the sons and daughters of our veterans of war, our American heroes. 
So, sound the trumpets! The brats have attacked! 
And they're winning.
Dr. Jerry Fonke 
Owner of Fayetteville Chiropractic
Son of the late Colonel Vincent Fonke, WWII, Korean War and Vietnam Veteran
Our lone air force brat, Dr. Jerry Fonke, has called Fayetteville home since 1961. Born to the late Colonel Vincent Fonke and his wife, Belle in 1954 at Fairchild Air Force Base in Spokane, Washington, he was the fourth child in a family of eight children.
Before touching down in Fayetteville, the Fonke family was stationed at St. Johns, Newfoundland and the now defunct Chanute Air Force Base located in Illinois two hours south of Chicago. 
Though the 1950s were largely a time for peace, aside from the Korean War, Colonel Fonke had already seen his share of the devastation of atrocities of war having served in World War II in the Army Air Corps as a B17 pilot. He is known for being a POW (prisoner of war) in Germany for one year and really, just a great American. The late colonel is highly revered locally, very much like his son. Dr. Fonke is soft spoken, yet firm. Attributes he most likely attained from living in his military household.
"One of the things he taught me was, 'do it right the first time, so you don't have to go back and do it again.' That's stayed with me." Fonke continued, "he also taught us to say 'yes ma'am' and 'yes sir.' We were very militarily connected from that standpoint and that's just what we grew up doing." He paused, "Nowadays, it's just not that way anymore."
Following in his father's footsteps, Fonke served seven years in the Air Force after completing his bachelor degree in psychology at East Carolina University in 1975. In fact, the four oldest Fonke boys all served in the Air Force. Tragically, the oldest, Don who was a captain, died in an accident while in a recreation exercise which involved taking the wives aboard the plane. Sadly, his wife was also on that flight.  
After Fonke's contract with the Air Force was up, he married his wife Caroline whom he met on a cruise ship and embarked on another type of career path to help others: chiropractic medicine. After graduating from Life University's doctoral chiropractic program in Marietta, Georgia, Fonke returned to the army town he called "home" to open Fayetteville Chiropractic. He has been in business since 1992. 
Fonke shared, "My family has lived here longer than anywhere else. Fayetteville was always home and I was always ready to be back here." 
Suzanne Pennink
Owner/Realtor at Coldwell Banker
Daughter of the late Colonel Tommy Parkinson, WWII and Korean War veteran
Suzanne Pennink has made a name for herself in the real estate business here in Fayetteville. She and her husband, Dr. Menno Pennink, could be thought of as a "power couple" of the All-America City (but a little bit more seasoned) with their overseas upbringings, philanthropic efforts and love of the downtown and the ongoing crusade for revitalization. 
The daughter of Colonel Tommy Parkinson and his wife Blanche, Pennink recounted her journey from Europe back to the land of the free. "We sailed from Germany on a ship and that's where I celebrated my 13th birthday. I remember when we arrived at Fort Bragg, it was the dead of winter, January 1960," shared Pennink. "Back in the day, they had no regard as to what it would be like to walk into a new school in the middle of the year. Maybe they do things differently now." With the ever-changing military, now May through September is known as "PCS season" (permanent change in station). As the only daughter of a colonel in the 82nd Airborne Division, Pennink was born in Detroit and lived in Fort Campbell, Kentucky, Japan, Fort Sill, Oklahoma and Germany before coming to Fayetteville.
Pennink dug deep into her memory bank and she recalled that her time at Alexander Graham Junior High School and Fayetteville High School (now Terry Sanford), was her first experiences ever at non-military places of learning.  And since it was the 1960s, segregation was in full swing.  "The first thing I noticed is that there were no black children. Going to military schools, there was always a mix of races. It was shocking. I just didn't know why anyone would do that," emphasized Pennink. 
The gutsy realtor, who is known for her warmth and sense of humor, noticed that it was a little harder to make friends as the "new girl in school." 
"I felt like I really had to make an effort making friends, either they were intimidated because a lot of us had been overseas and really seen the world or they just weren't interested in being friends with us because everyone else had grown up together.  They already had their circles of friends," Pennink said. 
Still, she found lasting bonds with a small group of women who are all Fayetteville High graduates. Today, the group of 15 women span from Raleigh to Atlanta and in between. Pennink shared they get together for dinners and Christmas parties. Last year, they all celebrated their 50th high school reunion.  "I really cherish my friendships with those women," Pennink affirmed with a smile.
Pennink surely believes that her involvement and own personal experience with the military really helped her business acumen when it comes to the bustling business of real estate. "I know how the military thinks, I know how military kids think. I know how it feels to move at a very vulnerable age, I know how it feels to move a whole bunch of times and pack up all your stuff." She continued, "And I also know the protectiveness of Fort Bragg. It seems like to me, if you lived it, you don't feel intimidated speaking to military families because you know what they're going through."
Pennink's investment in the revitalization of downtown is a little bit personal too. She has seen it crumble, falter and now flourish thanks to her own efforts as well as those of her husband and many, many others.  "When the Vietnam War was going on there were a lot of young soldiers, because of the draft. Now there are so many families… the downtown is a destination, not something to avoid," she expressed.
Even though she owns the business, Pennink still works as a realtor and gives tours to newcomers in town interested in renting or buying a home.  "I give them about a one hour tour, just drive the family around in my car. After that, they're excited about coming when before they weren't so excited…and that's civilian and military."
Judge Toni King
District Court Judge of the North Carolina 12th Judicial District of Cumberland County
Daughter of 1SGT Willie King, Vietnam and Operation Desert Storm
Judge Toni King grew up mostly abroad in a diverse military family as the daughter of 1SGT Willie King and wife, Sa King. 
King proclaimed, "I am a military brat. My mother is Korean. My father is African-American. I was born in Busan, South Korea. I came to the states as an infant and moved back to Korea on military orders when I was in first grade and stayed there till I was in the seventh grade and then we came to Fort Bragg." King speaks Korean fluently to this day.
In Fayetteville, King attended Reid Ross Classical School and Spring Lake Middle School. "Then we moved to Germany after being at Fort Bragg for two years," said King.
And so, King lived an idyllic life for a high schooler, spending summers in Spain and weekend trips to Paris were the norm. Travel was easy in the late 1980s in central Europe. But when war broke out in the Saudi Arabian peninsula, it hit a little close to home.
Since King and her family were on an American compound overseas in Germany, security was heightened. "We had soldiers that walked around with loaded rifles, walking our neighborhood to make sure there was not any terrorist activity or anything of that sort. That was considered normal for us. There was even always a soldier on our school bus. They checked for bombs every morning and when we looked out on campus while we were in class there were soldiers patrolling with guns and barbed wire across the top of the fence," she shared.
King has used Facebook to keep in touch with childhood friends she has met as a military brat.  "We didn't look at the fact that we didn't officially 'grow up together' as odd. You just had to float through the wind and make new friends and learn how to adapt," she shared.  "Thanks to Facebook, I have reconnected with a lot of high school friends. Even though 10 or 15 years have gone between us."
King truly feels that the life of being a military brat equipped her with skills and intuition she may not have received elsewhere. "In my job I feel with people I am open, if you treat me with respect I'll treat you with respect. There's no preconceived notion. You can't judge a book by its cover."
Murray Duggins 
Owner, United Developers/Duggins Smith Builders
Son of the late 1SGT James  N. Duggins, WWII and Korean War veteran
"We lived where FTCC is now, in what I would call a housing project for enlisted soldiers and their families. I was a 'project kid,' stated Murray Duggins, military brat and owner of the uber-successful real estate development company, whose many projects include quality affordable housing.
Prior to being stationed in Fayetteville, Duggins lived in Germany and Alaska with his military father, mother, Helen and brother, James Jr. 
Duggins recalled "rising from the ashes." He recounted being a hard worker throughout high school. When other high school students were getting ready for partying after the Friday night football game, he was bagging their beer at the Winn-Dixie that was once beside Chris's Steakhouse. "I always felt like I was on the outside looking in. At the time I saw the locals being carefree, I kind of resented it…but I feel the army gave me a sense of independence. I never wanted to be in the army, so I decided that in high school that I never wanted to move again." He continued, "It also gave me a burning desire to be successful…that I was going to make something out of myself."
So after he graduated from Seventy-First High School, Duggins attended Methodist College (now Methodist University) and later attended East Carolina University and received a masters in counseling. While at Methodist, Duggins toiled through 40-hour workweeks at the Belk in Tallywood and spent time with his beloved wife Nancy, a local girl from Hope Mills. "I grew up in Lafayette Village and my wife grew up in Mill Village which were very humble upbringings. Neither one of us really had anything…but we didn't know it.  We thought we had a lot," he said. 
Duggins, like the other military brats, feels there was an advantage to living in so many different places, in the states as well as abroad. "Looking back, living in Germany was a blessing. I've taken all of my children over there to see the country, each when they graduated from high school." He elaborated, "Being an army brat, was a big advantage for me later. I am much more accepting of people, less judgmental and I was never part of the clique… and I take an issue with that… being an elitist, that is just so contrary to my thought pattern. "
After a brief stint in Wilmington in the early 1980s with his wife and three children, Duggins felt the pull to come back to Fayetteville. "I love the people and I love this city. I have no intention of ever leaving. Fayetteville is a nice community. I'm a Fayetteville advocate."
This sentiment is shared by the sons and daughters of our armed forces right here in this All-America City. These so-called "brats" are building Fayetteville to be ready for a brighter tomorrow. 
Dr. Jerry Fonke
Judge Toni King
Suzanne Pennink
Murray Duggins