CityView May/June 2015

05/11/2015 12:18PM ● Published by Aubray Onderik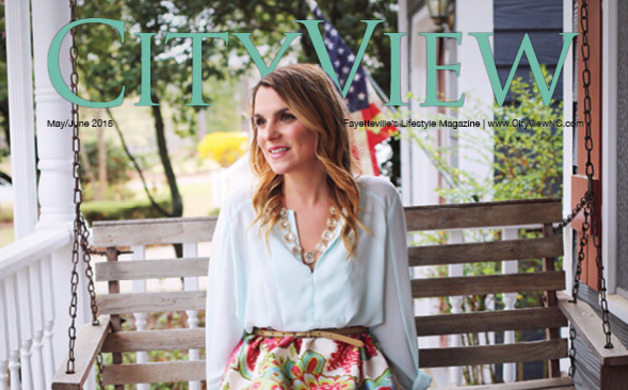 Gallery: Cover [1 Image] Click any image to expand.
Editor's Note:
Most people I meet do not associate me with being a military
spouse until after the first meeting and the question, "Why are
you in Fayetteville?" arises. I don't advertise it. I don't talk about
it. My husband's career is his. And mine is my own.
So admittedly, I don't know too much about the happenings on Fort Bragg.
And since I am very proud of our military and want to write about all the good
things… it poses a slight problem. Coming up with ideas for stories in this issue
was daunting for this very reason. I scrounged up story ideas and in the editorial
meeting it was mentioned, "Wow there's a lot more military related stories
and not too many real estate."
I patted myself on the back. (And we did even it out).
Some of you know that we work ahead here at CityView. As I am writing this
column, it's mid-April and the month of the military child.
It's no secret that many children of our soldiers and veterans have decided to
make Fayetteville their home for the long haul. Dr. Jerry Fonke, Murray Duggins,
Judge Toni King and Suzanne Pennink are outstanding citizens and personally,
some of the most venerable people I have ever met.
You may know them as local leaders, but this time I delved a little deeper.
Even though none are affiliated with the armed forces any more, their love for
our country and soldiers runs deep.
Publisher's Note:
A Fish Story-
Every June at Morehead City, NC the annual Big Rock Marlin fishing tournament
is held. It is one of the largest marlin tournaments in the United States
and people come from all over the country to try to win it. For the past 14
years the top prize money has been $1,000,000. My experience with this great
event was in 1994 and it involved my late son, Bob.
In late May of that year, several friends went to a concert in Raleigh. During dinner
before the event Dan Kinlaw asked me if I would like to buy an interest in a boat that
was fishing in the Big Rock. I asked why I should get in on it (the cost was not cheap)
and I had never been marlin fishing before. He told me the captain of the boat was
Watson Caviness and he had won every other marlin tournament, but not this one.
I knew of Watson's fishing and boating expertise, so I thought it was worth the risk.
Also, another reason I decided to get in was my lifelong friend Crawford MacKethan
was involved and he is one of the tightest people I know with money. If Crawford was
involved, I had to do it. My wife and her best friend thought I was crazy and let me
know their opinion in so many words. But I was now committed. At that time in my life
I was a poker player (I have not played in 15 years) and had won a large sum of money
that week, so I used those winnings to fund my way into the deal.
When June came along and it was time for the tournament, they gave me a schedule
of the days I could be on the boat. I wasn't able to attend, so my son Bob who had the
summer off from Chapel Hill and was working in Wilmington, entered the tournament
in my place. He had marlin fished in the past. However, Bob got the date confused and
went on the wrong day, but the men welcomed him with open arms. They left the dock
at 4:30 in the morning on Watson's dad's boat, Salty Fare. They went about 100 miles
out to sea. The way the fish schedule worked is each person had a 30 minute segment to
sit in the fishing chair. Bob was not on that schedule because technically it was not my
day to fish. When it came around for Kinlaw's next time in the chair, he let Bob take his
place. As soon as Bob sat in the chair, he hooked up a big marlin. He fought the fish for
hours before they were able to bring it into the boat. Bob was 19 at the time and in great
physical shape, which was important to conquer the huge fish. He was worn out after
the catch…a 649 pound blue marlin. Of course, they had no idea what the fish weighed
way out in the Gulf Stream, but they all knew it was a big one and could possibly put
them in first place. When they got back to Big Rock headquarters, it was in first place
and they won the tournament.
The Big Rock, which is not a rock at all, is a series of ledges, peaks and plateaus that
covers an area about eight to 10 miles long by one mile in width in the Gulf Stream.
Small fish gather on the reefs and are great feeding grounds for the big marlins. Therefore
all the boats go to reefs to find their big catch. Even in 1994 a lot of technology was
used and Watson was a master of it.
While the Big Rock remained an underwater secret for much of the nation's history,
it's now considered the major event for marlin fishing on the East Coast. In 1994, the
first place prize money was $250,000 and I had a 10 percent share and Bob Waren's
name is in the record books forever at Big Rock due to some providential circumstances
and the kindness of my good friend Dan Kinlaw.
By the way, several weeks later we were with the friend that criticized my entering
the contest and she asked her husband why he didn't ever get in on things like that. We
all laughed because she had forgotten how she chastised me weeks earlier for taking
that gamble.
The winnings paid for Bob's next year at Chapel Hill plus all his fraternity expenses
and he bought a nice mountain bicycle that I still use today and the Big Rock goes on.
To the Sentries of My Innocence - 05/11/2015 11:47AM
Home Sweet Stucco - 05/06/2015 10:27AM
Marinade On It - 05/06/2015 10:41AM
Twinkle Twinkle Petite Etoile - 05/06/2015 10:49AM
On Guard! - 05/06/2015 10:59AM
Improving the Lives of Others - 05/06/2015 11:04AM
The Rewards of Rearranging - 05/06/2015 11:13AM
Growing a Community - 05/06/2015 11:19AM
Brat Attack - 05/06/2015 11:33AM