CityView September/October 2015

09/09/2015 03:57PM ● Published by Aubray Onderik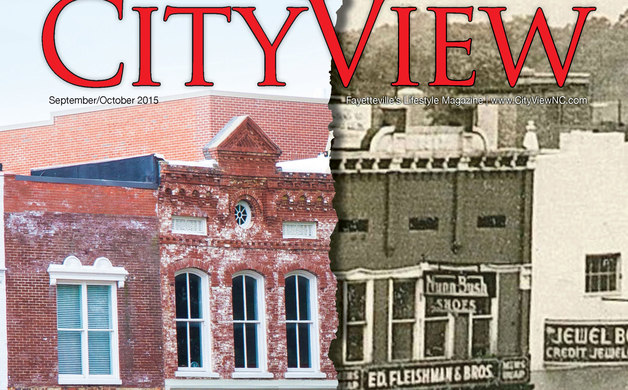 Exiting the Beltline - 09/09/2015 02:56PM
Your Faith is Not Your Own - 09/09/2015 02:58PM
Straight Outta the Northside - 09/09/2015 03:00PM
Southern Hospitality - 09/09/2015 03:08PM
A Tale of Two Eateries - 09/09/2015 03:09PM
Beauty and the Brush Stroke - 09/09/2015 03:12PM
TLC = The Lord's Company - 09/09/2015 03:32PM
Leaving a Legacy - 09/09/2015 03:33PM
The Descendants - 09/09/2015 03:35PM
Fayetteville's Big Fat Greek & French Festival - 09/09/2015 03:37PM
Gone to Atlanta - 09/09/2015 03:39PM
Inside Fayetteville- September/October - 09/09/2015 03:42PM
Editor's Note:
I haven't lived here as long as Marshall. He reminds me of that sometimes. Then again, that would be impossible because he has a few decades on me. Marshall likes to reminisce on the past and tell stories of days gone by. So do I, but I don't have any tales of people in this community that with which you're familiar.
            I haven't lived here as long.
            But, I can tell you about one woman, who came here as a survivor and a foreigner… literally. That woman was Martha Duell. Her army colonel husband brought her here to post-war southern America from World War II France. That's culture meets community right there. From what she told me, she quickly became involved with all things Fayetteville. She was active with the Fayetteville Woman's Club and many other community organizations, especially the Lafayette Society and her beloved Cape Fear Botanical Garden. She brought people together. She was an encourager, a motivator, but most importantly she was a leader. She was before her time. And there's a saying that goes "You can't say no to Martha Duell." I believe the reason she was so good at fundraising is because you could really see her passion, her drive, her love of this community. It was real. Even last year, she prompted me to join the Fayetteville Woman's Club just by simply telling me about their cause.
In the short time I knew here, I can tell you this: Martha Duell was probably one of the bravest human beings I have ever met.
Rest in Peace Madame Duell

Publisher's Note:

I frequent the Haymount Grill and most of the time, I run into Harvey Fleishman. I have known him for a number of years, but know his brother Jimmy better due to the fact that our children grew up together. But, one morning, several weeks ago, Harvey and I sat down together and took a little more time to get to know each other. This is how I learned about the Fleishman family's incredible history.
          Most of us Fayettevillians are familiar with the story that Babe Ruth hit his first home run here in his late teens. Harvey and I chatted awhile and eventually he revealed, "There is another part of the story about my Uncle Maurice and Babe Ruth that people don't know and has not been reported." Of course, this piqued my interest. He told me his grandfather, Hyman, was from Baltimore and an avid sports fan. Hyman was close friends with the owner of the Baltimore Orioles. So close, that he asked his friend to stop in Fayetteville with the Orioles on the way to spring training in Florida and play an exhibition game against a local team. That is where the history began in 1914.  His friend, the owner, agreed and Harvey's then 14-year-old Uncle Maurice was the batboy who witnessed Babe Ruth hitting his first home run.
And we all know what followed. Babe Ruth became a major league legend as the number one home run leader of all time for the next 30 years. 
We talked for days after that meeting. It led to the idea of doing a series on his family history. Harvey has a lot of the history on his family going back to 1870 when they emigrated from Lithuania.
Their family tree is so large and complicated it took days for me to digest it.  I talked with several other Fleishman descendants during the development of the story. It was fun, because I love history and genealogy. The Fleishman family has greatly shaped Fayetteville as they have been professionals, business owners and movers and shakers here in our city. We met for hours at my office with our editor and started the layout of the story you can read in this issue.
          Through studying and learning more about the Fleishman family and writing their story, I have a greater understanding and appreciation for the Jewish people. What I have learned is they are firm in their traditions and religious convictions. But for me, being a Christian, I believe that the Messiah has come in the person of Jesus Christ and in Judaism, they do not.
          Still, we both worship the same God.