Traditional and Timeless

10/07/2015 09:28AM ● Published by Annette Winter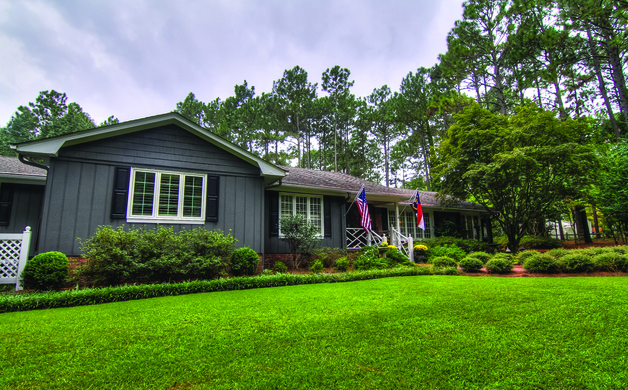 Gallery: Jessup Home [8 Images] Click any image to expand.
By Courtney Phillips
"When we moved out here, there were only several houses," said Martha Jessup of the home she and her husband, Dr. P.W. Jessup, share in the Rayconda neighborhood of West Fayetteville.

With a strong desire to escape to a more secluded area, Martha and P.W., a Fayetteville dentist, chose to build a sprawling one-story ranch-style home from a Better Homes and Gardens blueprint on Pinewood Terrace 42 years ago. "Our friends would make fun! They'd say, 'We'll come, but we'll have to pack a lunch,'" laughed Martha, of their former proximity to civilization. "I never thought I'd live to see the day that I'd have a Wal-Mart right down the road."
Blanketed by a characteristically Carolinian pine straw to grass ratio, the neighborhood features an array of ranch-style homes in distinguishing exteriors from Tudor to classic brick and a lake and dam dotted with weather-worn, picturesque docks. Despite an onslaught of new home construction and commercial development along Raeford Road, the quiet enclave has aged gracefully…  the Jessup home being no exception. 
Shaded by pine, shrouded by crepe myrtle and gated by azalea, the unassuming exterior of the home features a welcoming combination of rustic charcoal-colored board and batten vertical siding and brick, with black shutters and white trim. The interior beckons from a cozy front porch, accented by a glossy white Chinese Chippendale baluster railing. 
Updated wooden double front doors open into a spacious foyer featuring a classic, understated floral wallpaper that sets the tone of chromatics throughout the home. Hues of rich red, crisp green, glossy white and metallics are liberally interspersed to create a clean, but welcoming interior. According to Martha, the vibrant color palette is what visitors tend to notice most frequently in their home.
In the course of the past four decades, the home has been updated four separate times in nods to functionality, modernity and lifestyle, but classic amenities such as plantation shutters, wainscoting, built-in shelving and interior dentil molding remained a constant through updates, the raising of their two children and, now, visits from their five grandchildren. 
To the right of the foyer is the dining room, complete with a lengthy, gleaming table. Like any proper Southern home, a silver service is on display with a mix of Martha's own pieces and her mother's collection. A self-identified "Army brat," some of the silver hails from Japan, where Martha's family lived briefly when she was a child. "A lot of what you see is my mother's, but I know what I like," said Martha.
While she may have incorporated much of her mother's décor into their home, Martha's touch is in every detail. Light filters from a chandelier anchored by a classic plaster ceiling medallion, a feature which became popular in 19th century Europe to signify the importance of a room in a home. In the Jessup home, it serves as further indication that the house was built with a timeless mind. Windows are dressed in rich navy drapery, suspended by intricate hooks, each whimsically carved into the shape of a ram's head. "We're big Carolina fans," said Martha, as both her daughter, Caroline and husband claim the alma mater.  
Through the dining room is an updated eat-in kitchen, featuring granite countertops and a skylight. "We probably spend more time in here than anywhere else," she said. "We" doesn't just mean Martha and her husband. The couple's two Lhasa Apso dogs, Maxx and Beau, spend a great percentage of their time in the kitchen, as well. "I can sit right here and have one on either side of me," said Martha, motioning to a rich red loveseat that pulls a pop of color into an otherwise modern area finished with stainless fixtures and even a flat screen television. "They like couch sitting and porch sitting," she laughed of the friendly companions.
To the rear of the kitchen is the entrance to the home's mudroom, which is conveniently equipped with a large, commercial-grade refrigerator, full freezer and a stacked front-loading washer and dryer.
Also accessible from the kitchen is the sprawling apex of the home. Once a narrow den, the living room flows seamlessly from the foyer, mudroom, sitting area, sunroom and hall. A wall of windows leading onto the ample covered porch illuminates features such as a large fireplace, built-in bookcases and hardwood floors. Shades of green stripe the walls, which are adorned with painted portraits of their children, commissioned by Holden Beach artist, Sue Scharling. 
Accents of bright pickled wood paneling hug the curved walls surrounding the fireplace. Books fill built-in shelving that extends to the ceiling, as both P.W. and Martha are voracious readers. Strikingly billowing silk floral arrangements are placed thoughtfully among floral upholstered chairs. An angular, tasseled red sofa serves as the focal point in the center of the room. "We updated the furniture when I had my knees replaced," laughed Martha. "All of our old pieces were just too low."
Down a hall to the left of the foyer is a full guest bath, two bedrooms and the master bedroom, which was updated to increase the size of the bathroom. Once a small full bath, it features a walk-in shower, walk-in closet purposefully equipped with the home's second washer and dryer, a luxurious soaker tub nestled in an alcove and a spacious dressing area for Martha.
If she could have done anything differently in the redesign of the updated bathroom, Martha noted that she may have liked a different tub layout in the alcove so that the expansive back porch could be accessed directly from the bath and understandably so.
The porch, which began as a small deck in the 1970s, has been doubled in size and covered to create a backyard oasis. Until a few years ago, the ample porch featured a Jacuzzi. "I really liked that thing," lamented P.W. jokingly. Martha's eye for detail has carried the classic floral motif onto the porch, which features an array of plush upholstered outdoor furniture, Chinese Chippendale railing and impressive floral arrangements. 
When weather doesn't permit porch sitting, Martha spends time in the sunroom, which is located adjacent to the porch. The sunniest and coziest nook of their home began as a screened-in porch, but, "It didn't take us long to figure out it needed to be glassed in," Martha said of their grandchildren's favorite place to play and her favorite place to cross-stitch.
Both the porch and sunroom offer an uninhibited view of the lusciously manicured back yard, which includes a delightfully babbling water feature and an English garden. "We really lucked out. J.F. Dunn lives right across the street and he tries new things in our yard," Martha said. Of her own gardening endeavors, she tried to cultivate a school of coy fish in the water feature, but raccoons have bested her attempts, thus far.
Martha is quick to give credit where it is due: Of the seamless additions that flow so unnoticeably throughout the home, she credits local home designer Bob Leath, who spearheaded each remodeling plan. Ann Marie Locklear, owner of The Plantation House Interiors in Haymount, and Lynn Leath, of Lynn Leath Interiors, help Martha choose pieces for her home. Jim Crenshaw at Always Flowers By Crenshaw in Westwood Shopping Center is credited with her signature floral arrangements. "At this point, I can send Jim an email and he can read my mind," she said. 
While she humbly defers acknowledgement, it is easy to see that Martha keeps an eye peeled for home fashion. Touring the home, she notes pieces of interior décor and exterior concepts she has collected in various markets and locations throughout the state. Of the inspiration for the exterior of the home, she said, "I saw this color combination on a house in Greensboro, where my daughter lives. I had to stop and take a picture of it!" 
Her unique balance between striking and welcoming home design is most evident when, amid hand-picked baubles and thoughtfully chosen décor, Martha identifies her favorite things in the home as husband P.W.'s Order of the Long Leaf Pine and his Life Long Learning and Service Award by the Academy of General Dentistry, which were bestowed in 2012 for his exceptional service to the people of North Carolina and his continued quest for knowledge in the field of dentistry.
Of the inevitable upcoming updates to a 40-year-old home, new window treatments are planned for the sunroom and, much to Martha's dismay, a new architectural shingle roof. "Finding out we need a new roof really licked the red off my candy," she said with a laugh.  
CV Lifestyles
Martha Jessup
Rayconda
HOME AND GARDEN