Big on size, Bigger on family

11/05/2015 01:33PM ● Published by Annette Winter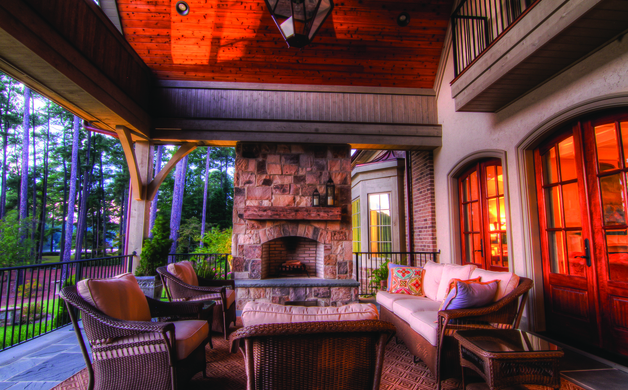 Gallery: Huff Home [2 Images] Click any image to expand.
Story By James Johnson
During the Christmas season, many homes are transformed, through the magic of colored lights, illuminated sleighs and electronic snowmen, into winter wonderlands. However, one house in Fayetteville has garnered some holiday attention, not so much for its decorations, but for its size. 

"We don't really go all out with our decorations. People are more interested in the house itself," said Ralph Huff, who along with his wife of 43 years, Linda, spent the last few years building the couple's dream home.
The six bedroom, seven bathroom, two-story, 11,000 square foot, megahome took just about two years to construct and has garnered quite a bit of attention from curious neighbors, due in part to its size, but also its beauty. 
"I guess this house has gotten a little bit of attention and it didn't start out being that way," said Linda. "It wasn't going to be this big, but Ralph wanted an extra garage and that meant more square footage over that. One thing led to another and we have what we have now ... We love it though."
It should come as no surprise to anyone who knows of the Huffs, that these two would build arguably one of the most attractive houses in Cumberland County. Building and selling houses is kind of what they do.
The Huffs founded H&H Homes in 1991, a premier builder of new homes that Linda continues to operate, while Ralph runs Coldwell Banker Advantage, a real estate agency which has been recognized as the top Coldwell Banker office in all of North America in 2013 and 2014. This success didn't happen overnight.  
"I bought the real estate company in 1990, and in 1991 I started building one house at a time. In 1993 and 1994, Linda, was a music teacher at the time. I asked her to come work in construction with H&H," Ralph said. "We built 50 a year in the 1990s. In the 2000s I decided to grow the company and we started adding 50 a year and in 2010, 458 houses. We have closed nearly 400 houses a year for six consecutive years. It took a long time to get to that point."
The couple moved to Fayetteville from Raeford in 1984 and have been active within the community ever since. Before moving into their new home, the two shared a condo in 300 Block in downtown. However, both of them longed to be closer to their grandchildren and have space for their family to be able to stay over, particularly during the holiday months. 
"It was great being downtown, but we have five grandchildren we wanted to be closer to. This was the perfect location. We have three grandchildren who live two blocks away and two grandchildren who live only two blocks away. They can just walk on over or ride their bikes and spend time with us."
Ralph had been eyeballing the location of the house for a number of years. The house is located just at the edge of Forest Lake, which their grandkids now enjoy kayaking in. 
"Oh, they love the water," Linda said. "They're like fish in there. I don't know where they get all that energy … Everyone is taken away with the view we have here of the lake."
By the end of 2016, H&H Homes will have sold their 5,000th home and their cumulative sales will have surpassed one billion. That's "billion" with a "B."
Even with all of their experience with building homes, Linda said that their own home provided some unique challenges. 
"I will tell you this:  Fay Block helped me with the brick on the outside of this home. This was a real challenge for me," Linda said. "The brick and the stone. I knew the way I wanted it to look but finding the right stone with the right brick took a lot of work. A lot of leg work. The stone, though, was found in Atlanta, Georgia."
Linda said that this was her first time constructing a home using real stone, which required more work than she had anticipated.
 "That was a learning curve for me," Linda said. "I hired these guys out of Atlanta to do the stone work. Every stone that you see out there, they chiseled, to make them fit together. Like putting a puzzle together. It was a lot of work."
The work, Linda feels, has paid off. Not only has the house allowed them to be closer to their grandchildren, but also to give back to the community that has treated them so well. 
Since taking residence in Fayetteville, the Huffs have worked tirelessly for a number of organizations and nonprofits in the community, including fundraising for the Airborne and Special Operations Museum, Cumberland County Veterans Park, Cape Fear Botanical Garden and Fayetteville's Linear Park. H&H Homes even contributed a house valued at more than $350,000 to the Cape Fear Botanical Garden's Campaign for Natural Growth, which built the Wyatt Visitors Pavilion Complex. Most recently, the Huffs made a $1.5 million gift to Methodist University for the renovation of Reeves Auditorium which has been renamed the Huff Concert Hall in their honor. With all of this charity work, it is no wonder that the two have set out to make their own home an extension of this work. 
"We wanted this home to be a place where we could hold many functions for groups in our community that are important to us," Linda said. "Already, we have held functions for Methodist University, Fayetteville Symphony Orchestra, church groups, the mayor … We love the community and this community has been very good to us. We want to be good to it."
Even though the two have moved in before Halloween of 2014, Linda said she is still making small improvements to the house as they get settled. Both Linda and Ralph are detail oriented people. Linda said that she feels strongly that in order for a house to be a home, it must be littered with subtle personal touches. 
"I wanted elegant, but simple," Linda said. "The things that I have in my home, will have a lot of meaning, but not something I have to have in every nook and cranny to make it a home. I am sure a lot of homes you have been in there are a lot of things going on. There are things that are very special to me in this home. The clock up there in the center was my grandmother's clock that dates back to the 1800s. It is a small touch. I don't need a lot of a foo foo to make this house a home."  
H&H Homes
Ralph Huff
Linda Huff
HOME AND GARDEN