Protect and Serve

11/05/2015 01:51PM ● Published by Annette Winter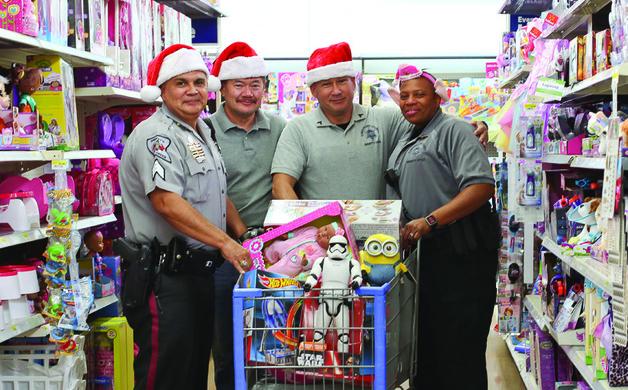 Gallery: Shop with a Sheriff [9 Images] Click any image to expand.
By Kellie Gentry Hussmann
The Cumberland County Sheriff's department will host its 20th annual 'Shop with a Sheriff' program on December 5. Police officers and volunteers will flood the Ramsey Street Walmart parking lot for an eventful day of holiday shopping for families in need. 

"There are a lot of people running around, so it's a little chaotic, but it's fun," said Lt. Shawna Leake.
Lt. Leake and her community policing staff host events, such as neighborhood watch programs, crisis intervention, search and rescue and bike and regular patrols, for the community year-round, but boast the Shop with a Sheriff program as their largest outreach. 
Every year, the program serves between 30 to 35 families, providing 140 to 160 school-aged children throughout Cumberland County with basic needs and toys for Christmas. Officers and volunteers are partnered with a deserving family to shop, but all who participate agree that the kids aren't the only ones who are affected.
"It's just been a great program, for this office and for the deputies personally," expressed Lt. Leake.
Sergeant Demetrio Perez, a supervisor for the school resource officers at the north side schools in Cumberland County, has been serving at the event for many years. "It's what we look forward to every December," said Sgt. Perez. "Believe it or not, this is what we like to do." 
He interacts with elementary through high school students each day and he says while it's important for he and his staff to build a rapport with the students, the Shop with a Sheriff program goes beyond that.
And in a time when an officer's duty and the media portrayals collide, Perez noted that these deep-founded relationships are the only hope in restoring the public's trust in the people who want to protect them. "We're letting them know that we're here for them," said Sgt. Perez. 
And that's not something they take lightly. Not only does their department put on the holiday event, but Lt. Leake and her staff created the Shop with a Sheriff Motorcycle Ride, one of the biggest fundraisers for the program. They also just held their 10th annual ride in September, which raised approximately $6,200 for the cause.
"All of these kids have a story," confessed Lt. Leake. "It's heartwarming and sometimes it's heartbreaking."
Families are recommended for the program by the social workers in each school and then interviewed by officers from the department to determine their need. 
For Nikki Patterson, a single mother of two children, the need came in 2012 when she became homeless after losing her job and then again in 2014 after her home was destroyed by a fire. 
"It was such a blessing because we had nothing," said Patterson. "We were using all of our resources to make sure that we had a place to live and we had to re-buy everything: washcloths, towels, things that you don't really think about because you have them year after year. I focused on making sure that my kids had clothes, so we didn't have any money left over to do Christmas."
The selected families are given around $150 for each child between the ages of five to 15, but are able to spend the money on whatever necessities are needed and usually have money left over for a toy or two.
"I distinctly remember my son, who was 11 at the time and growing out of everything!" exclaimed Patterson.  "We only got him clothes that year, because that's what he needed." She said she bought mostly clothes for her daughter as well, but was also able to buy her first Barbie doll, a First Lady edition, which she was elated to have. 
Lt. Leake and Sgt. Perez agree that their favorite part about the day, aside from seeing the kids reactions, is seeing the looks of relief on the parents. "We stress about this kind of stuff all year," expressed Patterson. "There were a couple of other families in our community who were selected, and we all got together and were saying, 'Can you believe this?'" 
She said that once she and the other parents were over the initial shock that such a program existed, they did what single parents do best: researched the deals and maximized their budget. Patterson was partnered with a volunteer who helped her do just that and really connected with Lt. Leake at her first experience with the program in 2012 and have stayed friends since, she said. 
"I talked a lot about where we were at that point in our lives, what I was aspiring to do, what had happened leading up to that point and my goals," said Patterson. The single mom was in nursing school at the time, trying to finish up her degree. "I think that's what cultivated our relationship after the Shop with a Sheriff program. They knew what I was trying to do and after keeping in contact, they watched me do exactly what I said."
And when tragedy struck Patterson and her family again last year and right before the holidays, the sheriff's department went beyond the Shop with a Sheriff program and came to her new home with toiletries and food. 
 "They have beautiful hearts," she said. "And their hearts for the community show." Now that Patterson is back on her feet, she donates, tells all of her neighbors in need about the program, and even plans to volunteer at this year's Shop with a Sheriff event. 
 "If I hadn't had that experience, I wouldn't know what it was like to be on the receiving end," she professed. "And now that I'm able to be the giver, it makes it that much more rewarding for me."
Donations to the Shop with a Sheriff program can be made at any BB&T location. One hundred percent of the donations go to helping families in need and people who donate are encouraged to see where their money goes by volunteering on the first Saturday of December. 
community
Cumberland County Sheriff's department
Shop with a Sheriff
COMMUNITY