The Christmas Contractors

11/05/2015 02:06PM ● Published by Annette Winter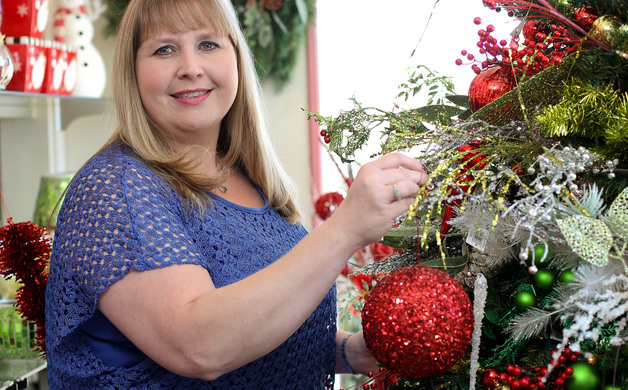 Gallery: Always Flowers & Owen's Bordeaux [19 Images] Click any image to expand.
By Miriam Landru
I imagine there are more than a few of us out there who are "décor challenged." Sure, we go through Pinterest, pinning our favorite tablescapes, furnishings and during this time of year: mantles draped in festive garland, to our boards that may say something like, "Dream Home," or simply, "Goals." 
Fabulous yuletide decorating can be a lofty goal for some. That's where local florists Owen's Bordeaux owned by Barbara Coleman and Always Flowers by Crenshaw backed by Jim Crenshaw and Bill McPhail come into play. They are all behind some of the glamourous and festive Christmas decorations you see in some of the finest estates in Fayetteville. 
Behind the Scenes
After years working in commercial design for the construction industry, Ohio native Barbara Coleman took over Owen's Bordeaux Florist in 2007 from the late Carol Mayo. "I've always been creative, so it seemed like a natural fit. I definitely learned a lot from Carol," said Coleman. She was able to gain even more knowledge about the fresh floral industry and had also worked in floral design before, designing all the silk arrangements in her own wedding. Owen's Bordeaux has been decorating homes from Kingsford to Stedman lavishly for the Christmas season since Coleman can remember. Six trees are decorated reflecting different styles in the floral shop alone. 
Jim Crenshaw's floral business in the Westwood Shopping Center began in 1992 after a military career, a stint at a flower shop in Anderson, South Carolina and after that, dressing the mannequins in Belk when it was downtown and later in Cross Creek Mall. Crenshaw is a native of nearby Parkton. During his senior year of high school, the family moved to Anderson where instead of hanging out at his father's orthopedic prosthetic business, he spent his spare time at the floral shop in the same strip mall just a few doors down.
Crenshaw was drafted into the U.S. Army during the Vietnam War. His "tour of hardship" was on the beaches of Waikiki in Oahu, Hawaii. Floral design skills were honed while working part-time at the now defunct Hawaii Blossoms in the iconic Royal Hawaiian Hotel. "I only worked on the weekends," he said. 
His job was not making the infamous leis that you receive once stepping off the trans-Pacific flight at the Honolulu International Airport, but rather it was constructing large, elaborate tropical floral arrangements in the bank lobbies of downtown. "It was incredible working with tropical flowers and orchids, something I had no experience with before," told Crenshaw.
Crenshaw was an employee of the esteemed floral business Treadaway House, a former America's Cup winner through the early 1990s. After they closed, he set out on his own and took a few former clients of Treadaway's with him. 
Bill McPhail's own journey to florals, decorating and design was similar to that of Crenshaw's. Growing up in Fayetteville, McPhail had the typical family Christmas in that they would all go pick out a Christmas tree at the local garden center, then decorate it with those big multi-colored Christmas lights and "just the whole nine yards," he recalled. "Back then, I never dreamed that I would be in the profession I'm in now, I originally wanted to be a physical therapist. Though, in this business, you do use a lot of the right and left brain. This business is creative, but can also be scientific." 
McPhail's first gig in design was in Raleigh. In 1982, he was working at a floral shop in Raleigh and was commissioned to decorate a Styrofoam icon with flowers for the Greek Orthodox church. After working in the Triangle for 10 years, he moved back home to Fayetteville in 1992 and then began working for Crenshaw in 1997. "I picked up some new customers when I got there and brought a few more from the store I worked at previously which went out of business," explained McPhail.
Classic vs. Trendy
In Fayetteville, clients of Crenshaw and McPhail lean toward a traditional, "Old World" look for their Christmas and holiday décor reminiscent of what one may see at the Biltmore Estate or Williamsburg. "Now, some of my clients do like glitz and glitter, but most of them want that classic look that's understated or much more muted," said Crenshaw. "I like elegant traditional, but in the last few years, that glitzy stuff has been really popular." Coleman has a few clients of the 40 to 50-year-old "younger set" who do experiment with colors outside the traditional spectrum. "I like silver, blue and the traditional Christmas colors. But, we end up doing hot pinks and lime greens every year. It gets a little funkier," confided Coleman. "Glitter is always in here. There's always someone that wants some bling.
If it's not red or green for traditionalists in the All-America City… then it's not Christmas. However, a few clients of Crenshaw and McPhail's do favor lime green to add a "pop" of color. And in recent times, aqua paired with red has proved quite popular. Ever the trendsetter, McPhail explained he has actually been combining these colors for quite awhile. "I was doing that three years ago, so it's not new to me," he said with a chuckle. His least favorite color to use is white, only because it "gets too dirty."
Trends in Christmas décor include large, colorful bows instead of an angel or a star on top of the tree. You may also see "shabby chic" in some homes in Fayetteville. "Most people we decorate for will have a formal tree, which is usually very dressy and then another tree, devoted to their family with ornaments they've collected over the years," said Crenshaw.
In the early 1990s, when Crenshaw first started decorating the homes, he was working with new families, so a lot of decorations were bought. "Now our clients have their own stuff and they pay me to refurbish and redisplay," added Crenshaw. "Years ago, brass, deer, accessories like that… you couldn't get enough. Now, people are going toward platinum, silver and gold looks. In Fayetteville, people love jewel tones as well, purple, red and emerald."
Many families opt to use Christmas decorations they've collected throughout the years, but will incorporate items sold at each florist.
The Big Jobs
Most of the homes or businesses Crenshaw and McPhail take on during the season only take one day. However, with bigger clients, decorating can last up to three days. "We do everything from the inside to the outside," said Crenshaw. "For the inside of the home, you have to figure out where they want to put their Christmas tree. Even though you may have a large space, clients can be minimal, they don't want it to look like the season exploded in their house." He added, "If you have railings on the outside of a home, then you can put garland everywhere." 
McPhail recalled that he never even met one of his most important clients. "A woman called me from Raleigh. I only spoke to her on the phone. She left me a key to her house and told me to do, 'whatever you want.' So I did just that. I decked the halls in garland, the staircases, the mirrors in the bathrooms. And this client was a little trendier, so I did a lot of glitter."
Owen's Bordeaux stays busy and decorates 15 to 20 homes a year. Many clients ask Coleman and her team to decorate the home from top to bottom, leaving no corner untouched with Christmas finery. "They ask us to purchase the tree, bring everything down from the attic… every little thing… and we do it," said Coleman.
Real & Artificial
When it comes to florals, the decorators are fans of mixing real and faux together. Their trick is to take artificial garland and add Christmas foliage to it. "You have the smell, but you don't have to worry about it drying out. We add Leyland cypress. It's like cedar, but it lasts longer," said McPhail.
But when it comes to the perfect green Christmas tree, real is the way to go. Tim Owen of Owen Garden Center imports only the finest firs from mountainous western North Carolina. "In Fayetteville, Frasier firs are the most popular. We've tried other varieties, but folks always go back." 
Due to humidity, artificial foliage and trees are still popular. McPhail said that the best way to make artificial look real is to really "shape" the tree or garland. "One of the biggest things I have people contact me for is putting their lights on their tree and shaping their tree. I have one client who tells me every year, 'I can't ever do it like that!' You must shape the foliage."
Holiday decorating never takes away from the general business at either floral shop. Crenshaw stated, "It all comes at a good time because as far as fresh florals, that doesn't start till mid-December. We decorate homes beginning the second week of November till the first week of December. So, we get all that out of the way. It's the perfect match."
And while decorating may seem very glamourous, the job does have dangers. "Once while decorating a business, we did swags on top of their columns and I didn't realize I left my hammer on top of the ladder. When I moved the ladder, the hammer fell and clogged me on the side of the head. My grey hair turned pink, but I kept working till someone noticed!" remembered McPhail.
One thing that's not in danger though, are marriages. It's widely known that most men are not the biggest fans of decorating and especially not for Christmas. "I've probably saved a lot of marriages." confided Crenshaw. 
Owen's Bordeaux
Barbara Coleman
Always Flowers
Jim Crenshaw
Bill McPhail