A Battle of Wills: Teaching children rules and responsibility

02/24/2016 01:50PM ● Published by Jennifer Gonzalez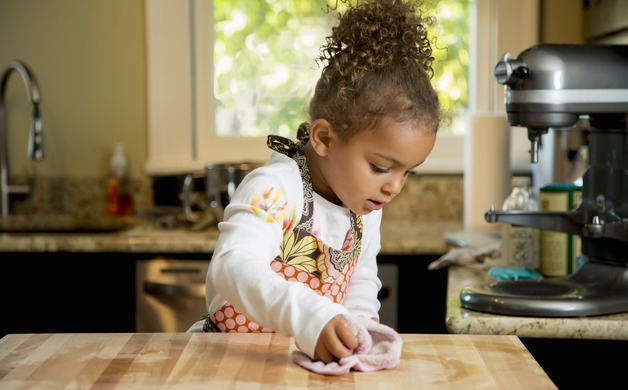 Gallery: A Battle of Wills [1 Image] Click any image to expand.
By: Courtney Phillips
            Most parents underestimate the power of a baby until they enter the world. If a seven-pound newborn can bring two parents to their knees, crippled by the weight of undying love (or sleep deprivation), what is in store for the faithfully devoted parents of the brooding teen and the many years between?
            Methods of child discipline are ever changing as parents seek new ways to "train up a child," but the theories are usually rooted in the same principle – set boundaries and cling to them. 
            Sylvester Cancer, LPC, NCC has been working with children and families in the Fayetteville area for nearly 15 years as a social worker and now a counselor in private practice. Many of the discipline problems he works to mediate, regardless of age, are a direct result of too few boundaries. "Parenting doesn't come with a rule book," said Cancer, "but you have to develop a set of rules that are right for your family and stick to them."
Moms Ask the Expert
Question: What do bedtime expectations mean for a child who has yet to even master their ABCs?
Answer: Preschoolers never want to punctuate the fun of a long day with bedtime, but a predictably pleasant schedule of events can ease the transition. One of the most typical missteps in bedding down little ones is not allowing enough time. "If bedtime is 8:30 p.m.," said Cancer, "start at 8:00 p.m. Wind them down earlier." Weave enjoyable tasks with the necessary. A bath with fun toys, brush teeth, pajamas, story and lights out.
Question: Suddenly, my four-year-old has become a picky eater, which makes dinnertime a showdown of wills. How can I avoid being the personal sous chef of a 3-year-old?
Answer: Offer choices… healthy ones. They may eat what has been prepared for the family, or a suitable, easy-to-prepare alternative. "You are well within your rights as a parent to make a sandwich for the picky child. That's okay. Just because a child doesn't want to eat what has been prepared, doesn't mean you need to cook a separate meal for them," said Cancer.
Grade Schoolers
Question: My first grader hates homework. Work that should only take 10 minutes gets drawn out to an hour and sometimes involves tears. How can I speed up the process?
Answer: A schedule, with clear expectations, is key. Offer an afternoon agenda for the homework hater. Cancer suggests a snack, a short break with no TV or video games, then homework. Offer an incentive to complete homework in a timely manner such as playtime outside or a favorite television show, but do not allow children to watch TV or play video games before they complete their work.
"Tweens" (Ages 10-12)
Question: My young girl wants to dress way more maturely than I think she should. How can I navigate fashion without a fight?
Answer: "That's simple," said Cancer. "The parent buys the clothes. If you don't want to have that fight, don't bring home the clothes."  Of course, a parent is free to allow choices in clothing, but be comfortable with every option.
Question: My son doesn't want to do chores. It's easier for me to do the chores than to constantly nag him. Help!
Answer: "Hit him where it hurts," said Cancer. "Pick whatever he loves most – television, xBox, whatever, and take it away unless he does his chores." A child of 9 or 10 years old has a competent understanding of actions and consequences. Of making a lasting impression to alter behavior, Cancer said, "Be mindful of the length of time you take something away. You might have to take it away longer than when they were a small child."
Teens
Question: My teenager wants to be treated like an adult, but still displays irresponsible behavior, like breaking curfew. Help!
"Teenagers need you for everything. They look like adults, but as long as they are living in your house, they still have to follow your rules," said Cancer. "One of the biggest mistakes I see parents make is to try to be their children's friend instead of an authority figure." So, what happens when the teen with a 11:00 p.m. curfew skirts in the door at 11:05 p.m.? "No going out next week," said Cancer.
Professional Help
While most disagreements are typical in the parent/child dynamic and can be thwarted with rules and discipline, some situations constitute professional intervention. Behavioral warning signs may include:
1. Schoolwork: "If your A and B student suddenly becomes a C, D, F student or their teachers complain about a poor attitude, that's cause for concern," said Cancer.
2. Mood changes: If your child's mood seems out of the ordinary for more than a few days, investigate.
3. Making different friends: A new group of friends is not necessarily a red flag, but make an effort to know the new friends. Your child has been drawn to their behaviors for a reason.
Teaching Responsible Ways
It is a parent's duty to teach a child to follow rules. "After all," said Cancer, "they will have to do it their whole lives. It doesn't stop when they leave your home." Setting age-appropriate expectations and chores are a great way to teach responsibility and consequence.
Preschoolers
If they're old enough to play with toys, they are old enough to learn to put them away. "Show them how you want it done," said Cancer. Whatever age-appropriate chore you assign, be willing to work with them. Eventually, they will understand how to do it with less instruction.
Grade Schoolers
Chores like trash emptying, dishwashing, sweeping and following simple instructions (the first time!) are great chores for the grade schooler. Concentrate on their ability to complete it in a timely manner when asked.
Tweens
The complexity of chores doesn't need to change from the previous age group, but look for ways to teach increased initiative. If a child's chore is to take out the trash, the expectation should be that if they see a full trash can, they should empty it without being asked. The same expectation applies for homework – they should come home and begin working without a prompt.
Teens
The teen years are a great time to begin teaching skills that they will need after leaving home. Being responsible for cooking dinner once per week, doing their own laundry and learning to manage family finances are useful focus areas. Consider the chores they have been doing and ensure they are being completed at a higher level of competency.
"It's a child's job to get away with as much as possible, whenever they can," said Cancer. "It's your job to be smarter. Set rules and be consistent. Be their teacher."
CV Family
CV KIDS