Living on Faith

03/01/2016 12:25PM ● Published by Annette Winter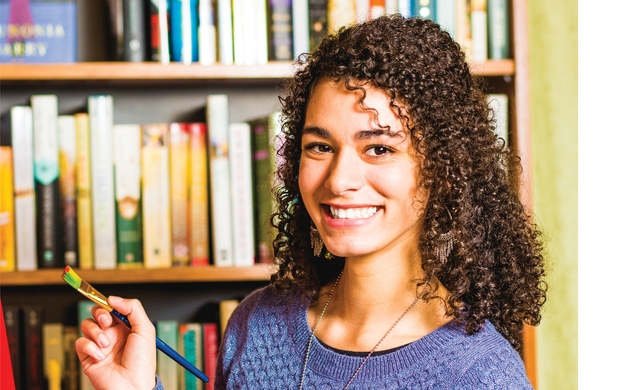 Gallery: The Art of Caroline Merino [2 Images] Click any image to expand.
By Kellie Hussman
We hear it all the time: military kids are resilient. They are able to adapt to new cities, jump into a new school and make new friends after every move. But what if this resiliency could not only be attributed to their way of life, but also to the idea that they are a part of something much bigger than themselves? For Caroline Merino, faith drives her success. 
This 21-year-old extroverted military brat is juggling her senior year at Liberty University and her own business as an extraordinary Christian artist. She paints the beauty she finds in her surroundings, and is inspired by cities she's lived in all over the world: from the plains of South Dakota to the New York City skyline to the iconic Eiffel Tower of France.  But, she said she couldn't have imagined where this life has led her. "I never expected it to take off," she said. "I never wanted to be an artist."
Merino explained that she has always had a passion for art, but saw herself in more of a curator's role- where she could still enjoy the craft, but stay away from the spotlight. "I don't know what happened, because I am in the spotlight and on the sideline because I run my own business and it's a lot of work," she said. 
Her work is now featured in local hospitals and over four galleries in Fayetteville, but that's nothing to brag about for Merino, who stays grounded through her faith. "I put Ephesians 2:8-9 on everything—from business cards, to posters, to Instagram, to my paintings," she said. "It's a constant reminder of who I am." Ephesians 2:8-9 reads: 8 For by grace you have been saved through faith. And this is not your own doing; it is the gift of God, 9 not a result of works, so that no one may boast.
Merino explained what this verse means to her, saying, "Whatever we do, we can't use our talents and our work or anything of ourselves to earn God's love," she said. "It is a gift and it is by His grace that we are saved and His." She continued, "We could never use our works or, as much as we try, our achievements, etc... because He's the one who saves and forgives us. He says, 'everything in your past is gone; you are clean and free to go. You're mine and I love you.' And I just think that's great… that's unconditional love."
Merino's vision for her art is to use her talent to positively impact the lives of those around her. She hopes the verse will either direct curious non-believers to the Bible or spark a conversation with fellow believers. Regardless of where they are in their walk, she hopes her work will be pieces of encouragement for all.
Jason Deramo, a fellow believer and local resident, found that to be true for him. "Art is like hope," he said. "And when I look at her paintings, it gives me hope." Deramo was captivated by Merino's painting of a rhino displayed in City Center Gallery and Books while he was picking out postcards with his visiting grandmother one afternoon. "It was a really natural-looking piece," he said.  "You don't really see things like that around here." The piece reflects the latest style of Caroline Merino Art, which blends the subject of the painting into the natural coloration of its background. 
And Deramo liked the piece so much that he recently commissioned his first piece of Caroline Merino Art, a custom rendition of a North Carolina deer that he hit in a car accident back in December. 
"I'm grateful to be alive," he said reflectively. 
The piece not only pays tribute to the deer he killed, but also serves as a reminder of his faith. "People are going to ask, 'Where did you get that?'" he said. "That's a good story. And I think true art tells a story."
Caroline Merino's story began at an early age. And her talent was apparent even then, she said. But, other than a private tutor her grandmother hired for her when she was six, her training has been primarily through her art teachers at school. "Attending 15 different schools means I've had 15 different art teachers," she said. "And when you have that variety, you get taught different perspectives and lessons." 
Merino said she still uses some of the techniques she learned growing up. And while she has experience in several mediums, she specializes in watercolor and acrylics, with her earlier styles mimicking the famous artists she studied. "First it was pop art, then it was impressionism; now, I don't know what it is—as long as it has some texture," she said, describing the progression of her art. 
Examples of her early acrylic paintings include playful interpretations of animals, dogs in particular, that pop with contrasting bright colors. Merino says she draws inspiration from her friends' and family's pets, but will paint on commission for anyone who wants a portrait of their own fur-baby. Commemorative watercolor paintings of Fayetteville are also among her collection. But her framed miniature paintings and festive holiday ornaments are most impressive. "I love the process of art—painting," she said. "When I see color go onto a blank canvas, it's awesome to me."
Merino compares the process of her most recent, natural style to cleaning her room, "Watching a painting go from nothing to something or nothing to ugly to a little uglier and then it's really cool—that process is really exciting."
But Merino said she doesn't just work on one piece at a time, that her creativity is so overwhelming sometimes that she finds herself adding to multiple paintings at once. "The majority of my paintings are not detail-oriented because I like to just play with color and just go at it all at once," she said.  "I can't wrap my head around painting one line at a time. I'd rather just cover the whole canvas as quickly as possible."
In fact, before she started Caroline Merino Art, her art was viewed by the public in the form of speed painting, which is a presentation where she usually paints to a four-minute Christian song and then speaks an encouraging message. "My business started as a ministry," she said. "I went from church to church and all of a sudden I was doing presentations for businesses, organizations and schools, functions and festivals."
Through this presentation, Merino combines her passion for art with her love for public speaking… something she has always wanted to do. "I've been doing speed painting for about two years now and it's taken so much work, dedication, faith and support—a lot of support—but I know firsthand that dreams can come true."
And even with her outgoing personality and practiced routines, that kind of a ministry takes faith. "Many times I go out on faith that God will work through my hands and words," she said. And after praying Merino says she steps onto the stage into a trance, going through the motions she's practiced. 
After the four minutes are up, even she can't believe what she has created.
"Don't ask me how I did this because I don't know," she said. "I was just there, painting." She explained that after she has completed a painting and while the crowd is applauding, her knees are shaking.
 But to Caroline Merino, it's worth all of the nerves, and she even considers the job a form of worship.
"It's amazing and I love serving such an amazing Creator."  
Caroline Merino
City Center Gallery & Books
CV ARTICLES
FAITH