A Pet's Favorite Place

03/01/2016 12:30PM ● Published by Annette Winter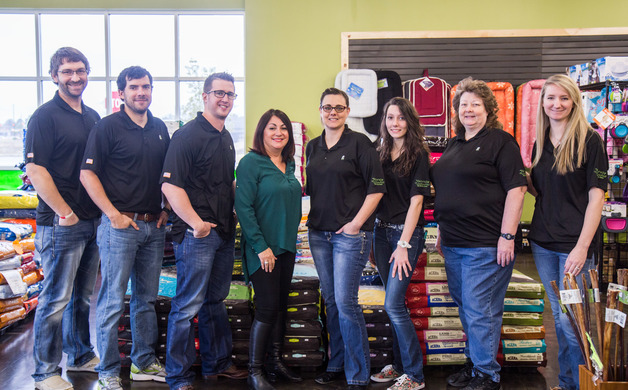 Gallery: Naturally Unleashed [13 Images] Click any image to expand.
At Naturally Unleashed, an independent, local pet supply store, service is king. Customers can expect employees working knowledge of more than 20,000 health-conscious pet products and service that extends beyond the door – as old-fashioned workers delight modern customers by carrying their purchases to their vehicles. 
Owner Sheere Hill is certain that customer service is the reason for their success amid a market of national retailers. "Employees make the difference," she said.
Sheere and her husband Frank have owned Naturally Unleashed since 2009, when they purchased and rebranded an existing pet supply store in Boone Trail Extension shopping center. While Sheere had no retail experience, Frank managed K-Mart stores and had always wanted to own a business. 
Bringing Pet Nutrition
to Fayetteville
Frank moved to Fayetteville as a child and attended Appalachian State, where he met Sheere, who is from Restivo, New York. After marrying and having children, the Hills moved back to Fayetteville in 1983 when Frank began work as a regional representative for a major dog food manufacturer. Over time, Frank's career uniquely positioned the Hill family to be abreast of the newest products and trends in the pet food market. When the opportunity presented itself, opening a pet nutrition center in Fayetteville was a natural fit. "People in the industry were surprised when we would tell them that we were opening a store in Fayetteville, but Fayetteville is a great market. Yes, it can be transient, but that's one of the reasons it is successful. The economy is very steady," said Sheere.
While Frank had knowledge of the industry, Sheere's background is in numbers. After managing hotels and working in finance and accounting for Cumberland County Schools for 17 years, learning the intricacies of retail sales was her greatest challenge in starting the business. "Everything I did was out of my realm," said Hill. "Learning the point of sale system, ordering, coupons – it was all new to me."
In 2012, they opened a second store in Traemoor Village shopping center. "I was perfectly happy with one store, but we prayed about it. My husband is a dreamer and I'm realistic, but after 36 years together, we know it works for us," laughed Sheere of their leap of faith.
In 2015, they opened a third location in the new, upscale Glensford Way shopping center on Glensford Drive. Anchored by The Fresh Market, Sheere is excited to watch the store perform in the new center, among a health-conscious, quality-driven clientele. "Of course, I was perfectly happy with two locations," laughed the pragmatic Sheere, but she agreed to the third store with little hesitation, as the entire family had taken active roles in the business by that time. 
Even though the now semi-retired Sheere still handles all of the accounting, she defines the most rewarding aspect of their successful business not in numbers, but in family. "Watching the next generation take over has been rewarding. That, and knowing that hard work has paid off." 
By the "next generation," Sheere means their son Aaron, who followed in Frank's footsteps by working in the pet food industry as soon as he graduated from college. Aaron manages the business's social media presence and focuses on customer service. Their daughter, Ashley, is a cosmetologist and a new mom, but assists in buying, data entry and accounting for the business. Ashley's husband, Dale Knollinger, joined the team after service in the Army and is the district manager for Naturally Unleashed.
Of her family's plans to expand further in Fayetteville or beyond, Hill laughed. "My family does. I don't, but I'm all for it. The wonderful thing about this business is that it has given every member of our family a chance to shine in their strengths and we work well together. I feel like this opportunity was given to us. We were led by God. It has been a gift."
Day to Day
Heidi Kaufman is the merchandise supervisor for all three Naturally Unleashed stores. She is responsible for product selection, ordering and maintaining their diverse product line. "I sit in front of a computer - a lot," she laughed. Heidi reads the ingredient panel of every food she orders and her criterion for ordering is strict, but simple. "If it's something I'd feed my dog, then I'm willing to try it," said Heidi, owner of a happy and healthy 17-year-old chow mix named Keebler.
In addition to maintaining products, Heidi assists Dale with employee training. "We create tests to gauge employee product knowledge so that we can help. For example, if a customer needs a food with no salt, we want employees to know the options. We want them to be comfortable with that knowledge. Just a few days ago, we had a customer looking for a non-GMO, organic food and we had it," said Heidi.
Customers come from across the region – Sanford, Southern Pines, Lumberton and beyond, via the military – to purchase health-minded items. "People come into our store and say, 'I didn't think I would find these items in Fayetteville.'" said Sheere.
In the Raw 
With cold storage available at all of the stores, Naturally Unleashed stocks one of the newest trends in pet food – raw meat products. Popular in a variety of forms, raw options range from ground meat mixed with grain-based food to freeze dried products. Flash frozen nuggets can be thawed as needed in conventional offerings like chicken, beef and lamb. For the animal with an adventurous palate, Naturally Unleashed stocks items such as salmon kangaroo treats – made from real, wild Australian kangaroo meat.
"We just brought in a new line, called Steve's Real Food. It's what I feed my dog. As people are becoming more aware of their health, we have seen a change in what they buy for their pets," said Heidi. Steve's is known in the pet food industry for its easy-to-tolerate ratio of eighty percent meat to twenty percent fruit and vegetable. It can be difficult to transition a formerly grain-fed animal to a diet comprised of 100 percent meat, which is when the fruit and vegetable component becomes important. "I started Keebler on a raw food diet about three years ago. She was quite overweight and had some anxiety and aggression issues. I tried everything. Raw food got her to her ideal weight and stopped the anxiety and aggressive behavior completely. I guess if I didn't feel well from what I ate, I'd be cranky, too," said Heidi.
Another favorite among Naturally Unleashed customers is the wide assortment of treats. Bulk biscuits are available by the pound, which makes for a fun and unique selection experience for pet owners and pets alike. "They can walk down the aisle and sniff each bin. Of course, we have some dogs who like to taste test. Most of the time, they just do their own shopping," joked Heidi, of the pet-friendly environment. 
Getting the Word Out
Passionate about the advancement of a healthy pet community, they are monthly contributors to local non-profit shelters and the Fayetteville Animal Protection Society.
Last summer, they hosted Fayetteville Pet Fest in the parking lot of the Boone Trail location, which attracted pet enthusiasts, new customers and aligned with their health-focused mission. This year, the event is planned for June 4th and 5th – on a larger scale. Fun for the whole family, the weekend will include vendors and feature exciting competitions by the Carolina DockDogs, a canine aquatics competition club based in Sanford, NC.
Whenever possible, Heidi stocks products made in the United States. As Dale and Frank served in the military, the Hills show their appreciation for service members by offering a 5% military discount in addition to a frequent purchase program for loyal customers. "This is a family environment. We will talk to you like family and we treat our pets like family. We have the best customer service, because we have the best customers," said Heidi.
Updates on Pet Fest, searchable product inventory and coupons can be found on their website, www.naturallyunleashed.com. Visit them on Facebook, Twitter and, of course, at one of their three locations.   
CV Family
Pets
CV PETS