Saying Yes to the Dress

03/01/2016 12:33PM ● Published by Annette Winter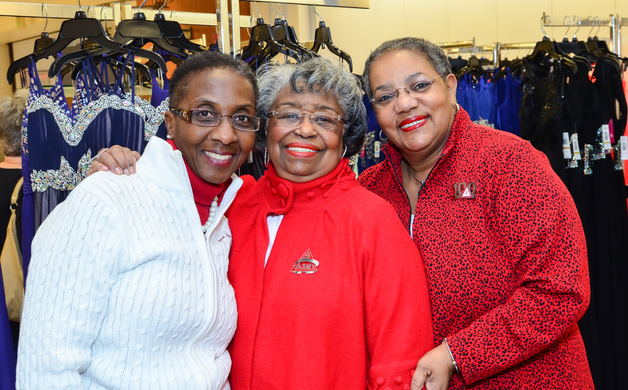 Gallery: Cinderella's Closet [4 Images] Click any image to expand.
By Erin Pesut
In Fayetteville, there are real fairy godmothers. Since 2007, the Fayetteville Alumnae Chapter of Delta Sigma Theta Sorority, Inc., has helped give away 639 prom dresses to high school girls. Often students have to pay a fee to attend prom and the additional cost of a dress (and accessories) can discourage girls from going to an affair that is one of the most memorable highlights of high school, a milestone in being a teenager.     
Jerial Bogan, the Chair of Cinderella's Closet this year, explained, "Cinderella's Closet meets the need of providing fashionable formal attire to junior and senior high school girls free of charge."
The volunteers of Cinderella's Closet advertise for community donations, coordinate schedules with local high schools and assist with their favorite task: working in the closet when girls come to find a gown. 
Planning and preparation begins in January. That's when Cinderella's Closet volunteers meet with social workers and guidance counselors from Fayetteville high schools who have been informed by girls who may be in need of a gown for prom. Cinderella's Closet schedules times for each school to visit the closet (located this year at Belk in Cross Creek Mall) before prom to try and find their dress. 
Their collection: an entire closet filled with formal dresses, all donated by the local community. 
On the day of their appointment, the girls, usually in a group of 15 to 20, arrive at Belk with their social worker. Each high school has a specific date and time to look through the closet. Though these appointments take place during the school day, with the approval of each high school's principal, the classes they miss will be made up later in March. When the girls arrive in the suit separate department, where the closet is specifically located this year, volunteers divide the girls into smaller groups. They try to work one-on-one so each girl can receive individual attention. Girls begin by choosing about four different dresses to try on.
At first, some girls are shy. Some may not want to try dresses on, but almost always, one girl will jump right in, and inevitably, her excitement rubs off. Volunteers help the girls go up or down in sizes. "We don't look at the number, we just say try it on and see," said Jerial. It's only a matter of time before Cinderellas emerge.   
Depending on trends, lengths, colors and styles, what girls want changes from year to year. Every three to four years, volunteers purge the closet of dresses that won't be selected. They keep the closet up-to-date and fashionable. Some girls may come in with something already in mind, a longer dress, a shorter one or a certain color, but the largest issue Cinderella's Closet faces is sizing.
When a girl comes to the closet, she may find a dress, a color, a style she loves, but if it isn't in her size, volunteers have to remind her to choose from what's available. 
"We push full-figure gowns," Jerial continued, but those aren't the ones that necessarily get donated in large numbers. Since the closet is curated solely on community donations, what gets donated is what they have.
As they try on each gown, girls come out of the dressing room to see how the dress fits in the larger three-way mirror. Volunteers help with zippers, offer encouragement and reassure them when it's a good fit. It can take some time to find a dress, the schedule allows an hour and 45 minutes for each high school, but the moment a girl finds a dress that's hers, it's magic. Some stare into the mirror. Some cry. 
"For some of them," Pat Moore, Co-Chair of Cinderella's Closet this year, said, "it's the first time they've had on a dress as a teenager. They've never seen themselves dressed up quite like that. They didn't know they could look so pretty and just to see the smiles when a girl chooses the dress…it's a good feeling to know you've made someone feel like Cinderella."
After they've chosen a dress, girls can look through the shoes, jewelry, purses, shawls, clutches and a myriad of other accessories the closet has to offer to see what they might add to their ensemble for the big event. When volunteers remind the girls, "It's yours now, you can keep everything, you do not have to return it," the girls are consistently thrilled. 
For the dresses that require tailoring, Cinderella's Closet has volunteers in the community who donate their services and after alterations have been made, a volunteer will re-deliver the dress back to the girl at school. 
Although some girls will not find a dress in the closet, Jerial estimated, "95 percent of the time they do." 
Volunteers will never push anything off onto a girl, but they will not let them leave with a dress that's inappropriate. Empowerment is the goal here, not accumulation.
For the girls who don't find a dress, often, volunteers, specifically Eva Williams, will find one for them. 
"She's the buyer extraordinaire," Jerial said with a laugh, "She loves to shop and she'll go get a dress and take it in to the school."
"It's a donation," Eva says, waving it off, smiling warmly, brightly. She won't reveal her favorite places to shop for dresses—"I can't tell you my secrets!"—and when asked how she knows which dress to buy for a girl who may not have found one in the closet, just like a knowing fairy godmother she says, "You know what she likes."  
Eva Williams is the same fairy godmother who kept Cinderella's Closet alive. After the Junior League started it in 2005, the Fayetteville Alumnae Chapter took over Cinderella's Closet two years later in 2007.   
"I'm always about volunteering," she said. "It's my passion. And this, for the girls, it's the kind of passion I love and I wanted it not to ever die." 
Eva and Jerial worked closely as Chair and Co-Chair, respectively, for eight years, improving and enhancing aspects of Cinderella's Closet to keep it going, and to keep it strong. 
"Miss Eva was such a great leader," Jerial affirmed of her mentor, "She did an excellent job when Cinderella's Closet was over at Stein Mart on Raeford Road and then when it was at the Belk in Tallywood, and she was humble and compassionate enough to lead me." 
"[All of this work] takes me back to my prom days," Jerial continued and it seems a girl will always remember the dress she wore to prom. Jerial's was baby blue. In Pat's era, "it was all about the flowers." And Eva recalled her own prom dress to be a tea-length red dress "with lots of netting" that she wore with white shoes. 
"White with a red dress? Can you believe that? Oh, it just hit my eyes!" 
Cinderella's Closet, now in its 12th year, has 15 solid volunteers who pride themselves on their dedication to empowering Fayetteville's younger generation of girls. The gravity and impact of their work continues year after year and while dresses in the closet may come and go, "once someone comes to work in the closet," Eva said, "they're ready to stay."
The women who volunteer for Cinderella's Closet understand the impact of their work. They are humble in their service, generous with their time and root their gratitude in the efforts of the community.  
"If the community didn't provide, we wouldn't be able to do what we do," Jerial added. "We are thankful to the community for the support they give to the project, to serve others, to give girls an opportunity they may never experience without their donations."
"It's love work," Jerial concluded. "It's all a labor of love."
Cinderella's Closet receives photographs and thank you cards from the girls who went to prom. One read: Thank you so much for your selfless giving and for providing me with a chance to receive a prom dress. You made my night magical and I felt so beautiful. I aspire to be just like you all: loving, active in my community and a way-maker for young girls. I appreciate you so much. Thank you. Thank you. And we can't help but think, yes, Cinderella, indeed. 
If you have a dress to donate (because how many more times will you wear the dress you've worn only once but are still saving in the back of your closet?), Cinderella's Closet will be accepting donations from now until March 11th. Bring your gently worn, clean, ready to wear formal attire or prom dress to the Belk customer service desk on the 2nd floor. Cinderella's Closet also accepts jewelry, shoes and accessories. A tax deductible receipt is available upon request.  
Cinderella's Closet
Delta Sigma Theta Sorority, Inc.
Jerial Bogan, Eva Williams & Pat Moore