April Special Dogwood Festival Edition

04/04/2016 02:08PM ● Published by Jennifer Gonzalez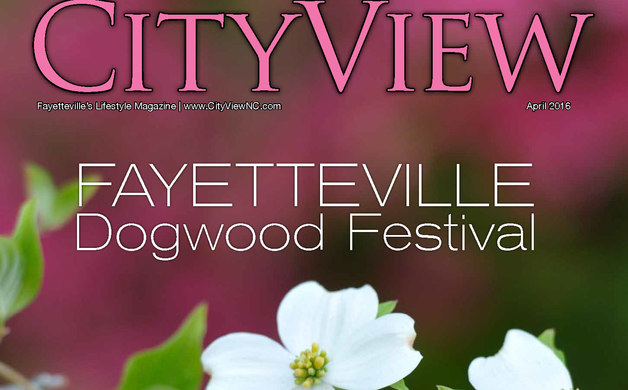 Gallery: . [1 Image] Click any image to expand.
By: Marshall Waren
Years ago, people thought it was a curse to live in Fayetteville. They would throw around names like Fayettenam. But today,it is a blessing to be from Fayetteville, especially to be
connected with Fort Bragg. I have been working with military spouses for over twenty-five years. The risk you take is they may only be with you for a couple of years, but that risk
is far off-set by the raft of talents that comes to town from all over the globe.
Miriam Landru is one such example.
She came to CityView at just the right time. We needed an editor because our editor at the time, Rebecca Sanderlin, moved to Florida with her husband. Miriam had graduated from The University of Alabama with a degree in English Literature and had worked as a TV producer and at a magazine in Hawaii. With her energy and her great ideas, she helped the magazine grow to unbelievable new heights. Some of her ideas were The Buzz and The Men's Issue, which was very popular in its inaugural year last year. Her most exciting idea was the launch party for our Food & Wine issue. What started as a smaller party three years ago downtown at Skyview has since become a popular tradition at Vizcaya Villa. Every year the crowds grow. That was Miriam's baby, and we thank her for it.
Miriam was always innovative in her ideas for the publication. Well, as you can guess, she is moving on to bigger and brighter things, but at least she is not leaving Fayetteville, the town she now claims as home. We will miss her. Thank you Miriam for your dedication to making CityView as popular as it is today.
Now, I'd like to welcome our new editor, Erin Pesut, a writer, whose husband is at Fort Bragg. Erin wrote several stories for us and they were all quite good. She applied for the job, and after I saw that she had a B.A. in Creative Writing from Warren Wilson College and a Masters in Fine Arts from Columbia University in New York, it was a no-brainer to hire her. Welcome
Erin to CityView. You can send her ideas at erin@cityviewnc.com. You will certainly see some great stories and wonderful writing in the coming issues.
We say goodbye to Miriam and hello to Erin. Praise the lord for his providence with these two wonderful young ladies coming our way.
Stories you will find in the April Special Edition:
The First Day of Spring
When Poetry is not Enough
Wirth It
Joe Sugar Knows Food
Symphony in the Spring
The Formula for Success
Straight from the Horse's Mouth
Spring Spirits
Fayetteville Dogwood Festival: 2016
Deep Roots
Standing on the Promises: The Expansion of the Carolina College of Biblical Studies
Inside Fayetteville
Today