Womack Wellness Expo

04/20/2016 10:05AM ● Published by Jennifer Gonzalez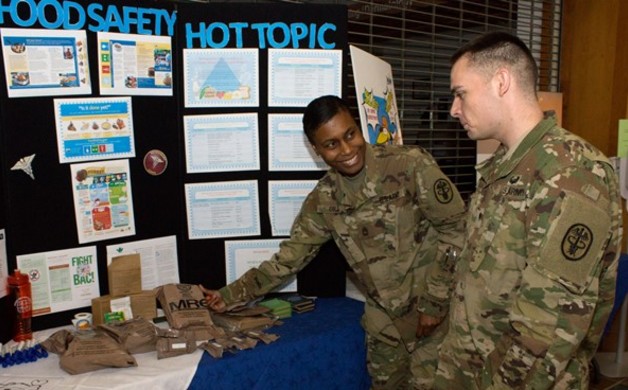 SFC Cole explaining MRE food safety to SPC Moore Allen.
Gallery: Womack Wellness Expo. Photos by Laney Branch [10 Images] Click any image to expand.
Womack Army Medical Center hosts a Health and Wellness Fair for active-duty service members and their Families, as well as retirees and their Family members on April 16.
The fair was a Family-friendly event featuring a variety of health and fitness screenings; informational booths on services and benefits available to both active and retired service members and their Families; educational information on nutrition, diabetes, sunscreen, legal services; yoga classes; blood donation; child safety seat checks; and a variety of fun activities for children.
Admission was free and events took place throughout the hospital.
There were booths and tables in the clinic mall area at the All American Expressway entrance to the hospital and Weaver Auditorium, as well as events outside in the parking lot near the All American Expressway entrance and in the traffic circle outside of the WAMC Orthopedic entrance.
Seen at the Scene
military life
MILITARY LIFE