Being true to you: living life your way

05/04/2016 12:54PM ● Published by Jennifer Gonzalez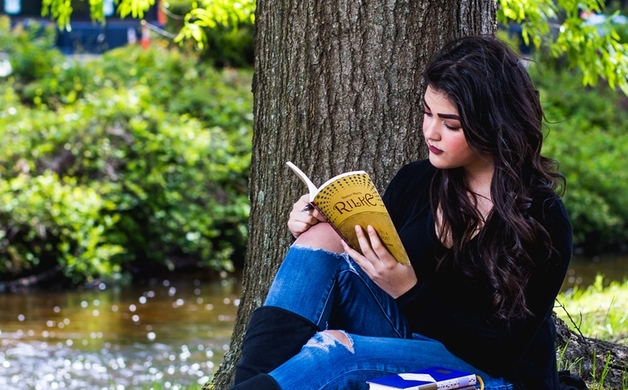 By: Bianca Braswell
Being a writer in a relatively small school, I felt like an outsider. Especially among a student body whose idea of a good time, like many teenagers, did not involve reading, let alone sitting down for long periods of time and actually writing. So I hid my writing, from nearly everyone. I didn't bring my notebook to school. I left my "obscure" books at home. Generally, I averted away from the subject of me writing all together. Carrying such an integral part of your nature in your pockets weighs you down. You lose your sense of self and your belief in your passions. I fell prey to this train of thought. But all that changed changed when I spoke to my mother about this, and she signed me up for Duke University's Young Writers' Summer Camp.
            It was a two-week program for middle and high school students that offered a variety of classes on writing: Creative Nonfiction: finding your voice, Spoken Word poetry, Writing Women, Humor writing, Phantasmagoria: writing strange fiction, and more. Young writers came from all over the world, and each specialized class challenged us. The teachers were passionate and open minded, and never spoke with any hint of elitism. Some students, who had only ever written essays for school, left having performed spoken word pieces in front of the entire camp. There, we weren't afraid. The experience brought us out of our shells. We were writers, navigating through the community, the world we stumbled upon.
            The camp had two different options for attendees: day campers and residential campers. The residential option was more expensive, so instead, my father drove me six hours a day round trip. We grew closer as a result and our time in the car was perfect for lyric memorization. As for classes, you could pick two, and I chose Writing Women and Phantasmagoria: writing strange fiction. While both of these classes were distinct, they each gave me new weapons to use in my proverbial arsenal.
In Writing Women, I learned how to speak out about issues that I care about, how to take my concerns about the world and channel them into writing. In fact, in that class, I wrote the first piece of poetry I was proud of, a poem that was published in the camp's literary magazine. Phantasmagoria, to say the least, was more fantastical. We read literature ranging from weird fiction to magical realism, often delving into examples of more niche literature being brought to life, like the screenwriting from Mad Max: Fury Road and themed podcasts such as Welcome to Nightvale. The day concluded with the camp gathering in the auditorium. Fifteen to twenty campers volunteered and shared their own self-composed texts.
The bonds we forged in that well of creative expression lasted beyond those two weeks in the summer. I kept in touch with young writers in Colombia and China. Each of us had our own stories, our own unique voices, all derived from our own experiences. To this day, I am still friends with them. The experience that summer, the skills I honed and the friends I made will last a lifetime.
It was at this camp that my passion, which began as an act of seclusion and self-expression, blossomed. My skill as a writer grew exponentially, but what I took home with me was worth more than that. I learned that I am not alone in the world. I am not the eccentric I thought I was, but even if I were, that would no longer be a bad thing. That wandering piece in me found solstice with others who share what I love: writing. No matter what you do in life, do not be hindered by your own self-consciousness. Do not be ashamed. When you find something you love, that knock-out, I-can't-breathe-without-it kind of love, pursue it. Even if you are young, especially if you are young. You may find that, like me, it reveals more about yourself, more than you could ever imagine. Your heart shouldn't live in your pockets, and neither should your dreams.
CV Family
Bianca Braswell