Ted's Tale: The story of a dog, her owner and his new career

05/04/2016 02:02PM ● Published by Jennifer Gonzalez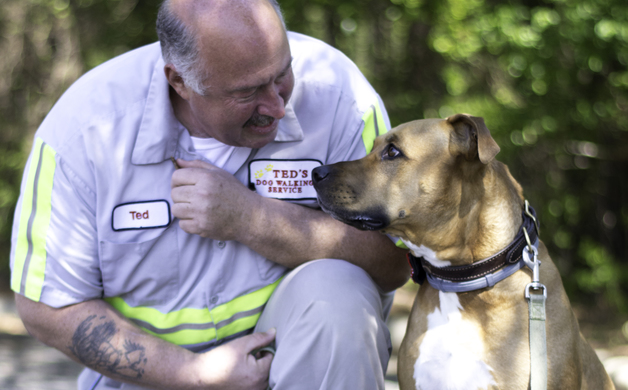 By: Rebecca Swibes
            Ted Miller is unable to hide the joy in his voice when I ask about his dog, Prudence.
            "I love my dog, now that is my baby," he insists.
            The seven-year-old Bulldog, nicknamed Prue, is more than just a lovable companion. She also gave him the training, experience and desire to start a new career.
            "It really is the dog's fault. Prue really is the one that got me interested in learning."
            At a young age, Ted joined the United States Army. After serving for 20 years and living in multiple countries, including Germany and Korea, the Michigan native retired in Fayetteville.         "I came to Fayetteville through the United States military, and because my children had all grown up here and gone to school here and the climate is great, we decided to stay right here."         During the first years of retirement, Ted worked a number of full-time and part-time jobs, including long-haul trucking.  
            "I was working two different part-time jobs to make a full-time income," he said.
            It wasn't until his wife agreed to let him get a dog that Ted realized his niche interest and talent.
          "We've had dogs, but this was going to be my dog. My wife has an extremely low tolerance for a dog that will go to the bathroom in the house, so I knew if I was going to get a dog, I needed to housebreak that dog."
            Ted began reading and researching how to train his new pet. Eventually, he enrolled in a dog obedience training course. As he learned more and more, he wondered if other dog owners knew everything that he was learning. He wanted to share this information, and so Ted was determined to not only create a service that offered dogs routine exercise, but also included basic obedience training.
            Ted's Dog Walking Service was founded in 2011 on the belief that "the act of walking is one of the most important activities a dog does every day," and that walks should provide dogs with not only exercise, but also discipline, mental stimulation and affection in order to fulfill and enrich their lives.
            Ted has found incredible success with his business. He serves over 130 clients, averaging over 500 walks a month.
            "I wear out a pair of shoes every three month," he noted.
            While Ted's services are in high demand, he continues to consider his clients' needs when determining the price. Many of Ted's clients are two-income families.
            "It shouldn't break the family budget to have your dog taken care of," he said.
            "What I do," he continued, "requires a high degree of trust. My goal is that when I go into a client's house, they shouldn't be able to tell that I've been there."
            Ted enjoys his business and feels lucky to have found a career that he finds so rewarding.             "If you don't love your job, you're not at the right job. You have got to love it. Now, do I have days when my fun meter is pegged all the way over, of course. But you have got to be positive with the dogs. You have got to enjoy it."
            And Ted has a strong connection with each of his canine friends.
            "I have a personal bond with each and every dog that I've ever worked with. They are absolutely fabulous! I love each and every one of them."
            While he does not have plans to expand his business, Ted does hope to share everything he's learned with other dog owners.
            "I'm just about there where I want to sit down and write a book."
            Until then, Ted will keep serving Fayetteville and helping owners and dog lovers feel comfortable leaving their furry friends at home while he makes sure the dogs he works with continue to live happy and fulfilling lives.


CV Family
Pets
military life
MILITARY LIFE
CV PETS