Inside Fayetteville Events

05/06/2016 02:48PM ● Published by Jennifer Gonzalez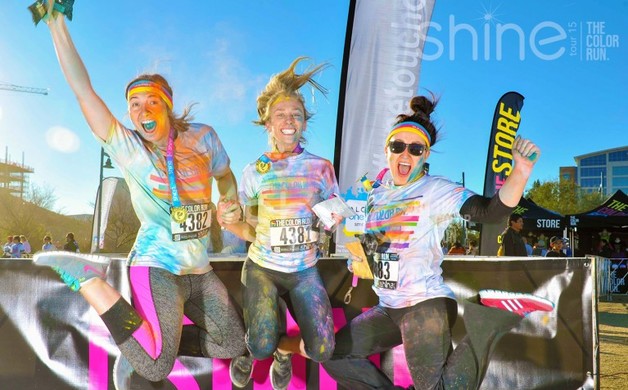 May/June 2016
 Wednesdays & Saturdays
City Market at the Museum
Fayetteville Area Transportation and Local History Museum
 The City Market at the Museum is a farmers and crafters' market in the heart of downtown Fayetteville. Every Wednesday afternoon and every Saturday morning, locally grown vegetables, fruit, eggs, honey, and other farm products are offered for sale. These seasonal offerings—along with plants, flowers, coffee, pottery, tea, soap, candles, jewelry, knitted goods, and other handcrafted products—can be purchased. Questions? Call 910-433-1944.  
May 12-22
Ring of Fire
Cape Fear Regional Theatre
Ring of Fire tells the story of Johnny Cash through his music. More musical portrait than biography, Ring of Fire includes more than two dozen of Cash's hits, including "I Walk The Line," "A Boy Named Sue," "Folsom Prison Blues," and the title tune. For ticket information, please 910-323-4233 or visit www.cfrt.org.
May 14
Hike for Huntington's 3K
Village Green
Make plans to join the NC Chapter of Huntington's Disease Society of America for a 3K walk/run that begins at 10 a.m. at Village Green Community located between Raeford Road and Village Drive.  505 Forsythe Street. Contact Jessica Stefanko for registration information at 910-829-0100 or log on to download a registration packet at www.carolinainn.com.
May 21
Movie in the Camp: Max
Airborne and Special Operations Museum
This year's "Movie in the Camp" is Max. A dog that helped U.S. Marines in Afghanistan returns to the U.S. and is adopted by his handler's family after having suffered a traumatic experience. Bring your own blanket or lawn chairs. Movie starts at dusk. Snacks will be provided at a nominal price. All proceeds of which will go the ASOM Foundation in support of the museum.
May 21-June 24
Field of Honor
Airborne & Special Operations Museum
"All gave some. Some gave all." The Downtown Alliance hosts the Field of Honor, which is a a living display of heroism that flies as a patriotic tribute to the strength and unity of Americans. Every flag honors someone who is currently serving, those who have served and the men and women who have made the supreme sacrifice for our nation's security and freedom. Each flag comes with its own story and displays a tag identifying the person who sponsored the flag and the flag honoree. If you wish to volunteer, contact 910-643-2766 or email execdir@asomf.org. To sponsor a flag, visit www.ncfieldofhonor.com.
May 27
Fayetteville After 5
Festival Park
Kick off those work shoes and kick up your heels. Come enjoy the "4th Friday" entertainment, May through August. May's entertainment line-up to be announced. Gates open at 5:00 p.m., acts begin at either 6:30 or 7:00 p.m., and the sounds of the summer carry on until around 10:30 to 11:00 p.m.
May 28 @ 9 a.m.
The Color Run: Tropicolor
Crown Complex
The Color Run, a/k/a the Happiest 5K on the Planet, is a unique paint race that celebrates healthiness, happiness and individuality. This year "The Tropicolor World Tour" will combine the enjoyment of a 5K with all the fun leisure of an island-style vacation—full of unforgettable memories, music and color. Buy tickets online at http://www.crowncomplexnc.com/events/detail/the-color-run-tropicolor.
June 1
Yoga in the Garden
Cape Fear Botanical Garden
The Garden and the YMCA of Sandhills have partnered to bring you Yoga in the Garden! Rejuvenate at a peaceful yoga session in the beautiful Orangery (or outdoors as weather permits). Improve your flexibility, build strength, ease tension, and relax through posture and breathing techniques. For beginners and experts alike. Bring a yoga mat, a water bottle, and an open mind. A limited number of yoga mats will be available to borrow. Pre-registration required. Yoga will be a one-hour class and will begin at 6 p.m. Call 910-486-0221 x36 or stop by the Garden to register. Email questions to mzimmerman@capefearbg.org.
June 2 @ 7:30 p.m.
Dale Ann Bradley Concert
CAMEO Art House Theatre
As part of the first Thursday live music concert series, CAMEO partners with The Rooster's Wife to bring live music to CAMEO Art House Theatre downtown Fayetteville. Dale Ann Bradley, a singer with bluegrass, country, folk, gospel roots, will perform. Tickets are $12, $15 the day of the performance. Purchase tickets at CAMEO Art House Theatre at 225 Hay Street.
June 3-June 12
The Vagina Monologues
Gilbert Theatre
Drawing upon both personal experiences and those women Eve Ensler, the play's author, interviewed for source material, this incredible and well-loved play breaks down barriers. Directed by Brian Adam Kline. For tickets, please call 910-678-7186 or visit www.gilberttheater.com.
June 4
Run for the Legend 5K/10K Race
Airborne and Special Operations Museum
The ASOMF will hold its annual 5K/10K Run for the Legend at 8 a.m. All donations and proceeds from the event support the museum's operational and educational programs. The ASOMF Run for the Legend is sanctioned by USATF. Top three men and women in each race receive trophies. Top three men and women in their age group will receive medals. Walkers, strollers, wagons and well-behaved, leashed dogs are permitted. Online registration is through www.active.com. Registration is $20, $25-day of. Call 910-643-2778 for more information.
June 17
Fayetteville Observer's Ladies Night Out
Crown Expo
Ladies Night Out, presented by Fayetteville Plastic Surgery Specialists, Cape Fear Aesthetics Med Spa, is the perfect time to express your inner diva. With on-stage entertainment, dozens of vendors, The $10,000 Ultimate Makeover reveal and the famous LNO Shoe Showdown, the event will be bigger than ever! Gather up the girls and enjoy this one-of-a-kind experience .This is the 10th year of giving girlfriends a place to laugh, shop and mingle! Tickets are $10 and available at www.crowncomplexnc.com