Home Sweet Home Habitat for Humanity

05/20/2016 11:02AM ● Published by Jennifer Gonzalez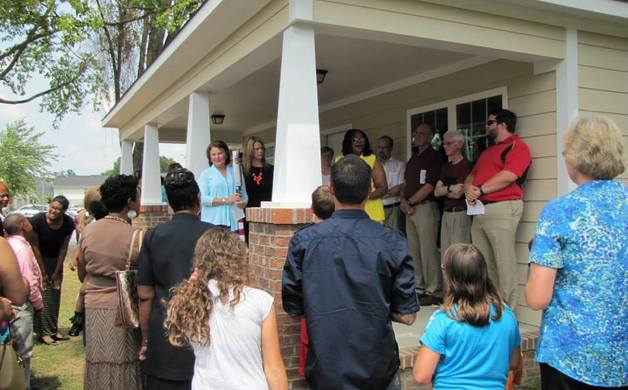 By Kelly Twedell
            Habitat for Humanity is a well-known non-profit and ecumenical Christian organization. While their charters in other cities are all dedicated to eliminating substandard housing and homelessness, our local chapter's faith has ties to the community that run deep.
            Fayetteville Area Habitat for Humanity's Executive Director, Tammy Laurence, is emphatic that prayer has been the catalyst for their success and rapid growth in Fayetteville.            
            "Last month, Habitat for Humanity was named the number one brand in the nation. Everything that we do feeds into the brand," said Laurence. "We want to continue to be really good stewards for what we do here in our community."
            Last year, 15 key homes were dedicated in key turning ceremonies that area community officials, volunteers and local residents participated in.
            For one resident, she is happy to give back through volunteering her time. Ms. Shelia Genrette moved here on faith from Washington D.C. in 2012. She had heard about the organization and had just gotten a job through Cape Fear Valley.
            "I've always wanted to be a homeowner. That was one of my prayers that was answered when I moved into my Habitat house on August 17, 2014," said Genrette. "Being a homeowner is a blessing. It helped me to know what responsibility is, doing everything myself, since I've always lived in apartments."
            They aren't just making adequate, affordable shelter a matter of conscience and action, they are walking it out in the faith community. Each Monday morning at 7 a.m., a small prayer circle happens at MacPherson Presbyterian Church to cover the organization. Did you know that a Bible is presented to each new Habitat homeowner? Did you know there is a prayer at the dedication of their house?
            Habitat for Humanity's partnership with Thrivent Builds brings together congregations, volunteers and Thrivent members. Putting generosity into motion, Thrivent Builds has a church donor-matching program that has really launched Fayetteville's 2016 projects on Hedgepeth Street and in the Bunce Road community.
            On March 12, they hosted another groundbreaking ceremony for Ms. Kirk's four-bedroom home at 236 Hedgepeth Street that brought together the local church partnerships.
            "It's our mission to bring people together to show God's love and give them a safe place to live," said Laurence. "Over 160 families have received the gift of decent and affordable families. I consider them the backbone of our community. They drive your transit busses, school busses, and hospitals, waking up everyday to work to ensure their children will have a better life through their jobs."
            In the near future, the groundbreaking will commence on Bunce Road for the first of 46 Habitat homes. The infrastructure and plans are coming together now on the 14.2 acre property on the corners of Bunce and Old Bunce Road. Eligible families ranging in the median income of 30 to 80 percent that meet the general Habitat partnership requirements are eligible to apply. The potential residents applying for affordable housing will agree to partner in the build through 300 hours of sweat equity as well as the ability to pay the mortgage on the home.
            With that many homes on the horizon, hundreds of volunteers will be teaming up on each property to swing a hammer, roll on some paint or plant some shrubbery.
            If you cannot carve out time to roll up your sleeves, you can still contribute to FAHFH by donating your gently used appliances, tools, cabinets, furniture, light fixtures and doors to their 3833 Bragg Boulevard location. The store is open to the public Wednesday to Sunday from 9 a.m. to 5 p.m. All proceeds benefit our Fayetteville Area Habitat for Humanity.