Fayetteville SwampDogs 2016 Season Starts

06/02/2016 08:53AM ● Published by Jennifer Gonzalez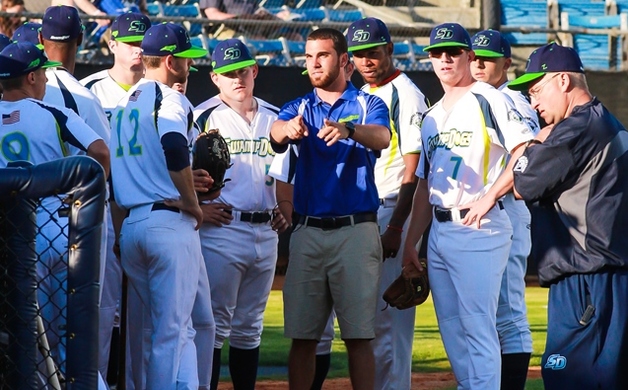 Gallery: SwampDogs 2016 Season Opener. Photos by Matthew Wonderly. [33 Images] Click any image to expand.
FAYETTEVILLE, N.C. –A five run sixth inning pushed the Fayetteville SwampDogs ahead of the Wilmington Sharks for good during Wednesday night's home opener en route to a 9-7 victory.
Frankie Jezioro (Slippery Rock), Tristen Gagan (Southeast Missouri), and Patrick Donnelly (Lehigh) had three hits a piece as the SwampDogs racked up 16 hits, four of which came in the five run inning.
 Despite falling behind 4-0 early, the Dogs' answered back with Logan Corrigan's (James Madison) solo home run in the second inning. Fayetteville hung around despite shaky defense, thanks to an excellent start by southpaw starter Cody Smith. The lefty allowed just one earned run over 5 2/3 innings.

Mike Austin (UMBC) finished the sixth and the SwampDog's offense took over in a wild bottom half of the inning. AJ Gallo and Jezioro singled before Donnelly knocked in both with a two run single. The next batter, Hunter Dolshun (UMBC), reached on an error before Gagan was hit by a pitch to load the bases. Corrigan then dribbled a ball back toward the mound that was misplayed and allowed two runs to score. Pinch hitter Tyler Tharp drove in two with an RBI single to take the lead.
Austin then finished off the win with 3.1 innings of relief to earn the victory.
"I thought the way Logan's home run got the crowd into the game really changed the game," said SwampDog Manager Anthony Williams. "That burst of energy got the guys having fun and really got us into the game even before the sixth."
The SwampDogs improve to 1-1 on the year while the Sharks fall to 1-1. The two clubs will match-up Thursday night in Wilmington.
 Season tickets are on sale now and can be purchased by calling 910-426-5900, or by visiting www.goswampdogs.com/tickets.
Seen at the Scene
Matthew Wonderly