Not your Average Ride

07/01/2016 12:30PM ● Published by Jennifer Gonzalez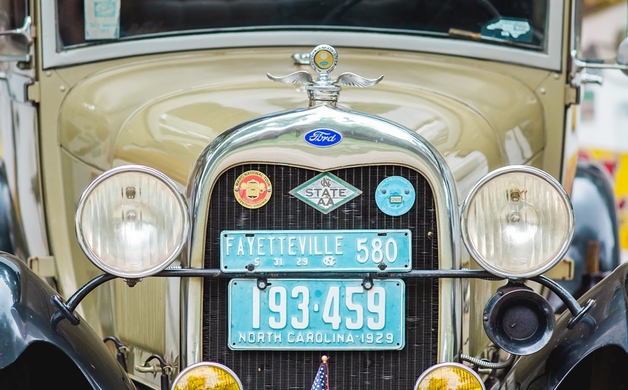 Gallery: Not Your Average Ride July/Aug 2016. Photos by Matthew Wonderly. [72 Images] Click any image to expand.
By Erin Pesut
            Garages are for what? Cleaning supplies? Hammers? Lawn chairs? Lawnmowers? Weed whackers? They may be clean or messy or organized or locked or coded or where you hide an extra house key. They hold our quiet histories, our hobbies, our fixer-upper moments, extra screws to who-knows-whats and boxes of holiday decorations. They also hold the car. Maybe it's a car—or the car—or her car or his car. Cars that belong to not only people, but the histories of people. Of lives lived, of lives being lived. Comings and goings and reunions. Cars with memories and stories and historic time-stamped moments.
        Diehl Jones, a real estate appraiser in Fayetteville, points across his garage.
            "I've got every cleaning product known to man over there." But that's not the true soul of his garage. Instead, what he's pointing across is five cars that have been tetris-fitted into his three-bay garage that he and his wife Pat built six years ago. The garage they built because keeping their acquired collection of cars outside grew to be "a little chancey." The garage that he says is finished nicer than his first home.
            Housed in the garage is a Rosso Dino Ferrari, a silver Mustang, a "pimento-red"  Chrysler, a green MG and a yellow BMW Isetta.
            "We had to figure out how to squeeze them all in," he said.
            Each of these cars has a story.
            Diehl is a member of the Antique Auto Club of America. Over the years, he has had four cars in the Concours d'Elegance in Pinehurst. His cars have won awards at The Dogwood Festival. But it's not about that.
           It's clear as Diehl walks me through his garage, car by car, that these cars are linked to his life through stories. Through the way the car was acquired, the miles on the car that belong to him and the miles that belonged to someone else. The whole way around the track, even to the memorabilia hanging up on the walls.
 The first mile
            "We've always had a sports car," Diehl says. "I've always fallen down on the sports car side of the car hobby."
            Forty-seven years ago, when Diehl Jones got out of the Army, he bought a Fiat Spider. He cycled through another car which he sold to buy his 1980 Rosso Dino Ferrari.
            "Rosso Dino, or orange for the rest of us," Diehl jokes.
            He liked that the color wasn't red like every other sports car out there and to this day the original 36-year-old Rosso Dino paint barely has a chip.
            "The only thing I've done is kept it running well. Last year I had to change the seat covers because they were just absolutely worn out."
            Diehl also owns a 1966 silver Mustang with red vinyl seats. It is more his wife's car. She found the car on Ebay and it came all the way from Arizona.
            "It won the Dogwood Festival last year—Best Mustang in its class," Diehl says, proudly. 
            Pat drives the car year-round. She drives the car to work, especially if it is a nice day.
            "These cars, if you get caught in the rain, it's no big deal, but if you know it's raining, you take something else," Diehl said.
           The next car Diehl and his wife acquired was a Chrysler—a '53 Chrysler New Yorker. If it had the yellow body and the checkered border, you'd want to hail it as a cab in New York, but this Chrysler is a burgundy color, or, officially "pimento red."
            "A friend of ours bought this car for his wife. He was going to restore it for her, but she developed a brain tumor and died. This was back in the early nineties and he went ahead and restored it."
            Diehl told his friend if he ever wanted to sell it, since Pat and Linda were such good friends, they would want to buy it. They did. 
            The car itself came out of Connecticut. Diehl opens the door.
            "This is called—it's a very rare interior—Highlander plaid. Around here, it fits very well. This is the original Chrysler plaid—it's their own tartan."
            "In the '40s and '50s, many of the Chrysler cars had this. They only made 950 back then, and according to Chrysler, only 16 are left," Diehl mentions.
            "We haven't won anything yet," Diehl says, "but it's a lot of fun."
            Next on the tour is his "almond-green" MG, the same kind of car that started the sports car movement in America.
            Restored in Virginia back in the '90s, this car, Diehl says is "the bucket-list car."
             "It's one of the things I always wanted, but I couldn't find one. This car belonged to Wilson Yarborough Jr. Before Wilson died, his grandson, Dax, said he was ready to sell it, so I bought it."
            "This is a sunny day car because there's no heater, no nothing with it."
            Tucked in the back of the garage is a small yellow car. It has the shape and form of some kind of VW Bug, but less "bug" and more "turtle." This, I learn, is a 1957 BMW Isetta with 13 horsepower and a one-cylinder engine. I can't take my eyes off of it.
            "I inherited this car and the story goes back to the fifties. My father was in the Army and we lived in Pittsburgh. He came home one day in a blue Isetta. And it didn't matter how deep the snow was, that thing would just go right put-put-put through it."
            When Diehl opens the door (the only door on the car), the steering wheel comes with it. The car was designed by Renza Rivolty, who, before he designed cars, made motor scooters and refrigerators. That's where he got the idea for the front door.
            "This year," Diehl said, "it won The Most Unusual at The Dogwood Festival. Everybody who sees it smiles."
           It doesn't go very far, nor does it go very fast, but this is the same car that Diehl's father had bought for his mother about 25 years ago. She only drove it twice and got tired of it. So it sat. After Diehl's father passed away, Diehl had the privilege of getting it back up and running.
            The cars are the majority of Diehl's soul in his garage, but you can tell the artwork on the wall, posters of the Monaco Grand Prix race, an outline of the track itself, Chrysler snapshots and historical records he deems important too. 
            Indeed, an olive-drab tire-less bicycle hangs upon the wall and catches my eye. I learn it was a gift to Diehl back in the '60s from a friend of his father's.
            "This is a British WWII Commandos bicycle. The bike folds in half. They'd parachute in with a bike on their back, undo it and ride into battle. They could get to the fight quicker."
            It is a BSA brand, a company that now makes motorcycles. The bike was blue when Diehl received it as a kid (they found the original color on the inside of the tire rim and had it painted) and he remembers actually riding it, but now it still hangs tire-less. The only tires Diehl can find are from a Japanese or German company and he just doesn't feel right using those tires for a British WWII bicycle.
            The hobby of collecting cars started years ago.
            "When the kids left, we had to do something so we started playing with cars."
            What speaks most to Diehl about cars is the way they were made: the engineering.
            "The beauty of some cars. They're unique—it's almost like an art form. When you take something like the Ferrari, the lines are just amazing."
            He also says, "I've just always been a car nut, even since I was a kid."
            This passion of his may actually run in his blood. Even his grandson who lives in California loves cars.
            "Diehl is normally a German surname […] and the Diehl family is from Munich and were in the carriage industry for a long time. When cars came along, they got into the car industry, so there's a reason there somewhere."
            In the garage, wires trail from the cars to the wall.
            "They're on life support," he told me.
            "If you have a car you don't drive regularly, the battery will go dead."
            The wires themselves carry a trickle of battery charge to keep each car's battery topped off, so when Diehl and Pat are ready to go for a drive, their rides will always be ready.
Starting the club
         In 1961, Art Fillyaw, owner and manager of Art's RV sites, started the Model A Club in Fayetteville. Today, there are 24 couples in the local club, which ventures out of town to take overnight or day trips around the state. Art especially loves when the trips meander through the countryside.
            Outside of his garage, adorned with vintage license plate tags and antique tires, Art's 1929 Ford Model A sits waiting for a driver to hop inside. The original greenish-brown paint, also known as "Arabian sand," is still in tact. On either side are two "moonshine" jugs with corncobs stuck straight in the top. Art says there's no moonshine inside. Now they hold antifreeze. This is the same car that was featured in the movies The Color Purple (1985) and Billy Bathgate (1991). Art has the certificate to prove it.
            Art also has a light blue 1950s Ford, which, while he was growing up, used to outrun the Chevrolets.
            "I could squeal a tire in second gear," he said, smiling.
            In public, and especially on day trips, Art is often stopped by passersby, curious about the car he is driving. In Wilmington, his Model A Club was stopped.
            "They couldn't believe that we can drive them that far."
Trading them out
Adam Armstrong, a soldier at Fort Bragg, has been bitten by the car bug too. "My older brother was the one who got me started," he said.
            Right now Adam owns a 1927 Ford Roadster, which he bought off Craigslist and picked up in Fort Mill, South Carolina. There's also a tan bare-metal 1965 Mustang, which belonged to his wife's grandmother. He's working to build a new motor and get the car back to its original green factory color, hopefully by the end of the year.
     Adam's first car was a 1970s Monte Carlo. Before he had the Roadster, he owned a Cobra. Adam is less into hot rods and more into rat rods.
            "For a rat rod, it's about throwing everything on it to keep it on the road," he explained.
            To the Roadster, he added an electric ignition and switches for the fuel and radiator fan. Coffee bags wrap the interior to cover the fiberglass and even windspeed indicators and manifold pressure gauges are an addition from an airplane.
            "They're there to be there," he says.
            Adam and Jennie and Savannah, their 11-month-old daughter, love to ride in the car on the weekends. Even though Adam's head comes above the windshield ("I get hit by bugs and rocks."), he still loves it. Like Art, Adam answers questions along the way.
            "I get stopped everywhere I go. It attracts lots of attention."
            This year at the Dogwood Festival, people were curious about the car. Kids were hopping in and parents were taking photos.
            Originally, Adam said the Roadster caught his eye, but it seems he always has his eyes peeled for the next best car so that he can switch them out. Just in the past three years, he has owned seven, almost eight, cars.
            "When I buy one, usually I will have it less than a year," he said.
            But his wife, Jennie, doesn't want him to ever get rid of his Roadster. 
            "I love it," she said. "It's my favorite of all the cars he's had."
Riding in the rumble seat
     Bill Dudley's father had eight cars when he died, but Bill and his brother, Duke, decided to keep only one: the 1929 Model A Roadster. It wasn't for reasons of money or fame but simply because it meant something to them.
            "This is the one I remember sitting on my father's lap in." While sitting in the same spot, Bill motions to the space between him and the steering wheel. "You can see how small I must have been since there's not much room."
            Bill can remember, long ago, his father detailing the car, adding a thin orange stripe on the rose-beige paint with a wheel, a small pencil and a roller. He's not sure if he'll ever re-paint the car, since it would erase the evidence of his father that means so much to him.
            He likes to drive Suzanne, his wife, and their two daughters around town. In the back is a "rumble seat" where the girls sit. Years ago, during a long drive, Bill and his brother were riding in the rumble seat. They got in trouble for pulling insulation from inside the car, holding it up to the wind and watching it disappear. Their father wasn't happy, but obviously it's the memory that stuck.
Down the road
            It's not about the color of the car or the shape it's in. Men today continue to find both passion and purpose in acquiring and maintaining and sharing the story of the drives they've taken. Will anyone ever know what mile was on the odometer when man and car, the two souls fused? We can only guess. That mile came, and that mile went.
Matthew Wonderly
MILITARY LIFE