Discovering the Perfect Men's Haircut

07/01/2016 12:30PM ● Published by Jennifer Gonzalez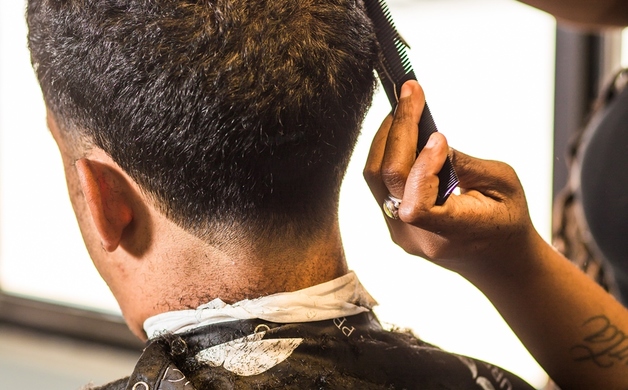 Gallery: Photos by Matthew Wonderly. [22 Images] Click any image to expand.
By: Erin Pesut 
When length and style and texture seem to have a realm of vocabulary all of their own, how can men ask for that perfect haircut if they don't even know the right words? 
 At Savages Barbershop & Hair Salon, where stylists cut hair for men, women and children, a red Craftsman tool organizer sits at each station. On top, clippers and scissors and hair products rest on ledges. Empty Jack Daniels bottles have been upcycled into water spritzer bottles. Adorning the far wall is a huge American flag hand-painted by Jerry Llamas, the owner who also runs the shop with his wife, Nelly. Men play with the foosball table on the black-and-white checkered floor in the middle of the barbershop and in the back, a pool table waits. The Zedd mashup of "Take Me Home" makes it seem like a party. A line of men wait in black chairs against the wall.  
Jerry said, "I'm military. I always need haircuts," which is why he and his wife decided to open up shop. On Yadkin Road, where Jerry counted 42 barbershops between the Fort Bragg gate and Santa Fe Drive, he still couldn't find a place to get his hair cut.  
"I never got that haircut that said I'm going to come back. If I want it right," he said, "I'll have to do it myself."  
His wife agreed, but only if he put it on paper, the costs, the details and planned it all out, which Jerry did, while he was deployed in Afghanistan. In August of 2011, almost five years ago, they opened their doors.  
"And you know what's great about it," one of the men says, "they have beer." He holds up his small cup.   
 And they do. If you are of age (because they do check ID), Savages has beer to drink. They switch it up every week, cycling through a small keg of Shock Top, Yuengling, Coors and Shiner Bock, among others. What else could men want? Beer, sports, America? It felt like I was in the right place to learn about the art of the manliest styles.  
Jasmaine Sutton, men's stylist at Savages, taught me the basics. Jasmaine got her start at Paul Mitchell: The School and has worked at Savages for over a year. When she began cutting men's hair, she found it difficult. Determined, she realized she "had to master it," and now she has completely abandoned women's layered locks and coloring to specifically cut men's hair.   
In her chair by the window, Jasmaine begins consultations asking if her client has a certain haircut in mind. Some will and some won't.  
If there is indecision, Jasmaine will ask what she can't do. What is off limits? Do they want to keep their sideburns? Do they want a skin cut? Do they want to shave it off and start all over?  
If clients are completely unsure of what to do, Sutton will turn to a visual.  
"We post a lot of photos on Facebook so they can see," she said, and, together, they have lots of styles to comb through.  
 The most popular styles men are pining for now? The old-school styles of yesteryear. Think pompadours, combovers and undercuts.  
"Right now, more guys actually care how they look. They groom themselves more. Now, it's about old-school styles. I love it. It's very dapper. Hard parts," she said, "are coming back." 
The Importance of a Good Haircut 
Sitting nearby is a soldier who found Savages after he picked up a flyer for the barbershop at language school. While his stylist cuts, instead of a plain black haircutting cape draped around him, he wears a white cape with images of mustaches, mirrors, keys, brushes, binoculars, shaving brushes, top hats, pocket watches, pipes, a wooden trunk and a bar of soap around his shoulders.  
"I get a haircut every other week now," the soldier says. "I always get a medium fade on the side. I like to keep it short. I have curly hair, so if it gets too long...I'd rather just keep it short."  
The stylist uses her first three fingers to show me how you can determine where a fade might fall on a man's head. She places her index finger above his ear. 
"This would be a low fade."  
She places her middle finger just above her index. "This is usually a medium fade. It's the most famous." 
Finally, she places her third finger above his ear and refers to it as "a high fade." 
Back at Jasmaine's station by the window, she cuts John's hair. John is a soldier who learned about Savages from Facebook.  
"There's so many barbershops around here. When I came here—it's something different—it finally fits me," he said.   
 Today, John has decided to do an undercut with a low fade. While Jasmaine uses her comb and clippers for the hair on the sides of John's head, she reminds me there are certain factors that can determine a good haircut. The size and shape of someone's head. Face shape can be an influence. So can a specific kind of hair.  
"Texture is everything," Sutton adds. "Curly hair won't slick."  
Sutton says that some men come in with a picture of a haircut that they want but it won't fit the hair they've got.  
"We're honest. We always want to give them something that fits them."  
John adds, "I feel a little OCD about my hair." The way Jasmaine smiles, she already knows that. She looks at me.  
"I have rulers on my combs," she says, showing me.  
John tends to thinks that female stylists care more about haircuts and styling, while men want to hustle you out of the chair.   
Jasmaine reaches for her shears for John's hair on top.  
"Most barbers will use clippers all the way around and even on top," she stated, "but as cosmetologists, we get more experience with scissors."  
She holds onto some of his hair, "If I can grab it with my hands, I'll use scissors. I have better control of what I'm cutting. It gives it more of that natural look." 
Jasmaine grew up watching her uncle work in a barbershop. When she was six-years old and coloring near his station, she remembered being fascinated with the way a man could come in scruffy and "busted," but once her uncle had cut his hair, she couldn't believe it was the same man who got up and walked out.   
She continues to experience the same disbelief with her clients even today.   
"They come in and look scruffy and once you turn them around in the chair and their whole facial expression changes. That transition, it's exciting."    
When she interviewed at Savages more than a year ago, instead of an interview, Nelly asked if Jasmaine brought her clippers with her and asked if she wanted to cut some hair.  
"I was nervous. I was so scared. But I didn't stop cutting. I think I did 27 haircuts that day."  
Now, Jasmaine said, "Some guys walk in and I've already cut their hair in my head."  
Even though she's always thinking about cutting hair, for as many guys who do come to Savages for haircuts, it can be intimidating.  
"I can never send out a bad haircut," she said. And even though it is a big responsibility to be entrusted with cutting men's hair, Jasmaine says that she is always herself.  
"We're women who get great respect for cutting hair." 
 Some men run a comb through wet hair and call it a day. For others, product factors in and can keep a fresh-cut looking fine.  
Gels are an option, but they often make hair flaky, crusty and "kind of hard," which is why Jasmaine stays away from gels and prefers pomade, which holds a shine all day and won't flake. And, if it gets damp, you can "re-activate" it. 
There exists a whole spectrum of pomades, anything from lighter, breezier ones to the waxy greasy ones from long ago that your grandpa probably used. Depending on personal style, "matte" products won't offer a shine, while most other pomades will. Jasmaine's brands of choice are Paul Mitchell, American Crew and Rusk, her favorite pomade being Woody's pomade.  
 Styling cream is useful as a conditioner, but won't offer any hold. For curly or coarse hair it's good for de-frizzing and de-fluffing. For thinning hair, a styling cream will be more gentle than the yank of a pomade.  
Clay is another option, which serves as a tackier form of pomade and offers a heavier hold. Clay is best for molding hair.  
 Savages is located off Yadkin Road which means a majority of their clients are soldiers from Fort Bragg, and these gentlemen have certain regulations for their hair's code of conduct. Military haircuts cannot be "disconnected," a term used for fashionable styles these days that appear to have distinct and separate sections. A military-regulated haircut has to be blended or formed together. Generally, hair must be tapered in the back, above eyebrows and cannot come lower than the tragus, that knobby part in the middle of your ear. Hair must be off shirt collars. They also cannot have any designs shaved into their hair.  
For the Special Forces guys who have more freedom with the length of their hair and more leeway with style, Savages can help trim and shape beards and mustaches, too.  
1.) The Undercut: Think Brad Pitt in Fury. Underneath, it is buzzed all the way around (think #1 guard) leaving it long on top. This is a great cut for simplicity and variation. No matter what kind of hair you have, there is an undercut for you. Slick the long hair back with some pomade for a sleek, shiny, lived-in look. 
2.) The Pompadour:  Think Mad Men. This is a style with tightly held-down sides with the pomp (middle section) with some volume. The part is optional. A stylist can add a hard or a soft part depending on your preference. 
3.) Short and Messy: This is like a high and tight or a fade. This works for a variety of lengths, but don't push it if you need to say within regs.  
4.) Side Part: Ah, the classic side part. This conservative hair cut features a tight hold on every strand of hair on your head. A professional choice. 
5.) Buzzed: All gone. Buh-bye. 
 One of Savages's clients drove over an hour from Raleigh to get his haircut. Tom Cartwright was headed out of town to visit his girlfriend for the weekend and cited a good haircut was that important.  
"Guys care more about their hair these days. There has been a change in society and men's fashion. There used to be a simple, basic haircut, but not anymore."  
Cartwright says that he spends about five minutes on his hair, but that also "depends on how awake he is."  
Why does he drive all the way from Raleigh? 
"I got tired of simple high and tight and an $11 buzz cut. It gets boring." 
Getting a good haircut is about proper techniques with clippers and shears, but an environment where you can feel comfortable and can communicate easily with the person cutting your hair can make a big difference. Cartwright loves the "American" feel at Savages and the fact that he knows everyone.  
"That's why most people love this shop. It's the environment. It's got an old barbershop feel. You can get a quick cut somewhere or get a good cut in a really good environment." 
Tom added, "Once they come here, you're not going anywhere else."  
The way it makes you feel 
We've all experienced the magic behind a good haircut. You go in having one kind of day, sit down in the chair and leave feeling like a completely different person. What happened when they chopped that quarter-of-an-inch hair away? Why do you feel so much lighter?   
Jasmaine understands that a good haircut can change everything. And she's committed to sharing the transformative process.    
"I love that you can see your progress," Jasmaine said.  
And she means more than just the transition of cutting a high skin fade, her favorite haircut. "It's easier to see the fade and the transition, and the blending is beautiful, but with cutting hair, you learn everyday. There's no failing. You always learn something. Whether it's a simpler way to do a hard part like standing up on my tippy toes or asking them to scoot down in the chair, or getting creative with elevation and holding clippers at different angles, I love cutting hair. It's more of a passion than a hustle." 
Before she even spins John around in the chair, I can see what she means.  
"What do you think?" she asks.  
"Looks good, looks real good."  
For now, Jasmaine's mission is accomplished.  
Savages Barbershop has two locations. Visit them at 6256 Yadkin Road or their new Spring Lake location at 600 N. Bragg Boulevard.  
Matthew Wonderly
military life
MILITARY LIFE
CV SHOP LOCAL