Fresh Seafood at Cedar Creek Fish Farm

07/01/2016 12:00PM ● Published by Jennifer Gonzalez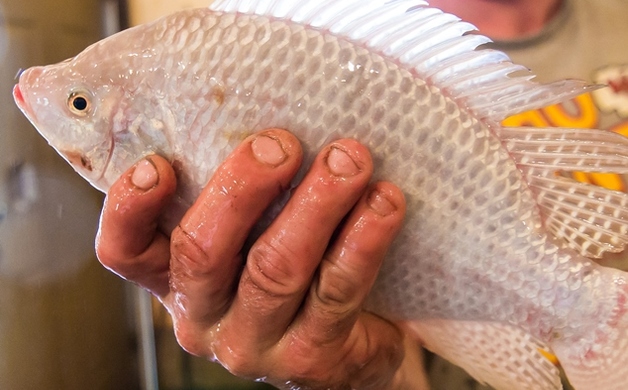 Gallery: Photos by Matthew Wonderly. [30 Images] Click any image to expand.
 No throwbacks. You buy what you catch. Fee Fishing: $3.50 lb. These are three of the rules at Cedar Creek Fish Farm.  
Must have a good time is not necessary to include because, let's face it, it is inevitable.  
Cedar Creek Fish Farm, located off of Matt Hair Road in Fayetteville, is a family-owned and operated business that prides itself on fresh farm-raised catfish, tilapia and other seafood offerings, including live crabs, shrimp, oysters (seasonally), clams, crab legs, scallops, and even frog legs (seasonal). Who knew all of that was here in Fayetteville? 
The whole farm encompasses a beautiful 102.3 acres of land, including 15 acres of water. In the front, there are two large man-made ponds where fishing can take place at anyone's leisure. It is free to fish (make sure you bring your own rod) and you pay for what you catch. Plus, whatever fish you catch, Cedar Creek Fish Farm will clean it for you.  
Cedar Creek is operated by father and son: Duane Stone Sr. and Duane Stone Jr. Back in 1995, the property was bought, but they didn't "open" until April of 2002. Still, neither of them views it as "an opening." 
"We have never had a 'Grand Opening.' We're always in the process of still building," Stone Jr. explains.  
"It has been a long time coming," Stone Sr. says. "I started out with no loans, no subsidies, and took it one step at a time."   
Attached to the welcome building is the room where the fish are raised: one tank of catfish and one tank of tilapia. These fish are raised in well water. The facilities are inspected by 27 federal agencies. They come to check the soil and the water and the land. Even the health department makes a visit.  
"We want to make sure we are doing it right and proper and clean," Stone Jr. says.  
Cedar Creek Fish Farm celebrates the many cultures in Fayetteville. Stone Sr. notes that many different ethnicities come to buy seafood, and they all have different preferences. Americans typically won't buy a bushel of crab, whereas Asians will buy two or three bushels, and serve it as an appetizer. Americans prefer the fish head to be cut off, while Hispanics will be insulted if the head has already been removed.  
As the old saying goes, "Nothing worth having comes easy," but the Stone's enjoy even the difficult aspects of having a farm, which includes more than just the fish swimming in the pond.  
Both father and son enjoy spending time in the sun, tending to farm chores and working the land. Stone Sr. takes pride in making sure the fields are kept up. He prefers working outside to excessive amounts of paperwork.  
"Working in the back ponds, growing and harvesting, it's not all glamour, but it drives me crazy when I'm not able. The farm is fun. It's when I get to play," he said.  
When families come to visit Cedar Creek Fish Farm for the day—and it is family friendly, there are no age restrictions—it can be pure delight. Like we said, creatures of the sea aren't the only animals at Cedar Creek. The farm also raises chickens and sheep and eventually hopes to sell goats. Eggs are for sale, as well. Bunnies roam near the blueberry bushes and nearby there may be foxes. If you come early enough in the morning, you may be able to spot the two bald eagles down by the water.  
When people come to fish, no fishing license is required. 
Stone Jr. says, "We're just glad people come and end up catching their dinner here."  
Worried you won't catch anything? Have you had bad luck fishing before? Don't worry.  
"It's guaranteed you will catch something," Stone Jr. promises with a smile. 
Of course you will find all kinds of animals at Cedar Creek Fish Farm, but the farm isn't just for animals, it's for teaching and passing on the knowledge both father and son have acquired, too. Both Stone Sr. and Stone Jr. have "swum with the fishes" their whole lives. Stone Sr. joined the military when he was 18 years old and served in the military for 29 years, some of that time spent in Special Forces. He received an agricultural education from NC State and Sampson Community College. While serving in the military, Stone Sr. traveled to Iraq, Afghanistan, Jordan and Costa Rica, spending time with the locals and teaching them fishing techniques. As he passed on his agricultural knowledge to local instructors, he knew they would eventually pass those techniques, and other bits of agricultural wisdom, on to their students, their friends and their family.  
When working with farmers in Iraq and Afghanistan, Stone Sr. remembered, "You work with people. People don't work for you. And being different is okay."  
For everything Stone Sr. taught abroad, he also practices it at home.  
Just as Duane Sr. worked side by side with people overseas, side by side he works with his son.  
Stone Jr. learned everything from his father. Growing up, they went hunting and fishing. After high school and working in construction, he was asked by his father to "jump on board" with the farm. He gladly took the bait. Stone Sr. compliments and admires his son's quick skills, and Stone Jr. is just glad he's got a job working with his family.  
It is a learning environment at Cedar Creek Fish Farm. The farm hosts high school students from Future Farmers of America and encourages students studying agriculture to come visit or apply for internships. Professors can tag along, which proves both useful and entertaining.  
Duane Sr. loves seeing students work in the water.  
"I always tell them don't bend down in the water with your waders, squat down instead. About 90% of the time, they don't listen." Stone Sr. jokes. 
A place for quiet adventures 
Stone Jr. grins as he describes the atmosphere. 
"It's a good, quiet spot for a family. You can teach your children, maybe impress a lady on a date, catch a fish and cook it for her later or vice versa."  
He gets of kick out of how excited people can get when they are around live fish. The bonds with the customers are important too.  
"I love the positive reactions and feedback we get from customers." he said.   
A place for the red, white and blue 
The largest value the Stone's have garnered from Cedar Creek Fish Farm is pure American pride.  
"For us, we live on American pride, buying local products and selling products to local businesses," Stone Sr. says.  
Locally, Cedar Creek Fish Farm works alongside Barbeque Hut on Owen Drive and Tarpackers in St. Pauls.  
Jamal Triplett, who also works at the farm, helps with the fish and the animals and even pulls grass out from the ponds since it takes up oxygen that can be used for the fish. After he pulls out bucketfuls of grass, he feeds it to the sheep.  
"This is probably the most awesome job, especially as a veteran of the army," he said.   
Jamal loves aspects of working hard, so you won't find him complaining about being muddy or getting wet.   
"When I was in the army, I was a team leader. One of my biggest pet peeves is complaining."  
He adds, "Families who come here love it. It's a good spot for relaxation. Bring any kid here and they'll have an experience of a lifetime."  
Stone Sr. says, "And from a G.I. viewpoint, military parents are gone for months at a time, and they feel guilty for missing so much, so coming here to fish with their children is a great time to play catch up for three to four hours."  
Nowadays, it is a momentous occasion when you can spend time with family without any distractions. At Cedar Creek Fish Farm, you can drive up the path, witness the water, the trees and the American flag. It may be all you need to reel you in.  
Cedar Creek Fish Farm is on 7270 Matt Hair Road in Fayetteville. They are open seven days a week.  Their phone number is 910-485-5700. Visit them online at cedarcreekfishfarm.net.  
Enjoy this recipe from NC Department of Agriculture's cookbook, Seafood Cookery in North Carolina. 
Grilled Tilapia with Sesame Seed  
1-½ tablespoons lemon juice 
Clean, wash, and dry fish. Combine remaining ingredients. Place in well-greased, hinged wire grills. Baste fish with sauce. Cook on a barbecue grill about 4 inches from moderately hot coals for 5 to 8 minutes. Baste with remaining sauce. Turn and cook 5 to 8 minutes longer or until fish flakes easily.  
Matthew Wonderly
CV SHOP LOCAL