The Kyle family makes Dobbin Avenue home

09/01/2016 01:18PM ● Published by Jennifer Gonzalez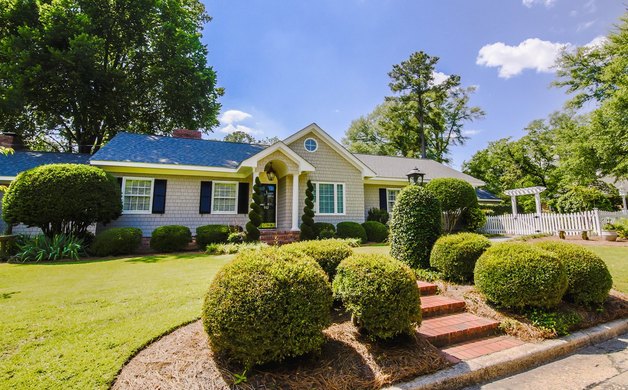 Gallery: Kyle family Dobbin Avenue Home [27 Images] Click any image to expand.
In 1993, Jim and Edwina Kyle moved to charming Dobbin Avenue. When a clapboard ranch-style house became available on the highly sought-after street, the Fayetteville natives were quick to purchase it. Complete with an old, idyllic elm tree in the side yard, the house became a home to the Kyles and their two daughters.  
 Since then, many parts of their lives have changed. Their daughters are grown, married and have babies of their own. Sara and Ann Stuart live in Huntersville and Raleigh, respectively. The elm tree— home to a swing and many impromptu summer night neighbor gatherings—came crashing down after being weakened from Hurricane Fran and was, with great sadness, replaced with a functional carport. The clapboard ranch transformed into an expertly-appointed cedar-shingled English cottage, and just as many, if not more, changes have taken place on the interior, too.  
Like classic Southern hospitality and the Kyles' forty-one-year marriage, Edwina's style is a constant. "I really appreciate bright colors, but I like a handsome look," said Edwina. Throughout the home, varied texture, rich color, unique patterns and striking adornments create the look of which Edwina speaks.  
Entering the home, visitors are greeted with enthusiasm by Lilly, the family's 8-year-old Boykin spaniel and a portrait of Paul Hamilton, an ancestor of Jim, and Secretary of the Navy under President James Madison.  
 To the left of the foyer is the formal dining room, previously the formal living room. A portrait of Mary Wilkinson Hamilton, wife of Paul Hamilton, hangs above a gleaming silver tea service, which was handed down from Jim's paternal grandparents. 
The classic portraits of Paul and Mary were displayed side by side until Edwina met John Hardy, owner of Trends 'n Traditions, an interior decorating firm with locations in Wilson, North Carolina and Raleigh. "He gets me. He understands my style. In Johnny, I trust," laughed Edwina of the decorator's eye for her home.  
Through the dining room is the kitchen. Newly renovated, the kitchen ceilings have been raised to lend a more modern and spacious feel. "The builder told us to take the ceilings as high as we could," said Edwina. Lustrous granite countertops accented by soft under-cabinet lighting and stainless steel appliances bring the home, built in 1955, into the contemporary age.  
Perhaps the most eye-catching element in the kitchen is the exposed brick fireplace. "It was a happy surprise when the kitchen was renovated," said Edwina, who discovered the never-meant-for-display beauty while she was in the attic investigating just how high the ceilings could be lifted in the remodel. Flecked with a retro muted jade brick, the rustic hearth combines with a bold coral trellis-print wallpaper creating layers of interest and which adds warmth and whimsy to the modern space.  
"My favorite room is my kitchen. I am happiest when our children and their families or our friends are gathered there around good food and drink," said Edwina.  
 A step down reveals another cozy and handsomely furnished space: the den. Thoughtfully upholstered furniture beckons guests, and so does Lilly, who can be found lounging in a lushly-appointed armchair she claimed as her own.  
A combination of traditional pickled wood paneling, original to the home, and a pleasing ochre wall paper blend to create the look Edwina prefers. A glance around the room reveals Edwina's style and decorating method. A whimsical Egyptian carving is mounted on the fireplace, which Edwina found in a shop in Pinehurst. The gold Venetian masks were purchased in Charleston on a girls' weekend away. "They spoke to me, so I bought them. If I love something like that, I will purchase it whether I know where it is going in my home or not. If it brings me that much enjoyment, I find a place for it," Edwina said, simply. 
One element of the space that is not "Johnny-approved," as Edwina teasingly identified, is a stylish golden glider-rocker, which she purchased at Tiny Town. "I had to have a place to rock my babies," she said fondly referring to her grandchildren, of whom she will soon have three under the age of two. She also keeps a portable crib "for any impromptu visits."  
Edwina's uncomplicated philosophy on comfort and livability extends to "grown-up" guests, as she doesn't mind if things become askew. "I enjoy the process of making a house a home, and while I love beautiful things, I am also all about those things being functional, practical and welcoming as well as attractive. I want people to feel comfortable in my home." She laughed as Jim chimed in regarding visitors, "They can drink red wine." 
An avid gardener, Edwina enjoys all seasons in her yard. She shapes even the natural elements outside to create an inviting environment to rival the interior. Over the years, the Kyles have enhanced their exterior with the addition of a carport, a rear deck, a front porch and a potting shed. 
She draws inspiration from trips she takes with friends and family, namely to Charleston, as
 she admires the intimacy residents are able to achieve in both large and small gardens. "We have a very narrow, but wide lot," Edwina said of their rectangular space. For many years, the now-retired Marilyn Britt was instrumental in their landscape design. Currently, they credit Dawn Adkins Hurley and Willie Duckett with the design and maintenance of the space. "I couldn't do this without them," said Edwina gratefully. 
An understated but most notable element of the yard is the black wrought iron gate, originally part of a fence in front of the Kyle House on Green Street in the 1940s and 50s. The house, built shortly after the great fire of 1831, is an example of classic Greek Revival architecture and incorporates the familiar iron balustrade above the porch.  
"The story goes that the fence was struck down by a truck and sections of it were salvaged. Our gate was given to us by our neighbors Betty and Edmund Grady, who live on Morganton Road. They wanted us to have it 'back in the family,' which was incredibly generous. Our friends Sarah and Frank Moorman also had a gate when they lived on Magnolia Avenue, which they gifted to us so that both of our daughters will have a Kyle House gate of their own one day. We are most grateful for their thoughtfulness and kindness," said Edwina. 
In all months of the year, the Kyle house is attractive. On hot summer days, spiral cut shrubs frame the front porch, a thoughtful addition made to add interest to the simplistic original style of the home. A combination of expertly-trimmed green hedges and bright white lattice accent fencing frame the cottage and create the intimate look for which Edwina strives.   
A dense colony of ostrich fern, cultivated from fronds given to Edwina from her stepmother, covers the side yard and provides refuge to pouncing neighborhood cats. "You know how they say that the first year, a plant sleeps, then the following year it creeps, then the third year it leaps? That fern was never sleepy," she laughed.  
This fall, Edwina plans to incorporate a surprising element in her harvest time display: croton. A shrub, generally enjoyed as a houseplant, is known for its foliage of vibrant red, orange, yellow and green. Pumpkins, gourds and bittersweet will round out her natural fall décor. 
Paradoxically, the Kyle yard is the subject of much attention in the winter months, as it is home to a Japanese cherry tree fast becoming a heart-of-Fayetteville landmark. After a brief but beautiful blooming in the spring, which Jim joked lasts "about 24 hours," the tree truly comes to life after every leaf has fallen – sometime in November. 
For the past six years, each branch has been meticulously adorned with white lights. "We just made the switch to LED," said Edwina, who hopes the change will decrease maintenance. Each year, adjustments must be made to account for tree growth and to replace past-their-prime strands. Currently, refurbishing takes a day, but the result is Fayetteville fame.  
While the Kyles occasionally field requests to leave the tree illuminated throughout the year, the bulbs are mostly obscured by foliage in warmer months. However, anyone who knows Edwina—the consummate Southern matriarch—will correctly surmise that exceptions to the rule are made frequently. Joyous occasions, most recently in celebration of a neighbor's summer wedding, always warrant a lighting for the delight of their friends and family, whose happiness she and Jim value so deeply.  
"People tell us they drive down the street just to look at the tree," Edwina said. "We never expected that. We love the joy that it brings everyone." 

CV Lifestyles
HOME AND GARDEN