Routine Machine: Great ideas for back-to-school success

09/19/2016 10:11AM ● Published by Jennifer Gonzalez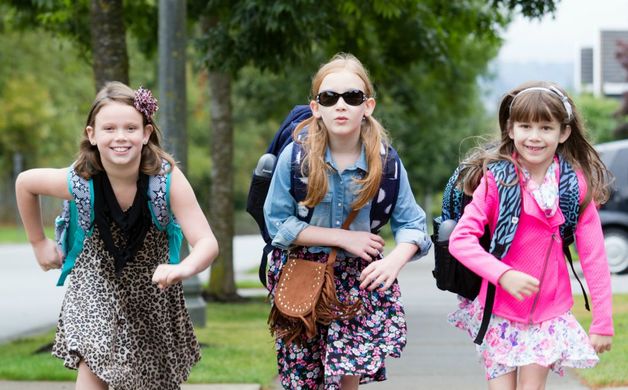 Back-to-school marks the time when children across America say goodbye to the beach and hello to the books. For some, the transition of summer vacation to back-to-school can be stressful and chaotic. Luckily, there's a simple way to prevent this from happening to your family: routines.  
Establishing routines can significantly impact children's academic achievement and their social skill development. Whether your children are just beginning kindergarten or embarking on their last few years of high school, planning a daily routine can make the school year a lot less harried. 
If children are involved in planning their routines, they're more likely to follow them. Even as school starts, sit down with your child to map out how each day might look. Depending on their age, it might be a good idea to draw pictures for each step of the routine.  
Here are three sample routines that will greatly reduce the stress of a daily school schedule. 
Establishing a clear morning routine allows your children to start the day off on the right foot. Try making a checklist on a whiteboard that can be erased and re-used each day. Not only is this a great reminder, but it will help foster a sense of responsibility, too. 
Waking up. What time does the child need to wake up in order to be ready on time? Allow for more time earlier on in the school year while everyone adjusts to the new schedule. 

Getting dressed. Whether or not the child has a uniform to wear, it's a good idea to lay out clothes the night before. It's also a good way to make sure everything is clean! 

Eating a good breakfast. Quick and healthy meals that require little or no prep include low-fat yogurt, almonds, hard-boiled eggs, oatmeal or fruit smoothies.  

Going to the bathroom. Brush your teeth, use the restroom and wash your hands! This is a great time to reinforce your child's healthy personal hygiene habits. 

Getting packed. Pack a lunch (or pack the one made the night before) and have your child double-check for books, backpacks and all the supplies they might need. (You would be surprised how many children come to school without a single pencil in their possession!)  

Thinking ahead. Review the after-school schedule. Make sure your child knows who will be there to pick him up and/or where he is going after school.  
After school, once the bell rings, your child is expected to manage quite a few tasks on his own. Every day might be different when it comes to after-school activities and family obligations, so it's important to create consistent rituals where you can. Having a specific spot where homework is done every day can automatically help children get into the right mindset. Keep in mind, every child's learning style is different, so to the best of your ability, make sure the child's work location matches her tolerance for visual and auditory stimuli (i.e. some kids might want to work with the TV on, while others may prefer a quieter environment).  
After school is a great time to teach responsibility and self-reliance, so giving your child tasks to work on independently will help build confidence. That said, allow enough time for your child to unwind and relax after school. Having a set amount of time for your child to play, move her body or stretch out on the couch can greatly reduce the stress from the day.  
Whether or not your child will wake up on the right or wrong side of the bed truly begins the night before. At night, have your child organize school materials, pack a lunch and lay out the next day's outfit. Try daily chores of tidying up of toys and games and having your child set their own alarm clock. It's easier for everyone if your child can manage some basic needs without relying on an adult.  
Establishing a bedtime routine helps children feel secure and in-control. Parents and/or guardians need to be involved in the process, even when it comes to older children. This lets them know you care about their well-being. It's also very important to limit your child's screen time. We've all heard this, but research shows there are many ways using these devices negatively impacts sleep. The bright light disrupts the body's natural circadian rhythms and engages the brain in a way where it releases adrenaline, which isn't useful when it's time to be winding down. Too much screen time, even after school, reduces the time we could all be doing other activities, like reading books or exercising, which are beneficial for the mind and sleep regulation. 
Right before bed, try reading to your child or have them read to you. Take at least a few minutes before bed just to talk with your child about their day. This gives you a chance to connect and help your child relieve any stress she might have. You can congratulate her on a job well done or just share that time together.   
I hope these routines will make the school year easier than ever for your family. And remember, these routines aren't just for kids! Planning ahead, for everyone, is always the first step towards success.  
CV Family
Parenting
CV PARENT LIFE