Pet Corner Featured Pet: Stagger

09/19/2016 10:34AM ● Published by Jennifer Gonzalez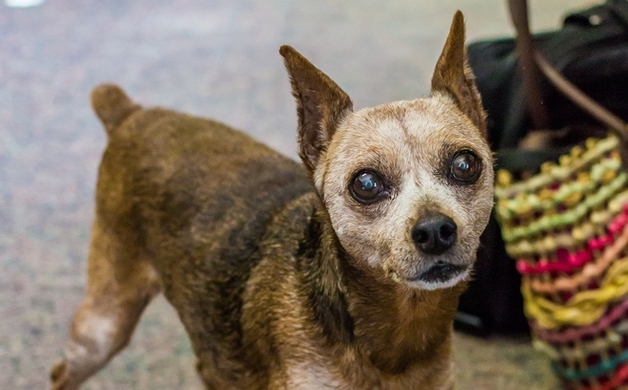 Q: What is your pet's name?  
A: His registered name is Regatta Ready to Stagger In, but we call him Stagger. 
 Q: What kind of animal is your pet?   
A: He is a Miniature Pinscher. This breed was historically named Rey Pinscher, after the miniature red deer in Germany which Stagger resembles. His color is Stag red, which is red on the body and black down the spine. 
Q: What is unique about your pet?  
A: Stagger is a former Champion Show Dog. He was bred one time, and one dog from that litter went on to compete in the Westminister Dog Show!  
Q: How did you and Stagger get together?  
A: He was bought sight-unseen and delivered to me in the middle of the night from Missouri in the Walmart parking lot in Sanford. It took months of "untraining" to teach him to be just an ordinary dog! 
Q: What is his favorite thing to do?  
A: As the former NC State Sea Turtle biologist, I spend a lot of time at the beach. One of the main predators of sea turtle hatchlings are ghost crabs. Growing up, Stagger's favorite thing on earth was to patrol the beach with me putting his nose in every ghost crab hole in hopes of catching a crab…when successful he just radiated with delight as he pulled it out and tossed it in the air whereby the crab would run to the water in sheer terror.  
A: He is a total food-a-holic! He will eat anything that doesn't eat him first! He loves to visit the drive-thru windows at banks and fast food restaurants. He loves riding in the car, particularly en route to Myrtle Beach or Ocean Isle Beach! 
A: The mailman, the UPS man or anyone in uniform or with a cap on their head. He knows the trucks and the uniforms! 
Q: Anything else you would like to add? 
A: He stays in great shape due to his acupuncture treatments in Morrisville, NC, chiropractic adjustments in Wilmington, NC and full body massages from his Momma. He's a happy dog. During the 13 years of working with the Sandhills Area Land Trust, Stagger went to work every day with me.  No matter if we were doing a legal closing at the lawyer's office, meeting with the surveying team, landowners, appraisers, etc. …Stagger would walk right into the meeting and sit down like a professional listening intently until the deals were done and then turn to me looking for a nod that business was over and it was time to go home and then head to the door. 
CV Family
Pet Corner
Pets
CV PETS