Fayetteville Police Chief Harold Medlock Retirement Ceremony

09/28/2016 04:13PM ● Published by Jennifer Gonzalez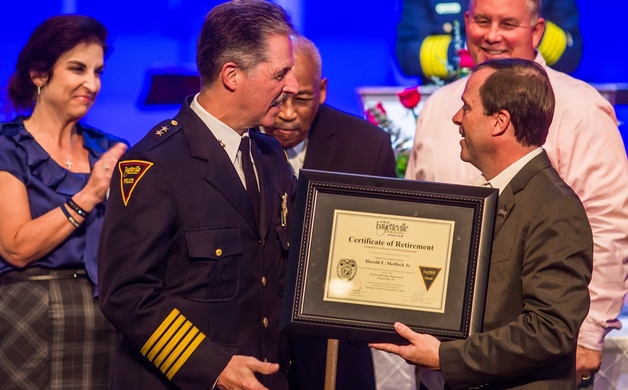 Gallery: Fayetteville Police Chief Harold Medlock Retirement Ceremony. Photos by Matthew Wonderly. [49 Images] Click any image to expand.
A crowd of lawmen and community leaders gathered at Village Baptist Church in Fayetteville on Tuesday September 28,2016 to celebrate the career of Fayetteville Police Chief Harold Medlock.

He is set to retire this year.


Chief Harold Medlock is a native of Gaston County, North Carolina, and has lived in the Charlotte area for the past 33 years before moving to Fayetteville to serve as the Chief of Police for the Fayetteville Police Department. He initially joined Charlotte Mecklenburg Police Department in 1979. After a stint in the private sector, he returned to duty as a police officer with the Charlotte Mecklenburg Police Department in 1993. In February of 2013, Chief Medlock joined the Fayetteville Police Department after accepting the position of Chief of Police.
Chief Medlock advanced through the ranks of the Charlotte-Mecklenburg Police Department. In 1996, he earned his North Carolina General Instructor Certification to teach Basic Law Enforcement Training. As a Police Sergeant, Medlock supervised in the Strategic Planning and Analysis Unit and various Community Policing Districts. In 2002, he was promoted to Captain and served as the Training Director. Medlock then went on to be a Division Commander of a patrol division where he implemented several successful initiatives to combat crime.  In 2006, he was promoted to Major where he worked in the Central Service Area followed by the Criminal Investigation Bureau. In 2008, he became Deputy Chief, overseeing the Field Services Group. He managed 800 officers assigned to functional units including seven patrol divisions, a special events unit, a secondary employment unit, a motorcycle operations unit and a major crash investigations unit. While serving as Deputy Chief, he also served as National Special Security Event (NSSE) Co-Chair for the 2012 Democratic National Convention, overseeing 21 NSSE local, state and federal public safety organization sub-committees that produced the NSSE operating plan.
Chief Medlock has served as a Trustee of the Charlotte Mecklenburg Police Department Benevolent Fund. He is the First Vice President of the North Carolina Police Executives Association and is scheduled to become Chairman of the 2,100-member association in 2014. He is an active member of the Police Executive Research Forum, Carolinas Institute for Community Policing, Leadership Charlotte Alumni Association, International Association of Chiefs of Police FBI National Academy Association and the Fraternal Order of Police.
Chief Medlock earned his Bachelor of Arts in Criminal Justice in 1998 and MBA in 2002 from Pfeiffer University. He is a graduate of the 40th Session of the Senior Management Institute for Police sponsored by Police Executive Research Forum, 2001 Leadership Charlotte Class XXIV, 2010 United States Secret Service Dignitary Protection Seminar and 197th Session of the Federal Bureau of Investigation National Academy. Chief Medlock also serves on Methodist University's Master of Justice Administration Advisory Board.
Seen at the Scene
community
Matthew Wonderly
COMMUNITY