Faith: Small Things with Great Love

11/09/2016 12:45PM ● Published by Jennifer Gonzalez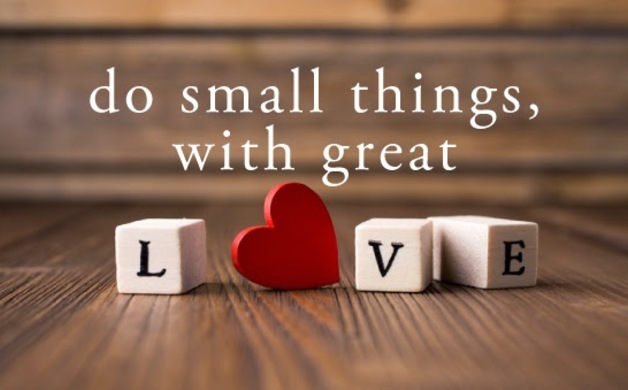 By: Chaplain (Captain) Lukasz J. Willenberg  
"Be that person. Do small things with great love."  
On the wall by my desk I have a small card with the words of Mother Teresa, known in the Catholic Church as Saint Teresa of Calcutta. As an Albanian-Indian Roman Catholic nun and missionary, she spent her whole life serving the poorest of the poor. She said once, "Not all of us can do great things. But we all can do small things with great love." I read those words every day. They serve as a reminder of what I am called to do.  
The holidays can be especially stressful, whether a soldier is at home or deployed. As we are about to assume Global Response Force responsibilities as a Brigade, our training schedule is full. On top of all of the hustle and bustle of the holiday season, our mission continues. Sometimes we forget to reflect, to refocus and to enjoy quality time with our loved ones. Especially around this time of the year as we approach the Holiday season with Thanksgiving and Christmas, I feel my role is to remind my paratroopers and their families what this season is all about.  
As a chaplain, I love what I do. Every aspect of my job is both challenging and extremely
 gratifying. I hear it almost every day: "Father/Chaplain, what do I do?" Every situation is different and unique, and I am humbled to be able to be there for my paratroopers and families as their chaplain, but, I find the ministry to the married paratroopers of my unit and their families unique and extremely important. About 60% of my paratroopers consist of married service members, a majority of them living on Fort Bragg and others in the Fayetteville area.  
It is a beautiful, fulfilling and selfless life path to serve in the armed forces, but it is definitely not an easy one. Frequent moves, separations due to deployments or training missions, dangers associated with war and unpredictable schedules are some of the challenges military families cope with and need to learn to embrace. There are great things about military life, but there are definite hardships. It is important to recognize the emotional and spiritual toll this lifestyle has on a service member and his or her family and build up some barriers to protect against its negative impact.  
Military families tend to have unique needs and frequently rely on their chaplain and multiple army agencies to help keep them united. Just as a battery needs recharging or a car need an oil change, so does a person and so does the family. 
As a chaplain, I have found that families assigned to my unit have benefited from all the different programs we offer. Programs like USO-founded Oxygen for relationships, Chief of Chaplain Strong Bonds retreats, our monthly Date Nights and being part of a church community can keep the family foundation strong during difficult times.  
Each of us needs to know where we've been in order to know where we're going. This holiday season provides a great opportunity for all of us to stop and be reminded of a simple practice I introduced to couples from my unit during a recent Date Night I hosted at Olive Garden.  
During this beautiful season, stop for a moment and reflect. Remember this year. Perhaps this year you got married, had a child, started a new job, received a promotion, completed an academic degree or level of Professional Military Education. These are just a few examples of things to be celebrated. At the same time, perhaps you experienced some difficulties over the year in the form of loss: the death of a friend or a family member, loss of personal possessions or property during the recent storms and floods, unexpected tasking or a strained or failed relationship. The truth is that many of us have experienced both joy and sorrow over the past year. 
While the holiday season is often filled with joy and celebrations, for some it can be a painful, annual reminder of loss. If this is true for you, please don't ignore the pain; talk to someone who cares. As you reach out during the holiday season, please keep the following things in mind: 
Reach up to your faith or beliefs that give you strength and hope. Turn towards rituals and traditions that can help heal the pain of loss. Coming together with others in a faith community can be a great help and become a source of healing and strength. 

Reach down to help others in need and refer them to caring resources.  I believe it is always in giving that we receive.  

Reach out to take someone's hand and walk with them in their joys, but also in their grief, loss and pain. Don't leave anyone behind to suffer alone. Take the initiative to reach out to your husband, wife, child or a friend and connect with them. It is a possibility there is no one else but you who can be there for them.  
 I encourage you to read Mother Teresa's quote again and again and let its message sink into your heart and spirit! I am mindful that to the world I may be one person—another chaplain—but to one person I may be the world. Be that ONE PERSON who does small things with great love during the holiday season by making a difference in someone else's life.  
Chaplain (Captain) Lukasz J. Willenberg is a U.S. Army chaplain at Fort Bragg, NC assigned to 2-505th Parachute Infantry Regiment, 3rd Brigade Combat Team,  82nd Airborne Division.  
faith
military life
MILITARY LIFE