Living: The Kidds' Traditional Christmas

11/09/2016 12:45PM ● Published by Jennifer Gonzalez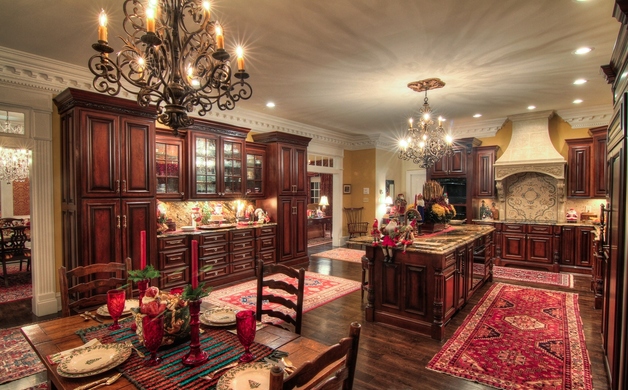 Gallery: The Kidds' Traditional Christmas. Photos by Matthew Wonderly. [34 Images] Click any image to expand.
Tucked away in the quiet, exceedingly private Forest Creek neighborhood, Harold and Marian Kidd see little traffic, but it doesn't stop them from fancifully decking their halls for the Christmas season. "We believe in a traditional Christmas," said Marian, who loves nativity scenes, true Christmas red ribbon and even the mess created by unwrapped presents on Christmas morning. 
Their southern colonial home, constructed in 2011 by Harold, owner of Kidd Construction, is based on a design by William Poole, a well-known architect and home planner in Wilmington.  
Its classic architecture is an ideal canvas for the Kidds' well-loved traditional exterior and interior Christmas décor. Fortuitously, Marian admires rich reds and warm golds, so most rooms in the home reflect interpretations of that color palate, year round.  
For eight months, Harold worked to construct their home. Meanwhile, Ann Marie Locklear of The Plantation House Interiors studied blueprints, drew sketches and guided Marian as she navigated the purchase of linens, drapery, accent pieces, accessories and upholstery to best highlight their unique treasure trove of antique furniture, mainly from the Jacobean era.  
 Marian's enthusiasm for Jacobean furniture was instilled by her parents, who collected it over the course of their 72-year marriage. "Growing up, my parents talked about Jacobean furniture constantly," said Marian, whose vast knowledge of period pieces is obvious as she speaks passionately about characteristic carvings, proportions and colors. 
The front yard is expertly designed and manicured. Visitors are greeted by trimmed American boxwoods, which Harold drove all the way to Boone to purchase – and patiently repurchase, as a few met their demise over time. They frame a gently curved walkway around the perimeter, which Harold, a pilot, jokingly describes as a "slow turn."  
The exterior of the home is classic elegance and given their appreciation of mighty fittings, it is no surprise that the Kidds' decorations are statement-making. Ann Marie comes to their home each year to decorate for the holidays. Down to handpicking the perfect Christmas ribbon that she weaves through various accoutrements, Ann Marie selects items that are a reflection of what the family enjoys and builds on those pieces.   
During the holidays, each window is decked with a wreath and red bow. At night, the iconic Southern colonnade and ample front door wreath are illuminated by spotlights, which the Kidds utilize year round. The warmth of candlelight in each window adds a layer of brightness to highlight rich, heavy multilayer exterior dentil moulding.   
 A glossy, elaborately moulded wooden entryway hints at the sophistication therein. In the foyer, the eye follows a grand stairway with a rich red oriental tread. "I always wanted a home with a curved staircase," said Marian of the classic architecture, which is framed in spindles of alternating style and draped with abundant swag for the season. The robust and realistic garland is made by the same company that supplies artificial greenery to the White House. 
In the middle of the foyer looms the first of three Christmas trees. Twelve feet tall and trimmed in white lights, rich reds, greens, cream and gold, the tree offers visitors their first glimpse of the Kidds' best-loved colors. Marian describes it as an "Old World" tree, and is reflective of their love of Williamsburg, Virginia, and colonial style in general. The tree echoes a sentiment that Marian hopes visitors will retain from her home (and is a perfect description of Marian, as a hostess): "It is very elegant, but friendly and warm," she said of her collective interior. 
The dining room is home to English antiques which Harold and Marian collected over the years on trips to places like Williamsburg and Yorktown. A Welsh cupboard displays Marian's canton and pewter dinnerware and Czechoslovakian crystal. Her mother's tea service, a gift from her father on her parent's fifth anniversary, is displayed on a Jacobean sideboard. The early English dining set is illuminated by a breathtaking crystal chandelier, chosen with the guidance of their decorator.  
During the holidays, the dining room features a tree that is near and dear to Marian's heart. Glass icicles gleam in the light of the chandelier. Decorated with her parents' ornament collection, the tree is representative of the lives of her mother and father, the latter of whom, at 95, still lives independently in Clinton and visits regularly. "That's their tree," said Marian thoughtfully.  
The family room, spacious and inviting, features a Jacobean gate leg table and an elaborately-carved English bible box. 
 An eclectic mix of art—renderings of old royalty, the Blessed Mother and family photographs—decorate the walls and remarkably detailed custom cabinetry. "I incorporate family everywhere I can," said Marian. The color palate holds steady, with rich red floor-length drapery to filter the morning sun that streams through a wall of windows facing the back yard. Their third Christmas tree, the family tree, features colored lights and ornaments made by their daughter, Angela, when she was a child. 
Oversize, beautifully upholstered seating provides a plush setting for the Kidds to relax with their two black toy poodles, Rena, 16 years old, and Ruby Franchesca, one year old. Pictured along with Rena and Ruby is Sassy, who recently died of old age at 15. "They are an integral part of our lives," said Marian, gently cradling 16-year-old Rena.  
Adjacent to the family room is a spacious kitchen and breakfast area. The breathtaking space is a classic but modern nod to Marian's love of heavy, intricate fittings designed in the Jacobean era. Dark, lustrous granite countertops are placed atop custom cherry cabinetry. Remarkable eight-layer dentil moulding frames the kitchen and continues throughout most of the home. 
For the Christmas season, notes of holiday whimsy are found throughout the kitchen but they never overshadow and only compliment the elements on display year-round, which include gifts from friends and family heirlooms. A spectacularly unique preserved floral arrangement is displayed on the island, which Ann Marie purchased from one of her favorite shops, Bougainvillea Boutique in Atlanta. Bougainvillea produces arrangements of all size and color, and only use real materials. Their work has also been featured on Oprah Winfrey's Favorite Things list. 
In juxtaposition to tall arrangements and sumptuous drapery, a delightful antique blue pie safe with original punched tin is in the corner of the breakfast nook. Made in the late 1800s, it belonged to Marian's great grandmother. "I grew up looking at it," said Marian lovingly. Her father refinished the piece along with a corner cabinet, given to Marian by a close family friend, which is neatly tucked into an adjacent corner. 
Marian's favorite element, and arguably the focal point of the kitchen is the Marie Antoinette Italian stone range hood. The frieze is decorated with floral and ivy carvings which frame an eye-catching marquis medallion mosaic backsplash. Harold recounted the laborious process of installation: "I had to support that thing with jacks," he laughed, but the work created a lovely space for Marian to cook. "Let me tell you what," said Harold. "She is a great cook." 
 The backsplash encircling the remaining counter space is an intricate wavy mosaic tile in cream with dots of onyx. Harold, ever the builder, said with admiration, "That tradesman had to be very, very patient." 
Behind every door, surprises await. From a sparkling and spacious master bath with fluted columns to the Lorraine blue marble fireplace in their bedroom, the Kidds have created layer upon layer of interest with furnishings and structure. 
On any given day, one may find Marian in her well-appointed laundry room. Complete with sleek red appliances and a whimsical chandelier, the Kidds found a way to elevate the ordinary to extraordinary. "I told Harold I had to have something to make me feel pretty while I do laundry," she laughed.  
The Kidds approach home construction, and life, with the same good nature that allows Marian to find fun in household chores. With patience, care and grateful, God-loving hearts, the Kidds built a home that shines as a celebration of the happy life they have made in Fayetteville, and Harold says so himself, "Fayetteville has been good to us." 

CV Lifestyles
living
HOME AND GARDEN