Family Feature: Getting on Track The story behind the Cape Fear Railroaders

11/28/2016 11:04AM ● Published by Jennifer Gonzalez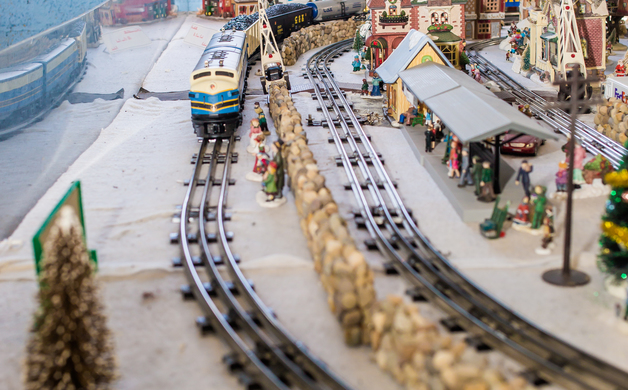 Gallery: The Cape Fear Railroaders. Photos by Matthew Wonderly. [21 Images] Click any image to expand.
By: James Johnson
As a child growing up in 1950s Baltimore, Ralph Vogt says that he and his brother always knew what to expect under the Christmas tree year after year: a brand new model train.
"As a teenager, my uncle had trains, so I had about 35 sets at home and I had a twin, so he'd get trains too. We actually added an addition to my house to fit all the trains," Vogt said. "I think it was just something that was part of everyday life, and it never went away like collecting slot cars. Those things aren't around any more, but trains have always been there. They have always been around."
 Today, Vogt is 73 and retired, and this year he serves as president to Fayetteville's Cape Fear Railroaders, Chapter 164. The Railroaders are a rail-fan and model railroading club that was established in 1982.

The club is part of the National Railway Historical Society as well as the National Model Railroad Association and boasts between 20 and 25 members.
The day we spoke, Vogt was presiding over one of the club's monthly planning meetings in which members discuss the acquisition of new club supplies and upcoming railroad-related events. Members meet every first Tuesday of the month, at the club's location above the Fascinate-U Children's Museum, at 116 Green St.
"The kids just light up when they see these trains, they can't help themselves," Vogt said.
The club has more than 30 sets of trains, and hundreds of feet of track, much of which has been donated by members. On the first and third Saturday of every month, the club opens to the public.
Railroad models are not a cheap hobby, with the average model train costing anywhere between $50 and $400, not even counting the costs of the model buildings, cars and the tracks themselves.
Vogt says that a train he purchased in his youth for $19.95, would be valued at more than $300 today due to inflation.
 "I've spent probably $20,000 in my lifetime on this hobby, which isn't actually bad considering how long I've been doing it," Vogt said. "Compared to how much I have spent messing with cars, that's not bad at all."

Model railways have been a part of our culture for about as long as actual railways. The first miniature train sets are said to have been crafted in Germany, during the 1830s. These trains did not operate by themselves,and required the user to push them along the track by hand.
The toy proved popular, and derivatives soon sprung up across Europe. In England, Sir Henry Wood is said to have created the first steam-powered toy trains. It wasn't until the 20th century that electric model trains became popular. Today, models come in countless varieties, as do their collectors.
According to Cape Fear Railroaders board member Joseph Kananowicz, the hobby means different things to different people. While hobbyists like Vogt may be more drawn to the engineering aspect of model building, there are some who are more interested in the nostalgic aspects.
"A lot of people like to work with sets from a certain era, something from their childhood, and then there are people who enjoy working with more modern sets," Kananowicz said. "And of course we have people who just love watching big trains, those are our 'rail-fans.' They will drive to Dunn, and watch trains there, or to Selma, and they'll chase trains. I think there's a fascination about the history of it. I get the enjoyment just watching it. We've got people who love the big trains, who study them, but like playing with the small trains. There's every kind of fan."
 Kananowicz enjoys working on highly-detailed sceneries that he says can be calming to take in, while a train gently passes in the background. Recently, Kananowicz says that he built a part of one of the club's models, to resemble his hometown of East Haddam, Connecticut.

"The railroad never ran in my hometown, so I named these stores after places where I grew up, but are now totally different," Kananowicz said. "Ralph made a part of the track based on some locations in Fayetteville as well."
Of course, there is also the social aspect of model railroading. Laura Johnson, who at the moment, is the group's only female member, says that she joined 10 years ago, as a way of bonding with her grandson, who she says has been obsessed with trains since he was barely able to walk. Today, she says, her grandson is 18, and is looking for a way to break into working in the real train industry. Both regularly attend the club where they've made mutual friends.
"He loves trains so much and I got to liking them too," Johnson said. "There's just something about them."
Long after kids have tired of their "Pokémon Go" apps on smart phones, Kananowicz believes there will still be people collecting and building model trains.
"They are doing pretty good," Kananowicz said. "I think I read once that one train, takes 40 hauling trucks off the road. They are doing pretty good because they can haul so much that a truck or a plane couldn't handle. The train industry isn't going anywhere."
To learn more about the Cape Fear Railroaders Society check out their website at
trainweb.org/capefear
or stop in at one of their open houses and hop on board for more fun.
CV Family
Family Feature
CV PARENT LIFE