Pet Profile Featured Pet Bodie

11/28/2016 11:05AM ● Published by Jennifer Gonzalez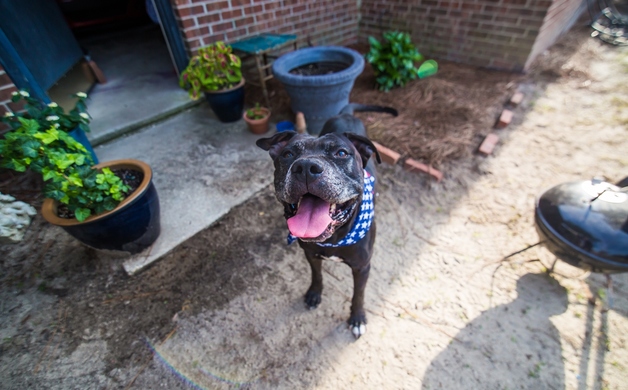 Gallery: Pet Profile Featured Pet Bodie [15 Images] Click any image to expand.
Family pets are just that - family! And here at CityView Family one special pet gets featured each issue. This issue it's all about Bodie!
Want your family pet featured? Email a photo to editor@cityviewnc.com and let us know what makes them amazing!
When her friend's daughters rub his belly, Bodie sings! And he loves children. He wags that tail until it's going to fall off!
Q: What is your name?
A: Catherine Reynolds
Q: What is your pet's name?
A: Bodie
Q: What kind of animal is your pet?
A: An American Pitbull
Q: How old is your pet?
A: 8 years and 8 months. He weighs 67.2
pounds.
Q: What is unique about your pet?
A: He is better than a grandchild! He's
unreal, he really is. He's the best. I let
him out through the garage and he'll
bark to come back in. If he needs to go
out, he'll just sit by the door. He's really
my grandson's dog. When my grandson
was going to school in Wilmington, he
couldn't have a dog at his apartment so I
took care of Bodie. That was three years
ago.
Q: What is his favorite thing to do?
A: He can sing! My friend's daughters,
when they rub his belly, he sings. And he
loves children. He wags that tail until I
think it's going to fall off.
Q: Likes? Dislikes?
 A: He's scared of the vacuum cleaner.

He'll run all over the house. A few
months ago, I went to the library and
they taught you how you could make
your dog a toy. It's an empty water bottle
and you take a long sock and you tie
a knot at each end and the bottle is in
there and they play with that. He loves
that. It's something different. He loves
this rainbow sweater he has since usually
he's wearing that when we're going for
a ride in the car. He loves riding in the
car and hanging out the window and his
tongue hanging out and all of that.
Q: What's Bodie's favorite season?
A: He likes the sun. He loves to lay on
the porch and then come in and lay on
the kitchen floor because it's cool. CVF
Want to see your furry, feathered or
scaled friend featured? Email a photo to
editor@cityviewnc.com.
CV Family
Pet Profile
Pets
CV PETS