Parenting: Raise a Child with Grit!

11/28/2016 11:05AM ● Published by Jennifer Gonzalez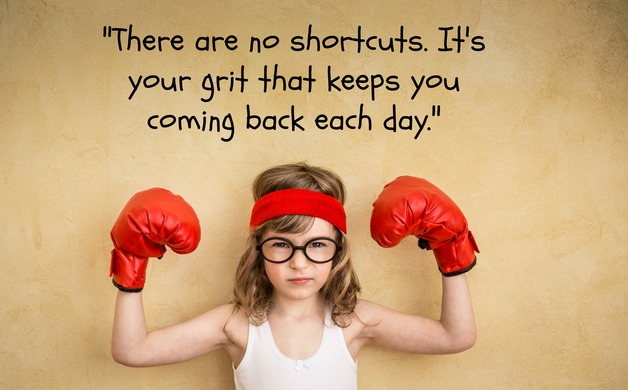 BY RACHEL CZEREPAK
Everyone knows the fable of the tortoise and the hare. The tortoise races ahead and the hare trudges along, but once the hare stops to nap, the tortoise gains the lead and crosses the finish line.
Though the lesson of that tale may appear to be simple perseverance, there is a more accurate term to describe the tortoise's character: grit.
According to Angela Duckworth, an associate professor at the University of Pennsylvania, grit is "the tendency to sustain interest in and effort toward very long-term goals."
She describes "gritty"individuals as "tortoise-like, distinguished by their propensity to maintain effort and interest over years despite failure, adversity and plateaus in progress."
And grit applies to everyone, not just children, and in every aspect of life: education, parenting, new endeavors, risky decisions, meeting new people, following through and daily habits.
In her book, G
rit: The Power of Passion and Perseverance
, Duckworth outlines why talent is not actually the best predictor of success. She explains that it is the unique combination of passion and perseverance towards a singular goal that lead to success across multiple domains.
Although grit is unrelated to IQ, it predicts educational attainment, adolescents and college students' GPA, retention among military cadets in demanding classes at West Point and
children's performance in the National Spelling Bee—accomplishments that all require increased study time.
Though it sounds similar to the concept of selfcontrol, the difference lies more in the
length of time required to complete a task. For example, an individual who is high in
self-control but moderate in grit may, for example, effectively control her temper, stick to her diet and resist the urge to check Facebook at work—yet Helping Children Succeed: What Works and Why have helped fuel the popular interest in grit.

In addition to his review of Duckworth's research on grit, Tough also presents the work of Stanford psychologist Carol Dweck on growth and fixed mindsets. Dweck emphasizes the importance of praising effort as opposed to outcome.
For example, instead of praising Suzie's high grade, her teachers and parents
applaud her persistent study habits. As a consequence of the influx of books and articles about grit and its related constructs, many parents and teachers are looking for the best ways to instill grit in the young people that they serve.
Here are some places to start, from Duckworth's Grit: The Power of Passion
and Perseverance:
Build Interest! Encourage what the child is already interested in, and don't
be afraid to change an interest if it isn't working out.
Support Practice! In most cases it takes 10 years or 10,000 hours to become an
expert!
Find Purpose! How does their interest contribute to his/her goal or a greater need?
Encourage Hope! Role play optimistic vs. pessimistic world-views.
Let Them Fail! And teach them how to get back up!
CV Family
CV KIDS