Fun Things To Do This Spring!

02/23/2017 11:26AM ● Published by Jennifer Gonzalez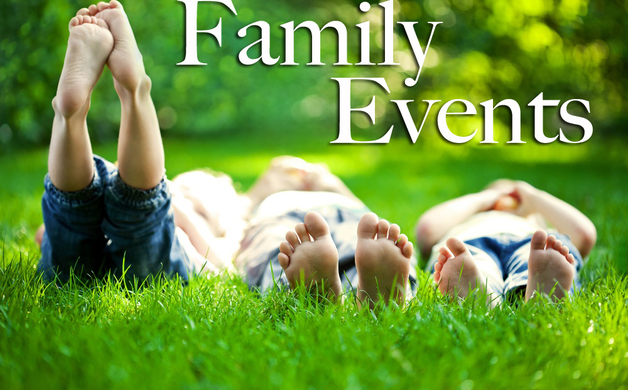 February 18
Charlotte's Web
10 a.m.
FSU's Seabrook Auditorium
Come see the play that captures the story of E.B. White's Charlotte's Web, which the Children's literature Association named "the best American children's book of the past two hundred years." This play about friendship will delight and enchant. For more information visit fsuarts.com.
February 21
Brain Candy Live!
Crown Theatre
7:30 p.m.
 Adam Savage, one of television's most loved personalities, has joined forces with Michael Stevens, one of YouTube's biggest stars, and they are bringing along more than three tons of their crazy toys, incredible tools and mind-blowing demonstrations for a celebration of curiosity that is an interactive, hands-on, mindson theatrical experience like no other. For more information visit crowncomplexnc.com.
March 4
Dr. Seuss Parade & Family Fun
Main Street, Town of Spring Lake
9 a.m. to 2 p.m.
Enjoy the inaugural Dr. Seuss Parade in Spring Lake celebrating the birthday of Dr. Seuss and The Cat in the Hat! The parade will start at the new bridge over Bragg Boulevard, at the gateway into Spring Lake. It will march down Main Street to Ruth Street and take Ruth Street to the Recreation Center, where
the parade will conclude. Festivities will continue at the Recreation Center with games, food vendors, photos with Dr.Seuss and characters and more fun. For more information call 436-0011.
March 5
Erth's DINOSAUR ZOO LIVE!
Crown Theatre
4:30 p.m.
 Erth's DINOSAUR ZOO LIVE™ is an experiential theater production which allows audiences to journey into a new dimension to meet a menagerie of insects, mammals and dinosaurs that once roamed the planet millions of years ago. These amazingly life-like dinosaur recreations will certainly wow your own budding paleontologist. For more information visit crowncomplexnc.com.
March 13-18
The 17th Annual Cumberland County High School Juried Art Exhibition
The Arts Council of Cumberland County
Drawings, paintings, sculpture and mixed media–created by local high school art students–are presented by the school system's Arts Education Program. See what these talented students create and how you might be inspired! Admission is free. For more information visit theartscouncil.com.
March 17-19
Cape Fear Wildlife Expo
Crown Arena
This family-oriented event features wildlife art, decoy displays, hunting and fishing projects, decoy carving demonstrations, hand-crafted duck and turkey calls, jewelry, RV's and much more. The event also features kid-friendly, interactive activities, such as raptor displays and an archery range. Patrons can expect to meet a wide variety of fascinating and uniquely beautiful wildlife, such as snakes, bobcats and wolves from the Newell Farms Moon Shadow Rescue Wolves. For more information visit crowncomplexnc.com.
March 24 to April 9
The Secret Garden: A Musical
Gilbert Theatre
This is the beloved children's classic, brought back to life as a musical by Marsha Norman and Lucy Simon. Mary Lennox, an orphan at 11 years old, is sent to live with relatives whom she has never met. Her own personality blossoms as she and a young gardener bring new life to a neglected garden, as
well as to her sickly cousin and uncle. For showtimes and more info visit gilberttheatre.com.
April 28 to 30
Fayetteville Dogwood Festival
Downtown Fayetteville & Festival Park
Bring your whole family to enjoy the fun at one of the biggest festivals in the Southeast! There will be food vendors, live entertainment, inflatable bounce houses, arts and crafts, a classic car show and street fair shopping. Visit faydogwoodfestival.com for information.
May 2
Growing Up Wild:
Early Childhood Nature Exploration
J. Bayard Clark Park and Nature Center
1:00 p.m. - 2:00 p.m.
Growing Up Wild is an early childhood education program, occurring on the first Tuesday of each month, that builds on a sense of wonder about nature. These programs that invite children to explore wildlife and the world around them are hands-on and include a craft. Call 433-1579 to register. Children, ages
3 to 7 years, are welcome with an adult
May 7
Fayetteville Symphony Youth Orchestra Spring Concert
Huff Concert Hall, Methodist University
4:00 p.m.
Students of the Fayetteville Symphony Youth Orchestra will perform for their spring concert. This event
is free. For more information visit fayettevillesymphony.org.
May 27
The Color Run
 The Color Run, also known as the Happiest 5k on the Planet, is a unique paint race that celebrates healthiness, happiness and individuality. This year, "The Color Run Dream Tour 2017" will take place at the Crown Complex. For more details and to register visit thecolorrun.com.
CV Family
COMMUNITY
CV KIDS
CV PARENT LIFE