Good Eats: Cooking 101

02/23/2017 11:37AM ● Published by Jennifer Gonzalez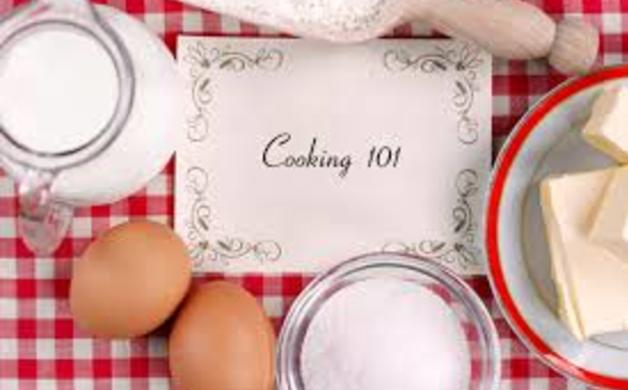 By: Erin Pesut 
What does it take to be a good cook? Does it require a course in gastronomie from an expensive culinary school in Paris, France? A tutorial on wine? The knowledge of how to properly sear tuna? Or how to make a pie from scratch?  
We think it all goes back to the basics, like how to boil an egg, steam a few simple vegetables, reference the proper temperatures for the meats you like to eat and, along the way, keep your kitchen clean. Follow these simple guidelines and you will be happy, healthy and well-fed, no matter how many years you've been a cook in the kitchen.  
Eggs are so nutritious they're often referred to as "nature's multi-vitamin." They're chock-full of essential vitamins, minerals, high-quality protein and good fats, which are good for your brain, your eyes and your muscles after you've put them through even the hardest of workouts. Most of the nutrients in eggs are found in the yolk, while the egg whites are mostly protein, so keep that in mind. One reason why eggs were so popular in history as a food source is they don't fight back. You could climb up to their nest quietly and gather them without too much of a fuss. And in their primal world, it was a #score when the cavemen and women found food that didn't require too much of a fuss. 
Eggs can be boiled, poached (cooked quickly in vinegar and water), scrambled, fried, used in a frittata, for an omelette or in other baking circumstances like as an ingredient in cakes and muffins. Eggs can also be cooked easily in the microwave. Look to buy eggs from pasture-raised chickens and try to purchase local eggs from a local farmer's market to ensure good quality.  
Vegetables are a staple in any healthy diet, and there is an endless bounty from which to choose from. Organic vegetables grown without any pesticides are the safest choices, but also think about what you like. Do you prefer green beans to broccoli? Red russet potatoes to sweet potatoes?  
To steam any kind of vegetable (cabbage, potatoes, spinach, broccoli, cauliflower, onions, etc.), first cut them into uniform pieces so they will all cook evenly. You can make cooking look as easy as Rachel Ray does on television by chopping all your vegetables beforehand. Be prepared—that way you won't be chopping the rest of the broccoli when half of it is already steaming in the pot. Bring water to a boil and add the chopped vegetables. If you have a steamer basket (a metal contraption to keep the veggies out of the water and, therefore, a bit less soggy), add the vegetables to that. Cover and let steam.  
Spinach & arugula: 3 minutes 

Peas: 3 minutes 

Broccoli, cauliflower or green beans: 5 to 7 minutes 

Carrots, potatoes, turnips, or squash: 8 to 20 minutes 

Kale and collards: 10 minutes  
Vegetables are done when pierced easily with a fork or when they turn a bright and vibrant color. Season as you'd like with salt and pepper, butter, or a drizzle of olive oil. Adding herbs and spices for flavor will help you determine what you like and what you don't.  
Keeping the Kitchen Clean 
"A good cook always cleans up the mess." 
A messy kitchen can totally ruin your—the chef's—flow. So, first things first. Before you begin making a mess, clean up what's there. Wipe the counters. Empty the sinks. Unload the dishwasher. Keep a garbage bowl by your cutting board for vegetable peels and trimmings. When you're done, toss the contents in your compost bin or carry it over to dispose of in your garbage can...without ever spilling a drop! 
Waiting for broccoli to steam, pasta to boil or rice to cook? Step over to the sink and tackle the dirty dishes there. Put your pots and pans (but not cast iron!) in soapy water so they can soak before you sit down and enjoy your feast. Being nearby gives you an opportunity to keep an eye on whatever is on the stove or in the oven. 
What did you make? Are you going to invite us over for a bite? Bon appetite! Look at you! You've now got all the basics you need to cook your own meals. Starting small and starting simple is the best way to begin. Food is something to be enjoyed with others, so invite someone over for dinner. Even if it's just scrambled eggs and steamed spinach, the best meals are the ones we share with someone else. Go on, give something new a try!  
CV Family
IN THE KITCHEN