Parenting: Staying You in Mommy-hood

02/23/2017 12:20PM ● Published by Jennifer Gonzalez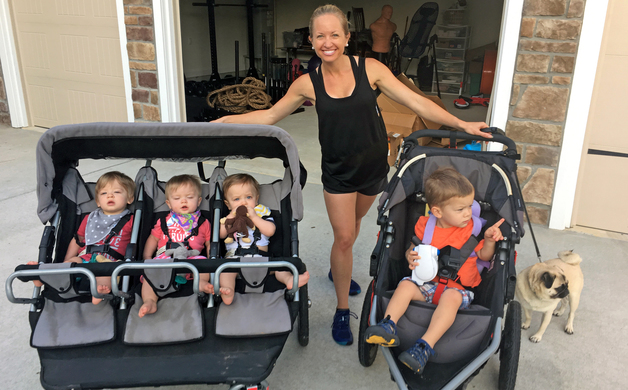 If you turned on your television or computer last November, odds are you saw me. I'm the mom who ran a half-marathon while pushing my triplets in a stroller. I set a Guinness World Record in the process, but changing my son's dirty diaper at mile seven largely overshadowed that detail. Oh, well. 
Luckily for my babies and legs, that race wasn't an isolated incident. I've been able to successfully maintain my activity levels since becoming a mom to four children under four years old. (The triplets are one year old and they have a three-year-old brother.) Anyone with a young child can understand how busy our household is. Take your most chaotic feeding, sleeping (or, lack thereof) or diaper-changing scenario and do some multiplication. I also work 40 hours a week, so it's pretty safe to say time is my largest barrier. 
 Here's my list of ways to overcome that time (or, lack thereof) barrier: 
1. Create a "stop doing" list. Inventory your time and see where you can exchange "time sucks" for fitness. Low hanging fruit typically comes in the form of a screen, like social media or television. I put grocery shopping on my "stop doing" list and started utilizing online ordering instead. This alone saves me two hours each week.   
2. Find an accountability partner. It seems counterintuitive to put another item on the calendar, but a meet up or class guarantees that you will honor the time you have scheduled for fitness. Added bonus? Social support is a well-documented secret weapon if you want long term stickiness. Having a tribe is also good for your sanity—there are only so many consecutive hours one can go without adult interaction. 
In a town like Fayetteville, this is easy. There is something for every interest and budget. Fayetteville Running Club routes are stroller friendly. Check out Stroller Strong Moms, Heart on a Mission, Wear Blue, Team RWB or Pure Barre. You can throw a rock and hit a CrossFit gym in this town, many of which offer free childcare. 
3. Get up first. If the social approach isn't your cup of tea, get up early. When the rest of the world rises, they will demand things of you. Exercise is more likely to happen before "life" does.  On days I don't sweat with my tribe at CrossFit (see item #2), I get up two hours earlier than the rest of my household and work out in the garage. By the time it's time to wake up the kids, change diapers and drive to daycare, I've already done something for myself. That act alone does a lot for one's self confidence.  
4. Grease the groove. This approach, made popular by kettle bell guru, Pavel Tsatsouline, is where you perform a movement multiple times per day at a lower rep scheme rather than to failure in a single session. Science has proven this methodology makes your stronger. Motherhood has proven that this makes sense—oftentimes, we simply don't have an hour to exercise.  
For example, you may commit to 100 burpees in a day. You do 5 here or 10 there, eventually hitting the collective total rather than doing the 100 all at once. Pockets of activity like this improve your fitness, boost your energy level throughout the day and work within a family- focused schedule. Here is a workout I like to grease the groove with: 100 pull ups, 200 push-ups and 300 air squats. These numbers are daily totals. I break this into 5 pull ups, 10 push-ups and 15 air squats. CrossFit aficionados will recognize this as "Cindy," a workout typically done during a single-class session.   
5. Spend time wisely. I'm fortunate that running is an activity that can be done with my children. Sure, my neighbors think I look like an idiot pushing a 3.5' wide stroller, but I can physically pull it off. This isn't the case if you are a new parent who enjoys tennis, hot yoga or horseback riding. It is important to continue these "adult" fitness activities—you enjoy them and they are a part of your identity. Shame on anyone who tells you there is no choice but to take up a more kid-friendly hobby. 
Though it may be in less regular intervals, invest your babysitter time (...Mother's Day gift idea, folks!) in time spent doing these things. Best case scenario? Your kids will want to join you eventually. Worst case scenario? You are a model of healthy behavior.  
Suzy Goodwin is a Christian, military spouse and working mom to four children under four years old. You can follow her journey to run a marathon in each of the 50 states at run51.blogspot.com.   
CV Family
CV PARENT LIFE