Feature: A Woman of History

02/23/2017 12:41PM ● Published by Jennifer Gonzalez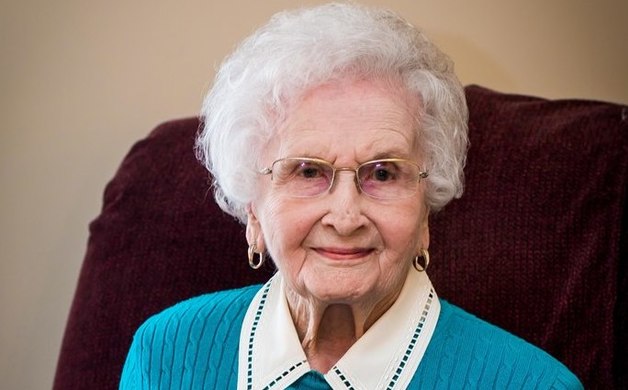 When Berline Gallehugh turned 100 years old, there were over 100 guests in the dining room at the Carolina Highlands. She celebrated her monumental birthday with her family and her friends and seven of her pastors and ministers from the Elizabethtown Baptist Church who were there in service in the 1940s until 2002. This birthday party, Berline said, was "the highlight of her life."  
These days, Berline has blown past 101 and will turn 102 this November 10. She was born on a Wednesday. The year? 1915. 
Throughout her life, Berline has witnessed the essence of American history and world events. The stories she shares of where she was on certain dates and how she felt seem to be lifted from history books, and all she has accomplished—from winning gold medals to finding love time after time—is a testament of the tenacity one woman can have to celebrate and continue to celebrate all that life has to offer.  
At 16 years old, Berline skipped school to watch Amelia Earhart fly into Fayetteville. "We caught a ride from Cedar Creek and got off at the Market House and turned left on Gillespie Street. The airport was down that street far enough that we could walk it. We saw her plane come in. She didn't make a big speech. She just answered some questions. I didn't ask any questions, but it was an experience. When the plane was lost, it felt like I had lost a friend." 
When the 32nd President of the United States, Franklin Delano Roosevelt, died in 1945, Berline was in Norfolk, Virginia. "My husband was working in the Navy Yard. He was a master carpenter who did metal work in the Navy yard, and I was staying home, listening to the radio. I was a housewife then. His wife, Eleanor Roosevelt...she was a really great lady, I thought. She was—how do I put this into words?—a champion for civil rights. She stood up for people. I always admired her. It was such a sad day."  
When John F. Kennedy was assassinated in 1963, Berline heard the news while working and selling piece goods, notions and buttons at a department store in Elizabethtown, North Carolina. Someone heard the news on the radio and everybody stopped what they were doing to listen. "We were certainly in shock."  
And when Neil Armstrong walked on the moon in 1969, Berline saw him take his first few steps. "My husband had the television on. He was really excited about it. I had been resting, but I got up when the man got on the moon."  
Berline recalls memory after memory with precision, recollecting even when she was three years old. "I can remember enough about World War I, and when I was jut a child, there was a terrible flu epidemic. Lots of people died. My Aunt Ruby—my mother's sister—came to live with us and she died of that particular flu. I remember Mama taking me by the hand. We walked to the bed and Mama pulled the sheet back and there was my Aunt Ruby. Mama told me she had gone to heaven." 
These are just a few of Berline's vivid memories. Her recollection is incredible.  
Berline grew up on a cotton and tobacco farm in Elizabethtown. Her family lived near their little country church ("I think we could walk there in 10 minutes.") and her six other siblings (all girls, except for the youngest—her brother) worked on the family farm during the Great Depression. For quite some time "there weren't any boys to work on the farm, so we girls had to do the boys' work." Berline was a steady worker and helped with every chore. She especially loved rainy days because she and her siblings could play inside with paper dolls. "We cut them out of any paper we could find, sometimes we cut them out of catalogs."  
As a girl, Berline's favorite food was "most any kind of chocolate cake," but now, at 101 years old, she prefers country-style steak. She also recalls her love of bananas as a child. "We didn't have many bananas out in the country. I guess that's the reason why."  
During the war, Berline's family had rations, paper coupons for sugar, even coupons for shoes. "You could only have one pair of shoes a year, I remember. In the summertime, we could have a pair of shoes that maybe buttoned or just tied with one lace or two."  
Not only is Berline a living legend, she's an award-winning athlete. Ever since she was 76 years old, Berline has competed in the North Carolina Senior Games, which are for residents of North Carolina who are "50 years old or better." She's been awarded over 100 medals for her participation and victories in categories like walking, shot put, football throw, putt putt and horseshoes. The medals, dangling from their royal blue, deep purple and rainbow ribbons, hang as a valence above her bedroom window at the Carolina Highlands, testaments to Berline's capabilities as both participant and award-winning athlete. Her prized regional and state medals hang in a shadowbox near her front door. 
"When I won my gold medals in 1987 and 1988, I didn't play very much after that. I wore my knees out walking because I was going to win one of those medals. So, one day, when there were the games, I knew I wasn't going to walk. I was going to do some of the easier things. I went to the Games not really intending to play and I walked up to the lady that was taking names. I didn't see my competitor who had always been my competitor and I asked about her. She was from Durham. She had died. I felt bad about it and I feel kind of guilty now, but I told the woman taking names, 'Well,' I said, 'I believe I'll walk.'" 
 Her knees were sore, but Berline was sure she could make it. She traded pants for shorts with her daughter ("Her's were kind of loose on me and mine were mighty tight on her.") and Berline arrived at the starting line just in time.  
The 1500 meter event wasn't as easy as she thought it would be, but she stuck it out and crossed the finish line as a winner. "I did win the gold medal," she says joyously.  
What does it feel like to win? "When I won," she states, "I sure felt like laughing."  
When you get to be over 100 years old, Berline says "your going is kind of slow." She's legally blind and had to quit reading her newspaper two years ago due to her macular degeneration. "I can see people, the railings, the trees, but it's the close work...I can no longer do anything like that."  
She says the nicest thing that's happened since her vision has gone bad is the books on cassette tape she receives in the mail from the Library for the Blind in Raleigh. The books are mailed in blue cases that she can easily mail back. She sits down to listen to her books everyday and can listen to about two books a week. In addition to reading, her friend is teaching her the card game Spite and Malice, and Berline also dabbles in Scrabble.  
With all of the sadness she's experienced in her lifetime, Berline says, "You do better when you can cry it all out." She continues, "When you have a big family, you get your heart broken. But, you come through it." With her incredible lifetime of living through history, Berline says she doesn't make plans. "I take it one day at a time." And staying positive is key. Her best advice for a life well-lived? "Put your trust in the Lord and know there's a better day coming."  
CV Family
SENIOR LIVING