Food: Pi Day at Fayetteville Pie Co

03/07/2017 02:16PM ● Published by Jennifer Gonzalez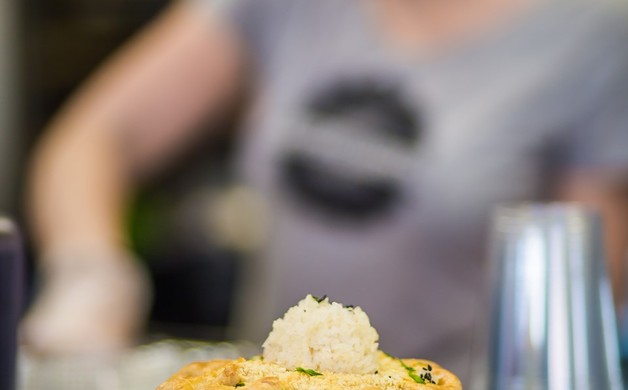 By Kelsey Hay 
If you ask a group of scientists what pie is, they'll tell you it equals 3.14159. A mathematician will say pi is equal to the circumference of a circle divided by its diameter. But if you ask Leslie Pearson, owner and operator of the Fayetteville Pie Company, she'll ask, "Sweet or savory?"  
 The world may celebrate "Pi(e) Day" every year on March 14  (or, 3.14), but at the Fayetteville Pie Company they celebrate the sweet and savory flaky-crusted creations everyday. With over 35 tried-and-true savory pie recipes and 45 sweet pies in their rotation—and always more to come!—you could say that the Fayetteville Pie Company is an expert on the subject.  
When I walked into the cozy, domestic-chic, twinkle-lit Fayetteville Pie Company off of W. Rowan Street, the smell of freshly baked pies brought back memories of the holidays at my grandmother's house. In fact, it was Leslie's own grandmother, who she grew up with in the Missouri countryside, and her grandmother's famous pies, casseroles and "one-dish wonders," that were Leslie's inspirations for beginning her business. The importance of fresh ingredients was key in the business plan. "I wanted to start something new here in Fayetteville...a quick service restaurant with ingredients that are as fresh and as local as possible." In warmer months, Leslie and her staff harvest their own herbs, leeks and green onions that they grow right outside to use in the kitchen. You can't get much more local than that.  
 The Fayetteville Pie Company celebrated its one-year anniversary in January, but it didn't take them long to develop a devoted following. You may have seen their stunning pie photography on their Instagram or Tumblr account, and with over 8,000 followers on Facebook, Leslie tells it like it is: "It's all about word of mouth these days. I've even started tweeting!" 
"We eat with our eyes first," she explained, and so it's no wonder that the pictures of their savory General Oh Tso Good Pie, Tacolicious (Nacho Average Pie), Artisan Cheese & Broccoli or the sweet Graham Cracker Smacker, Cold Brew Tiramisu or Key Lime-A-Rita will have your stomach grumbling.  
"We want our pies to look just as beautiful in real life," and Leslie says the ideas of the "edible art" and the one-of-a-kind flavors are a product of the very collaborative teamwork behind the counter. Each member of the all-female staff ("Having an all female staff was not intentional. We prayed for the right people to come," Leslie shared) contributes her diverse heritage, travels and creativity to the cook-in-the-kitchen brainstorming sessions. Chef Martha "MK" Lee, who moved to Fayetteville from New York City and who has been with the Pie Company since the beginning says, "We all come from different backgrounds and walks of life," and MK says she loves the opportunity to create. "The sky is really the limit." Some pies will begin with a prompt. Leslie says, "Sometimes I have a specific pie I want to add to the menu so I give it to them as a challenge. We like to take a classic and add a twist to elevate it." A classic blueberry pie will become a blueberry lavender pie—an updated rendition people line up to try.  
The Fayetteville Pie Company tries to have a pie for every customer who stops by. They frequently have a vegetarian option on the menu and have started offering gluten-less pies on occasion. A recent limited-edition Butterbeer Pie, inspired by Harry Potter, sold out. People lined up were outside posting on the restaurant's Facebook page, "Make more pies, please!" 
Selling out of pies is not uncommon for the Fayetteville Pie Company. One day last summer, they sold more than 500 pies in three hours. Certain pies can be so popular they will sell out before the recipe has even been finalized. "We have to be flexible," commented Leslie. To stay organized they often write out a "pie-cast" of future pies to come. 
Pies come with sweet and clever descriptions, like the sweet Lime-A-Rita: "When a key lime pie meets a margarita through Match.com and they live happily every after."  
Although the Fayetteville Pie Company is only open from 11 a.m. to 2 p.m. during the week, Leslie's team arrives around 9 o'clock every morning. They brainstorm new ideas, capture recipes on paper, gather and prep last-minute ingredients and garnishes (whipped cream, lime wedges, colorful drink party umbrellas, tomatoes, butter-graham cracker crumble, etc.), update the handwritten menu signs and prepare their pies for the oven. After the lunch rush, chefs make the next day's pies, which are as fresh as can be. Leslie and her husband, Justin, both military veterans, also run Vizcaya Villa, an exclusive wedding venue in town. The Fayetteville Pie Company's kitchen is used on the weekends to cater all of the weddings and events that happen at Vizcaya Villa, but there are chance days when they will sell pies on Saturday. In honor of "March Madness," the Fayetteville Pie Company will be open every Saturday in March.  
The extreme freshness of the pies is a place of pride for the Fayetteville Pie Company. Every single pie is baked fresh and spends only four to five minutes under the warmer. When I asked how they can bake so many pies so quickly, Leslie answered, "We received a grant from CEED (Center for Economic Empowerment and Development) and were able to purchase an industrial oven." While it may take all of us 45 minutes to an hour to bake a pie at home, this high-performance oven means the Pie Company can have fresh pie ready in 20 minutes or less.  
When Leslie isn't busy finalizing the latest recipe or chatting with new and regular customers alike, she can be found in her studio working on her latest multimedia art piece. Her talents as entrepreneur and artist are evident in the success of the Fayetteville Pie Company, though Leslie credits her staff for their success. "They are creative, authentic and have natural talent." And the women who work behind the counter love their job and love their pie. Kristen Shimkus, an employee who moved here from Washington said, "I came twice for lunch and asked for a job." Even Leslie still loves pie. "My husband and I were paleo before this and people ask, 'Are you still doing that?' I tell them, 'I'm not paleo, I'm pie-leo." 
When I inquired about future plans for the Fayetteville Pie Company, Leslie smiled and said, "I have a few things up my sleeve." As for Pi(e) Day on March 14, keep your forks poised high and get ready to break through some golden flaky crust to see which recipe these ladies will dream up next.    
Visit them for lunch at 723 W. Rowan Street or learn more about the Fayetteville Pie Company and their ever-changing daily menu at fayettevillepiecompany.com or on their social media pages. Pies are also available to "take and bake" at home.

IN THE KITCHEN
CV SHOP LOCAL
CV ARTICLES