Giving: Leading the Way

03/07/2017 02:30PM ● Published by Jennifer Gonzalez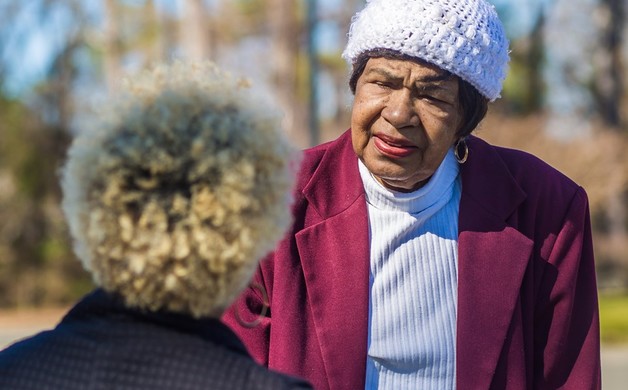 It was during a trip to Arlington National Cemetery in Washington D.C. last year, that Terri Thomas, executive director for Cumberland County's Vision Resource Center, saw something she'll never forget. One of the center's members, a veteran who like so many other members, had lost her vision in service to our country, had tears streaming down her face during the Changing of the Guard ceremony.  
 "I said, 'Why are you crying? You can't see what they are doing,' and she said, 'I can hear the taps of their shoes, and I think of all of my brothers, and everyone who gave up everything for this country.'" Thomas said, "And I just lost it." 
That was one of the countless moments that Thomas says has made serving Cumberland County's visually impaired community a gift. "You are giving that person a life that they might not have been able to have, or once had, but never thought they'd be able to have again," Thomas said. "It is a very humbling experience. It is so much bigger than me." 
The Vision Resource Center opened its doors in 1936, as the Cumberland County Association of the Blind. Since the beginning, the non-profit's mission has been to provide an outlet for members of Cumberland County's blind community to leave their homes, experience life and gain independence. Through the Vision Resource Center, the visually impaired and blind are given access to classes and activities that might be difficult or impossible for them to participate in otherwise. The center offers summer camps, youth programs, braille classes, healthy living programs that include yoga and other forms of exercise, arts and crafts activities, van transportation to and from the center and a host of other regular services.  
For Thomas, a Fayetteville native who spent her early career working in the corporate world of the pharmaceutical industry, working with the visually impaired was never something she would have predicted for herself, though she now considers it one of the most important things she has done in her life. Thomas had left her corporate job in Raleigh and moved back to Fayetteville nearly a decade ago to take care of her ailing father, and had at first wanted to find a career working with the elderly, until Amy Henderson, a friend of hers from church who was visually impaired, told her about a job opening at the Vision Resource Center. 
"I said, 'What kind of job is it?' and she said, 'Working with blind people.'" When Thomas said that she didn't know anything about working with blind people, Amy responded, "You said you liked working with old people, well we're old, and we need you at the center!"  
Thomas joked, "I went to the interview and it was the oddest interview on Earth. They just passed out these papers with questions on them, and I was saying to myself, 'What is this job?!' They told you nothing. Well, I got the job and my life was changed." 
Thomas discovered that the job entailed more than working with the old. The blind community includes people of all ages and backgrounds and Thomas immediately recognized that activities needed to be tailored to the needs of everyone involved. 
 "Everyone is different, so we try to do things that everyone is interested in, [we] go to a variety of activities." Some of these things Thomas might not be interested in herself, but she wants to know what interests those who come to the center. "Right now some of them are trying to talk me into skydiving, and I am afraid of heights, but it isn't about me, you know?" 
According to Thomas' friend Amy Henderson, who has been attending the center for nearly 10 years, Thomas was a breathe of fresh air.   
"She has taken that organization from 20 to 90 percent," Henderson said. "Her personality and communication skills, and her desire to do all she can for people who can't do all they can...she is just a naturally nurturing person." 
Henderson says that the center used to only have a handful of mundane activities for members a month, but Thomas has taken it upon herself to completely revitalize the program, more than doubling memberships, increasing the staff, adding movie-going events, out of town activities, visits to wineries, live theaters, museums and more.  
"It has changed my lifestyle completely," said Henderson, who had at first joined the center reluctantly, at the urging of a friend. Henderson, like countless other visually impaired residents, says that she spent much of her time before joining the program at home, with sparse interaction with the outside world. According to Thomas, one of the biggest challenges for people after recently losing their vision is remaining social. "Close friends will treat it as if it is contagious, and just stop visiting or spending time with them," Thomas said. "There is a stigma attached." 
For members like Henderson, the center is a gateway to the rest of the world. 
"I would not hesitate to recommend it to others," Henderson said. "You can ask anyone attending and they will automatically tell you how grateful they are for this service … In addition to exercise, we have been introduced to yoga classes and line-dancing. We go to the farmer's market and on boat rides, and last year, we went on a tour of Washington D.C. and the White House. We bowl now. We go to the theatre here and out of town. We attend shows at the Crown Coliseum, the winery and we go to independent living classes four to six weeks in the year. They teach us how to clean house, cook without injuring ourselves, wash and dry our clothes, and they even teach us how to be careful in the house. The truth is, the opportunities we have are endless. We do everything that sighted people do." 
With membership increasing from 20 to almost 150 people, since Thomas took over seven years ago, the Vision Resource Center budget has become tighter and the need for volunteers has grown. Those interested in volunteering, donating or becoming members of the Vision Resource Center are urged to go to www.visionresourcecentercc.org.

CV ARTICLES
COMMUNITY
FAITH