The Air Medal with 'V' Device Recipients

03/24/2017 08:55AM ● Published by Jennifer Gonzalez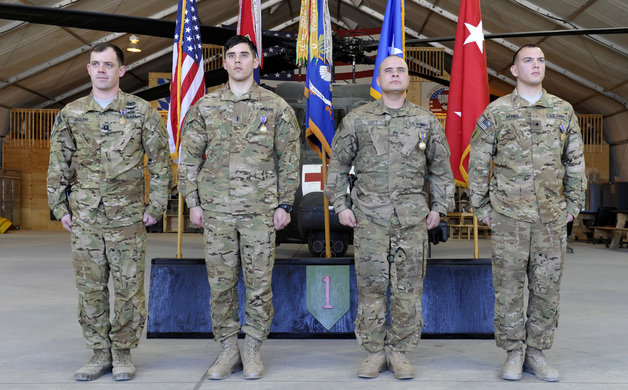 Gallery: The Air Medal with 'V' Device Recipients [9 Images] Click any image to expand.
BAGRAM AIRFIELD, Afghanistan (Mar. 4, 2017)

U.S. Army Capt. Trevor P. Joseph, 1st Lt. Aaron P. Cruz, Sgt. Loran M. Lott, and Spc. Samuel E. Perez, all from C Company, 2nd General Support Aviation Battalion, 1st Aviation Regiment, were awarded The Air Medal with 'V' Device for their heroic actions as a helicopter medical evacuation crew during a Nov. 3, 2016 exfiltration of wounded U.S. and Afghanistan Soldiers pinned down by enemy fire in Kunduz Province.

Photo by Bob Harrison, U.S. Forces Afghanistan Public Affairs.



MILITARY LIFE