McFadyen's Musings April Dogwood 2017

04/07/2017 11:00AM ● Published by Jennifer Gonzalez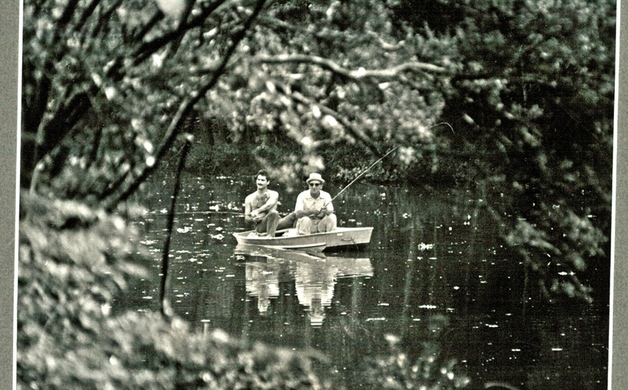 By Bill McFadyen

I am both too long in years and too short on testosterone to lift weights for my health. Because of that (and because my wife gave me a significant discount off of the retail hourly rate for instruction), I took up yoga last spring. When my wife took a recent sabbatical from teaching, I branched out into new places for the sake of my dexterity and longevity.
My new instructor began our first hour together by suggesting that I mask the daily pressures by mentally travelling to my favorite place in the world. It was a short jaunt.
Augusta Knight was a famed Fayetteville gardener. She lived in one the first houses in Devonwood. Across the pond on Timberlake Drive is where my aunt and uncle resided. As a boy, I remember all my surrogate mothers raving over the beauty of Augusta's back yard. It was a rainbow of fauna and Augusta kept it immaculately. Of all the people that visited her to absorb the beauty of her yard, though, I always felt like I had the best view from my favorite spot.
On not-so-uncommon but wonderfully special afternoons, Uncle Reg would have me out to fish in the pond. He kept a green wooden boat by the pier made for two people. He always sat in the front. There were two paddles under the house, but we only took one. Reggie could paddle with one hand and fish with a cane pole in the other. He never changed sides with the paddle either. He swept it right and left as much back and forth, and we went toward where he swished.
We always fished on the Timberlake side first, moving away from Augusta's yard. That was the westerly side, so the shade was there first. Cane pole fishing is best done in the shade.
As the sun made its way west, the shadows stretched across the water. We would loop at the spillway, fishing up the eastern bank. I remember the time some older boys gathered at the spillway to smoke and talk dirty. Their profanity echoed over the placid surface and into our boat. In one of the rare times that I witnessed him paddle with two hands, he pulled briskly toward the cussing teens and told them to watch their mouths and harshly invited them to leave.
Most days on the pond, though, it was only noisy when a bull bluegill ingested my cricket and stormed away toward wherever brim go the moment after they eat. The line made an audible zinging as it sliced the water, and I hollered out to the back of Reggie's head that it was surely a big one.
Each fishing trip ended at my favorite spot. There was an old snag sticking up from the lake bottom to just below the surface. If someone stood on the left corner of Augusta's pier and looked at someone standing on the left corner of Reggie's pier, then the snag would be exactly along that imaginary line, closer to Augusta's than to Reggie's. As we bobbed in that spot, the view up Augusta's hill was beautiful even to a pup like me. Always, if the cricket was presented properly around that snag, it yielded the aforementioned squeal of boyish joy, mostly (but not only) from me.
In 1984, I flew 5,000 miles back to Fayetteville for a week-long visit. I have often said that it was one of the best weeks of my life, creating stories that make those of us who were there laugh and cry to this day. Near the end of that week, the old man and I launched the green boat with our one paddle, two cane poles and a few dozen crickets. Some young lady about my age had chosen that same afternoon to photograph Augusta Knight's incredibly beautiful yard with an incredibly expensive looking camera. At the moment that Reggie and I drifted up to my favorite spot, she was taking pictures from up the hill toward the water.
She evidently liked cane pole fishing too, because she walked to the water's edge and wanted to know how she could get me an original of that photo. She seemed very polite that way.
At my new yoga instructor's suggestion, I stood from my mat; I wobbled noticeably. It was not from poor technique. You see, even for someone who has been doing yoga for a year, it is difficult to balance one's body when one's mind is still floating in a 12-foot boat loaded with big brim caught in your favorite spot in all the world.
MCFADYEN MUSINGS
CV ARTICLES